Discreet Service
Plain packaging and discreet billing.
Free UK delivery on orders over £35
Save on postage today
Customer Data Protection
Your data is safe and secure with us
Pure Collagen
1200 mg 90 Capsules | Natural Skincare Supplement
Overview
Working for your skin from within, the Pure Collagen capsules are the ideal way to help you tackle the unwanted signs of ageing & restore a youthful glow. Formulated with only the best, each capsule contains a potent dose of scientifically studied Verisol® Bioactive Collagen Peptides that when combined make a formidable 1200mg daily strength. In addition, they contains absolutely no fillers, binders or unwanted chemicals, making this the ideal natural beautifying supplement for men and women of all ages.
Clinically studied natural supplement
For the appearance of skin ageing
Pure hydrolysed type I & III collagen
Verisol® Bioactive Collagen Peptides
Powerful 1200mg serving strength
No fillers, binders or flavourings
Free Delivery on all UK orders over £35.
Collagen And The Skin
Being a key structural protein that makes up about 80% of its dry weight, collagen plays a vital role in the health and maintenance of the skin. When the body is young, the naturally occurring levels of this essential protein are high and this is what makes young skin so soft, smooth and tight. As we age however, and also due to factors such as nutrition and sunlight, these natural levels can dramatically drop. This results in the appearance of ageing with all those telltale signs including wrinkles, crows feet and sagging skin. This means that supplementing the body with an external source of collagen can be a greatly beneficial way to help tackle those unwanted wrinkles and bring ageing skin back to life.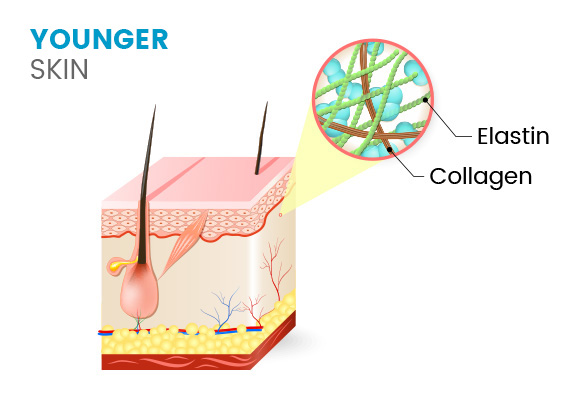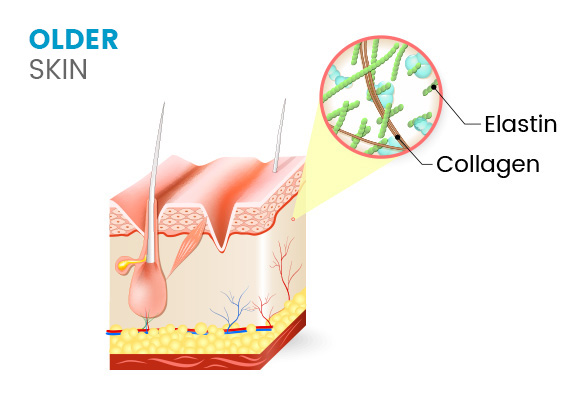 Verisol® collagen
When it came to the Pure Collagen capsules, Proto-col wanted to make sure they were using the best. In order to achieve this, each and every capsule is formulated with scientifically studied Verisol®, a unique blend of pure hydrolysed type I and III collagen. This amazing ingredient works for the skin from the inside out to help with the appearance of ageing and has been shown to be successful in a number of clinical studies.
One study of 69 women aged 35-55 showed that taking Verisol® lead to a statistically significant higher skin elasticity - this was up to 15% more when compared to the placebo. This was shown after just 4 weeks of taking and was kept persistent after 8 weeks. Another study of 114 women aged 45-65 showed a statistically significant reduction in eye wrinkle volume when compared to the placebo. After only 4 weeks they reported a 7.2% reduction on wrinkle volume and then up to a massive 20.1% after 8 weeks.
Ingredients
Active Ingredient: Verisol® (Collagen Hydrolysate)
Other Ingredient: Gelatin (Bovine Capsule)
How To Use
These Pure Collagen capsules by Proto-col are designed to be an easy addition to your daily routine. Simply take 3 capsules with water before going to bed each day. If needed, the dosage can also be safely increased to up to six capsules daily. Each capsule contains 400mg of pure collagen hydrolysate so with the recommended daily dosage (3 daily) you can recieve a powerful 1200mg daily amount. Each bottle contains 90 capsules so therefore 30 servings.
Advice
As this natural supplement is made with pure collagen hydrolysate, it is completely safe to take. This supplement contains no fillers, binders or flavourings and is also free from lactose, dairy and gluten. As when using any new supplement for the first time, please check the ingredients for any personal allergies and do not take if you are vegan or vegetarian. Consult your doctor before taking if you have a medical condition or are pregnant.
Frequently bought together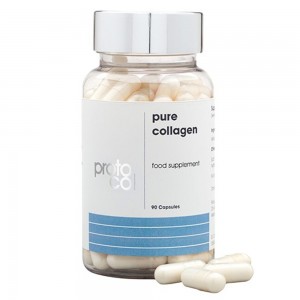 Pure Collagen
1200 mg 90 Capsules | Natural Skincare Supplement
£19.95
+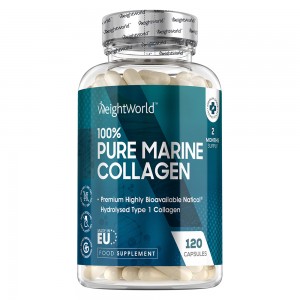 * Results may vary from one person to another.