Discreet Service
Plain packaging and discreet billing.
Free UK delivery on orders over £35
Save on postage today
Customer Data Protection
Your data is safe and secure with us
ProstaSure
90 Capsules | Natural Prostate Support Supplement
Overview
Naturally take care of your Prostate with MaxMedix ProstaSURE! After extensive research into men and their needs, this natural dietary supplement specifically designed to help manage a healthy male prostate function. Formulated with popular ingredients such as beta-sitosterol and saw palmetto, this supplement is made using only the finest natural ingredients. Coming in easy to take capsule-form, you won't find anything like ProstaSURE anywhere else on the market and is a great choice for those looking for a natural way to care of your prostate.
Designed to support a healthy prostate
With Beta-Sitosterol and Saw Palmetto extract
Helps to manage frequent urination
Made with natural ingredients
Enriched with vitamin D3 and Selenium
Just 3 easy to take vegan capsules a day
Vegan
Gluten-free
Lactose Free
Dairy-free
buy 1

£29.99

buy 2

£53.98

£59.98 You Save 10%
buy 3

£71.97

£89.97 You Save 20%
A Common Problem
Issues relating to an enlarged prostate can be very common amongst men, with it being said that around half of males aged 50 or over may be affected and an even more shockingly, around 90% of males over 80. An enlarged prostate is an issue that occurs for many men as they age, so if you're beginning to find yourself needing to urinate more frequently or waking up in the night to visit the toilet, it may be time to start caring for the health of your prostate.
What is an enlarged prostate?
The prostate is a small gland found near the opening of urethra, at the base of the bladder. It's a key gland of the male reproductive system and its main function is for the production of a milky fluid that adds alkalinity to semen. Most men can have a healthy prostate, but in some cases the prostate gland can begin to enlarge. This causes pressure on the bladder which then squeezes the urethra, the tube that urine is passed through. This is why urination problems are so common for those suffering from an enlarged prostate.
Signs Of An Enlarged Prostate
An enlarged prostate is more common in older men, most likely due to natural hormonal changes. Statistics say that around 4 out of 10 men over 50 display certain symptoms related to an enlarged prostate, with 3 out of 4 experiencing symptoms by their 70s. There are some signs to look out for in regards to the prostate, that are generally associated with the bladder and urination. These can include: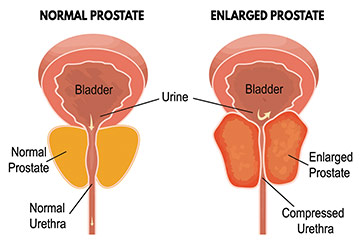 Difficulty starting urination
Increased urgency
Frequent urination
Weak flow
Feeling of incomplete bladder emptying
Urinary incontinence
Straining to urinate
A stream that starts and stops
Waking up in the night to urinate
If you notice or are experiencing any of these signs, we suggest seeing a doctor for more information and diagnosis.
ProstaSURE
After thorough research into the prostate and natural plant-based ingredients, MaxMedix created ProstaSURE. With a focus on men and their unique needs, ProstaSURE has been designed to manage a healthy prostate and prostate function. This natural food supplement helps to provide a number of vitamins and minerals, such as zinc, selenium and vitamin D3, which can aid male health and wellbeing. The formula also contains a potent 50mg of isoflavones, a class of flavonoids known for their antioxidant activity that are now commonly used for their potential health benefits.
Key Ingredients
The ProstaSURE formula has been carefully made using precise quantities of plant-based ingredients, to make a natural supplement that's unique on the market today. This formula includes many active ingredients, such as:
How To Use
ProstaSURE has been designed to be easy to take and to not disrupt your regular daily routine. To use, simply take 3 capsules with water every day. Before using the supplement, we suggest reading the full list of ingredients to check for any personal allergens. This food supplement has been made to the highest quality and has been GMP certified. Thanks to the capsules being made from natural ingredients, there are no known side effects and also makes ProstaSURE suitable for vegans and vegetarians.
Customer Reviews
At ShytoBuy we strive to offer the best possible customer service and we take great pride in the feedback we have received from our customers.
Outstanding

4.5
80.00% based on 10 Reviews

* Results may vary from one person to another.