100% Discreet Service
We offer discreet packaging, billing & delivery
Free UK Delivery
Enjoy free shipping on orders above £40
Customer Data Protection
Your data is safe and secure with us
Selenium Tablets
200µg 365 Tablets | For Immunity, Thyroid, Hair & Nails
Buy 1

£9.99

£12.99
Buy 2

£18.98

£19.98 You Save 5%
Buy 3

£26.97

£29.97 You Save 10%

Buy now and earn 1 Comfort Point ?
Key Features
High-strength 200µg Selenium tablets
Contributes to the normal function of the immune system
Contributes to the normal thyroid function
Helps with fertility by contributing to normal spermatogenesis
Contributes to the maintenance of normal hair and nails
Contributes to the protection of cells from oxidative stress
Formulated for both men and women
365 easy-to-swallow tablets for 1 year supply
Vegan
Gluten-free
GMP
GMO Free
What Are maxmedix Selenium Tablets?
Looking for a supplement to give your health and beauty a natural boost? If yes, then maxmedix Selenium Tablets are for you! Each of these high-strength Selenium supplements offers you a potent 200µg of pure Selenium to fulfil your daily Selenium requirement. They are designed to be easy to swallow and get quickly absorbed for rapid and effective results. Known to look after your skin, hair, nails, inner defences, fertility & more, our one-a-day tablets are vegan so that you can enjoy the benefits of Selenium even if you're a vegetarian. So recharge yourself inside out and take on the day with confidence with the discreet and convenient maxmedix Selenium Tablets today! But what is selenium used for?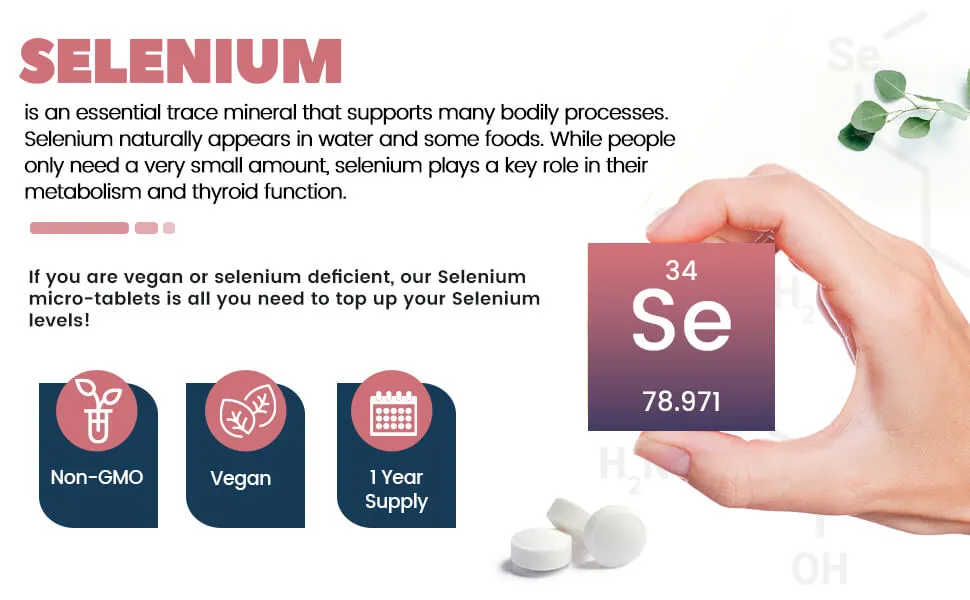 Benefits Of Selenium Supplements
Selenium is a vital trace mineral found in soil. Our bodies cannot produce Selenium, but it is highly needed in small quantities, so we have to get it through food and water. As years have passed, the amount of selenium in the soil has reduced, which means it has become quite common for many of us to lack it in our bodies. Selenium is commonly found in foods such as Brazil nuts, Oysters, sunflower seeds and Shiitake mushrooms, which are not commonly included in our daily diet. That's why maxmedix Selenium Tablets can be an easy solution to get all the Selenium benefits for thyroid, immunity, fertility, hair and more -
For Thyroid & Immunity
Selenium contributes to the normal thyroid function, which helps to maintain your body's normal hormonal balance and food regulation. This vital mineral also contributes to the normal function of the immune system & the protection of cells from oxidative stress to take care of your overall well-being.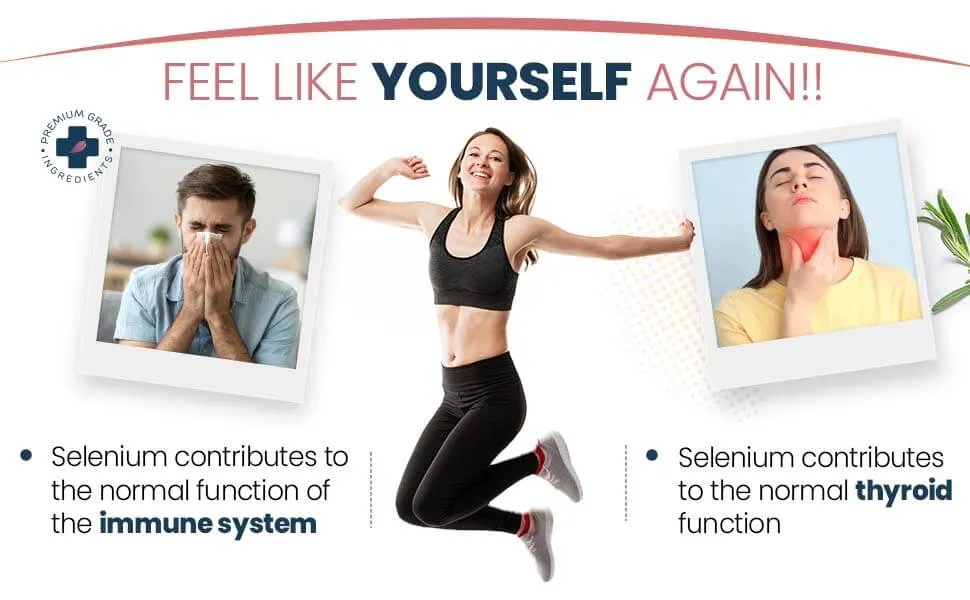 For Fertility
Selenium is known to contribute to normal spermatogenesis, which is of key importance for maintaining normal male fertility and size. So it can help boost the confidence of men during intimate sessions in bed.
For Hair & Nails
Selenium can give your beauty a natural boost by contributing to the maintenance of normal hair and nails in both men and women. Problems with thinning hair or brittle nails are common, and the benefits of Selenium for hair supplements can be of huge help to people struggling with these concerns.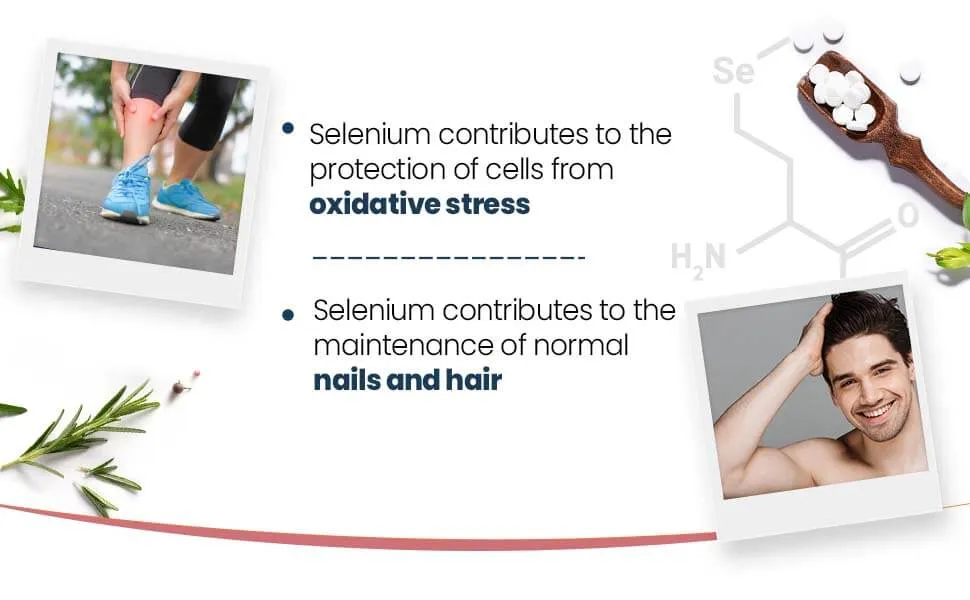 Why Choose maxmedix Selenium Tablets?
We have developed our Selenium 200 mcg tablets to have the highest potency possible to maximise the effects. Unlike others, our product is pure Selenium without any GMOs, allergens or additives to benefit you without causing any known harmful side effects. We also know that buying over and over again gets tedious. That's why we also provide you with 365 Selenium tablets, which is a whole year's supply! Our easy-to-swallow tablets are convenient and easy to take, perfect while on the go. We have packed these GMP-certified Selenium supplements in fully recyclable bottles so that you can enjoy its benefits without feeling guilty of damaging the environment. We're so confident you will like the results that we offer you a full money-back guarantee on this supplement so that you can buy Selenium worry-free! Let us help you grow and unleash your inner potential with our high-strength Selenium tablets today!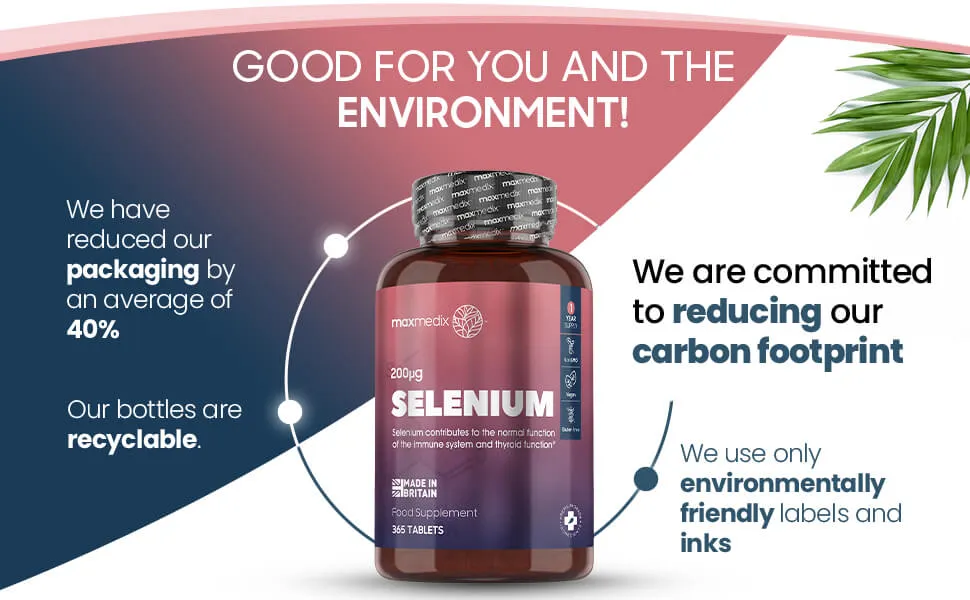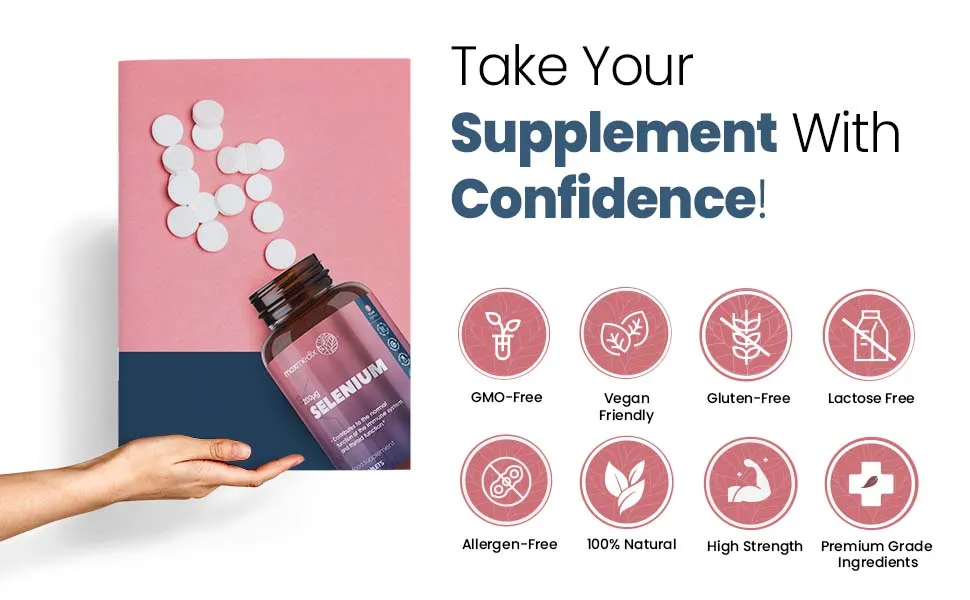 How To Use Selenium 200 µg Tablets?
Take 1 tablet daily with a full glass of water, preferably with a meal.
Advice
Please check the complete list of ingredients to ensure you are not allergic to any of them. This supplement is only intended for adults and should not be taken by children under 18 years of age.
Does Selenium supplement really work?
A quick look at our reviews will show you how much our customers have benefitted! We have formulated our Selenium for nails, hair and fertility supplement with industry-leading natural ingredients to provide optimal results!
Are there any Selenium side effects associated with taking these tablets?
We pride ourselves on using all-natural ingredients in our products which means there are no known negative side effects and you can have peace of mind when using them.
What is selenium good for?
Selenium has a number of benefits! It is great for your hair and skin but is also amazing for fertility and spermatogenesis.
What are the symptoms of selenium deficiency?
Selenium deficiency can lead to infertility, fatigue, muscle weakness, hair loss, poor immune system and even mental fog.
Who should take Selenium tablets?
Our pure Selenium supplement benefits those struggling with hair concerns. It is also amazing for anyone who wants to fortify their inner defences and live life to the max! This natural Selenium supplement can be perfect for men who are looking for some help to enhance their virility.
Are there any dietary restrictions while taking Selenium Tablets?
Our selenium 200 µg tablets can be simply taken with a full glass of water, preferably with a meal and you don't need to follow any dietary restrictions before using it.
Can Selenium Tablets be taken during pregnancy or breastfeeding?
If you're pregnant or are breastfeeding, we suggest you consult your doctor before using Selenium tablets. In case any adverse reaction occurs, you must discontinue its use immediately.
What if it doesn't work for me?
We are confident that you will love our products, but we also understand that everybody is slightly different and may not feel the effects in the same way. We value our customers and want to make sure that they are 100% happy with their purchase which is why we offer our full money-back guarantee! If it doesn't work for you, we will refund you for your order!
How much selenium per day is considered safe to be taken?
The daily recommended dosage of Selenium depends on the physical requirement of a person. However, the safe upper limit of the daily Selenium intake is up to 400 µg.
Frequently bought together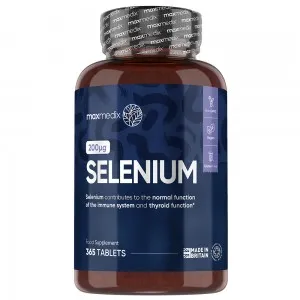 Selenium
200 mcg 365 Tablets | For Hair and Nails
£9.99 £12.99
+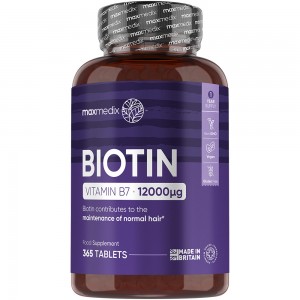 +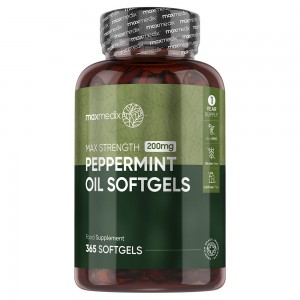 Customer Reviews
At ShytoBuy we strive to offer the best possible customer service and we take great pride in the feedback we have received from our customers.
Outstanding

5
92.38% based on 20 Reviews

* Results may vary from one person to another.