100% Discreet Service
We offer discreet packaging, billing & delivery
Free UK Delivery
Enjoy free shipping on orders above £40
Customer Data Protection
Your data is safe and secure with us
Marine Collagen Advanced
90 Capsules | With Hyaluronic Acid And CO-Q10
Overview
Perfect for skin, bones and joints
Ideal to manage signs of ageing
Enriched with Hyaluronic acid and Coenzyme Q10
Premium NatiCol® Marine Collagen
90 Capsules per bottle
GMO and gluten free
Utilising 1200mg NatiCol® Marine Collagen, our hydrolysed marine collagen advanced supplement is the perfect way to look after your skin, nails, bones and joints.
Formulated with hyaluronic acid and Coenzyme Q10, our marine collagen supplement offers all-in-one support for your body to boost natural collagen levels and rejuvenate and tackle signs of premature ageing!
Money Back Guarantee
Gluten-free
Dairy-free
GMO Free
Buy 1

£17.99

Buy 2

£32.38

£35.98 You Save 10%
Buy 3

£43.17

£53.97 You Save 20%

Buy now and earn 2 Comfort Points ?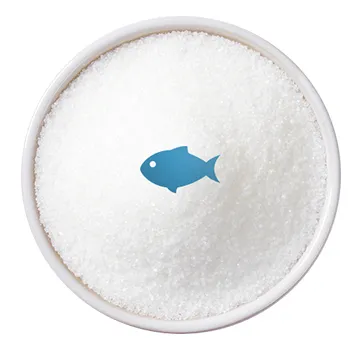 The Role Of Collagen
Collagen is the main structural protein in the skin, bones and joints and is made of long segments of amino acids arranged like a chain. For the skin, when there is ample collagen it appears smooth, tight and young. Age, physical stress and environmental factors such as sunlight and pollution can cause the collagen levels to decrease which leads the skin to look older. This is similar for the bones, joints and muscles as collagen plays a big role in their function. As levels reduce, bones can weaken and joints become stiff. This is why collagen is not just popular in a range of cosmetic products, but also for those that take part in sport or live an active lifestyle.
Why Choose Marine Collagen Over Conventional Collagen?
Also referred to as Fish Collagen, Marine Collagen is a protein extracted from the scales of saltwater fish and contains molecules called peptides. These peptides are known for having a low molecular size and weight and because of this, Marine Collagen is said to be absorbed 1.5 times more efficiently and has better bioavailability than other types of collagen including bovine and porcine. As a result of this, the link between these peptides and collagen synthesis (the rate at which the body produces collagen) and the quality has been widely studied. For more information on this research, click here. What's more, these peptides have been studied regarding their abilities to help improve skin properties. This research also suggests that Marine Collagen can be especially useful for those following a high antioxidant diet or skincare regime. Click here for more on this.
The Formula

NatiCol® Marine Collagen
This specific type of Marine hydrolysed Collagen is a premium source selectively derived from Pangasius and Tilapia fish originating from areas of Asia and North and South America. What makes NatiCol® Marine Collagen so unique compared to conventional Collagen is its extraordinary level of low molecular weight and how it contains 8 different essential amino acids.

Vitamin C
One of the most important skin-loving vitamins, Vitamin C is known to contribute to the protection of cells from oxidative stress and to normal collagen formation which is important for the normal function of the skin. It is also known to contribute to normal collagen formation for the normal function of bones, cartilage and gums for healthy bone and joint maintenance.

CO-Q10
Also called Ubiquinone, Coenzyme Q10 is a vitamin-like substance produced in the body. As we age, it is said that the body loses its ability to synthesise COQ10 from the food we eat, which is why many turn to natural products that contain the ingredient. There have also been several studies conducted regarding CO-Q10 and the ageing process. Click here for more information.

Hyaluronic Acid
Known also as Hyaluronan, Hyaluronic Acid occurs naturally in the body and is known to contribute to healthy, firm and young-looking skin. As we age and through environmental factors, the levels slowly decrease leading the skin to become weaker, which is why it is considered to be beneficial for the skin to receive it topically or orally to help replenish the natural levels.

Zinc
Considered a very important mineral for overall health and wellbeing, Zinc is also known to be beneficial for the health and maintenance of the skin. This is because Zinc is known to contribute to the protection of cells from oxidative stress and to normal protein synthesis. Oxidative stress has been pointed out as the main cause of the signs of premature ageing.
Full List Of Ingredients
Ingredients - Marine Collagen Hydrolysate Powder (Naticol®), Vitamin C (as L-Ascorbic Acid), Hyaluronic Acid, Zinc (as Zinc Citrate), CoQ10 (as Ubiquinone),Anti-Caking Agent: Magnesium Stearate, Silicon Dioxide, Capsule Shell: Hypromellose (HPMC).
How To Use Marine Collagen Supplements?
Simply take 3 Marine Collagen Capsules every night one hour after dinner and with a glass of water. Try to take the capsules at the same time every day if possible. Each bottle contains 90 capsules so, therefore, should last you for 30 days. We suggest taking it for at least 3 months in order to properly assess the supplement for your body.
Natural Collagen Supplement
As Marine Collagen Advanced is made using natural ingredients it is safe to use and has no known side effects. What's more, it contains no artificial colours, flavours, sweeteners or preservatives. These capsules are also Halal certified. Before first use, always read the label to check for any personal allergies or issues. This supplement is not intended for those under the age of 18.
Frequently bought together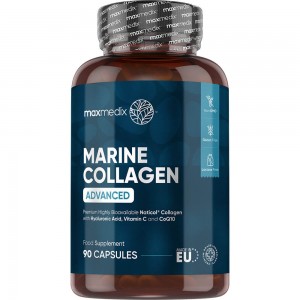 +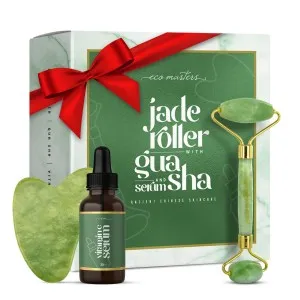 +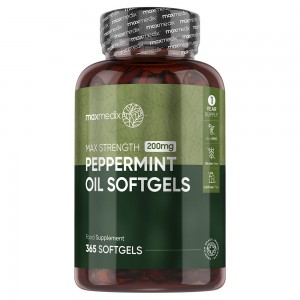 * Results may vary from one person to another.