What Are Jade Rollers?
Jade rollers have been around for centuries. They're a skincare technique that hails from China. For generations, they were used to draw out negative energy from the skin while balancing one's 'chi', which traditionally is understood to mean 'life-force' or 'life-energy'. These days, jade rollers are more commonly used as a skin massager, thanks to their cool and smooth surface.
They're made, unsurprisingly, using jade, an ornamental mineral with a typically green hue. Jade is known for its soothing properties, and even its ability to nourish the skin!
The Beauty Benefits Of Jade Rollers
Jade Rollers are now considered a luxury beauty product, and they have numerous beauty benefits you'll not want to miss out on.
Firstly, and perhaps most importantly, it helps increase blood circulation to the face. But why is this so important? Well, blood contains all the vital nutrients our body needs to be at its best. This includes the face too! In fact, blood circulation is crucial to maximise your skin's glow, while ensuring any damage the skin receives can be repaired. This, in turn, helps to strengthen and nurture the skin. It can also help reduce swelling, and ensure skin creams and serums are better absorbed.
Speaking of serums, if you want to get the best results, look to combine the jade roller with a rejuvenating serum. For a great all-in-one package, try Eco Masters Jade Facial Roller with Gua Sha and Vitamin C serum. We're sure you already know about the many benefits that Vitamin C can provide to the body, but did you also know that it contains known anti-ageing ingredients that can help give the skin a youthful glow? Combining the facial roller with the serum can, in turn, help target signs of ageing and the appearance of wrinkles, fine lines and dark circles.
But the benefits of a jade face roller don't stop there. Because, unlike many beauty treatments, it also has other benefits for your overall wellbeing! Jade rollers actually double as little green massage buddies, helping to soothe and destress the skin even without using a serum. It can help relax the muscles around your face and neck, helping you feel more at peace, or at least better prepared for that work call later in the day!
How Do I Effectively Use A Jade Face Roller?
Start by giving your face a good wash. That way, your skin and face will be ready to receive the full benefits of the jade face roller! We've put together a little visual guide for you down below, so you know exactly how to use the jade face roller and benefit from it!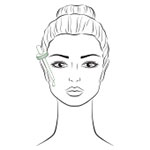 Then, apply 5-10 drops of the Vitamin C Serum onto the face and gently massage into the skin with circular motions.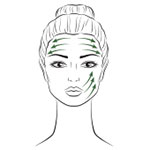 Using the larger end of the roller, start from the centre of the face, then gently and slowly roll outwards and upwards over the skin, covering your cheeks, jawline and forehead.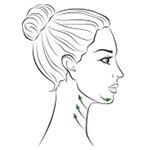 Using the large end, start under the chin, then roll gently and slowly outwards and down the neck towards the collar bone.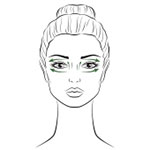 Using the smaller end, start from the eyes' inner corner, then carefully roll outwards on both lids and under-eye area.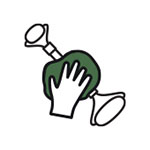 Then, when you're done, clean the roller with soap or an antibacterial gel. After this, gently wipe the roller with a soft damp cloth and leave to air dry before storing.
How Often Should You Use A Face Roller?
While it could be tempting to use the roller every hour of every day, we recommend that you use the face roller for 5-10 minutes per session, three times a week.
Cleaning & Storing Tips
As mentioned above, to see the greatest benefits to your face and skin, we recommend that you thoroughly clean the jade roller after each use, either with soap or an antibacterial gel. Then, dry it with a damp cloth and let it naturally dry.
And, if it's been in storage and unused for a few days, make sure to clean off any dust before using the roller. Otherwise, you might find you have a more dusty radiance than you wanted!
And, while you're at it, store it in the fridge or freezer so that every use gives your skin a cool, refreshing treatment.
So, now you know why a jade face roller should be part of your weekly skincare routine. With its naturally soothing and destressing properties, it could help ease the tensions of your daily life and ensure you feel at your best! And, combined with a serum a few times a week, it could help target signs of ageing and bring a youthful radiance to your skin. So, what are you waiting for?