100% Discreet Service
We offer discreet packaging, billing & delivery
Free UK Delivery
Enjoy free shipping on orders above £40
Customer Data Protection
Your data is safe and secure with us
Collagen Super Pack
Combo | Facial Serum, Facemask & Derma Roller
Overview
The key to a youthful looking complexion? Collagen. This amazing protein plays a key role in the skin's appearance and is why the Collagen Super Pack was created. A complete 3 part kit designed to help stimulate collagen production in the skin, this Super Pack is the perfect addition to any arsenal in the fight against the appearance of ageing. These work in synchrony to help rejuvenate, energise and hydrate skin for that youthful looking glow.
Facial Serum, Facemask & Derma Roller
Complete triple action kit
For a youthful looking complexion
Type I & III hydrolysed collagen
Derma Roller with 3 detachable heads
Promotes natural collagen production
Notify me when this product is back in stock
Great! We'll notify you when this product comes back in stock.
You have already subscribed for this Email Address.
The Skin And Collagen
As a vital structural protein, collagen makes up around 75-80% of the skin. When the body is young, there are high levels of collagen meaning the skin appears smooth, supple and tight. As we age however, and through environmental factors such as UV rays and pollution, the naturally occurring levels of this essential protein unfortunately drop, resulting in wrinkles, fine lines and sagging skin. For this reason, one of the best ways to help mature and prematurely ageing skin is to use techniques to promote the body's natural production of collagen in addition to supplementing the natural levels with an external source.
The Collagen Super Pack
With the knowledge of the importance of collagen for the skin, the Collagen Super Pack was created as a 3 part kit to complete your arsenal in the fight against the appearance of ageing. Consisting of 3 pivotal skincare products all designed to help with the production of collagen, this super pack is a step in the right direction for men and women alike. So why choose all three products together?
Alone each product is amazing in helping the skin and each have their own specific benefits and uses that when put together make the ideal skincare kit. Firstly, the Collagen Facial Serum is the perfectly daily care for your skin and aims to hydrate, protect and revitalise the complexion on a daily basis. Alongside collagen, it contains a range of skin-loving ingredients including Aloe Vera, Royal Jelly and Essential Oils so you can show your skin some love every day.
The Collagen Facemask complements this as an intensive moisture boost that you can treat your skin to on a twice weekly basis. Both the serum and mask use the best when it comes to collagen and harness type I and III hydrolysed collagen. The Facemask is then additionally infused with other beneficial ingredients such as Jojoba Oil, Vitamin E and Vitamin C to really delight the skin.
Finally, the 3 in 1 Derma Roller is the ideal way to stimulate collagen production in the skin to leave it looking healthy and with a youthful glow. Using the micro needling technique, it aims to rejuvenate the skin with a quick and easy method that even allows for skincare products to be absorbed better by the skin, meaning it works perfectly with the Facial Serum and Facemask. This stylish tool includes 3 detachable heads with different sizes for use on all areas of the face. It uses 0.5mm microneedles, the optimum length to stimulate the skin, and being titanium it is high quality and long lasting. It even includes a handy storage case that is perfect for keeping it hygenic and for use when travelling.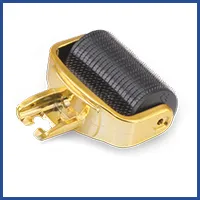 Suitable for body use only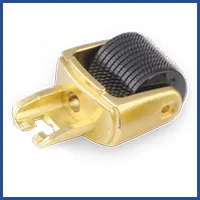 Suitable for body and face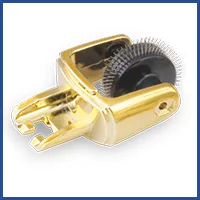 Suitable for sensitive areas of the face
Ingredients
Collagen Facial Serum - Aqua /Water, Simmondsia Chinensis Seed Oil /Simmondsia Chinensis (Jojoba) Seed Oil, Caprylic/ Capric Triglyceride, Ethylhexyl Methoxycinnamate, Glycerin, Cyclomethicone, Hydroxyethylcellulose, phenoxyethanol, Borago Officinalis Seed Oil/ Borago Officinalis (Borage Seed Oil, Carbomer, Cetyl Alcohol, Crithmum Maritimum Extract, Sodium Cocoyl Isethionate, Stearic Acid, Triethanolamine, Sodium Benzoate, Hydrolyzed Silk, Propylene Glycol, Retinyl Palmitate, Royal Jelly, Sodium Ascorbyl Phosphate, Tocopherol, Faex Extract / Yeast Extract, Aloe Barbadensis Leaf Juice, Sodium Hyaluronate, Allantoin, Anthemis Nobilis Flower Oil/ Chamaemelum Nobile (English/Roman Chamomile) Flower Extract, Ascorbyl Palmitate, Azulene, Carica (Papaya) Fruit Extract, Carotenoids/ Carotene, Chenopodium Quinoa Seed Extract, Propylene Glycol, Helianthus Annuus Seed Oil, Hydrolysed Corallina Officinalis Extract, Pelargonium Graveolens Flower Oil/ Pelargonium Graveolens (Sweet Scented Geranium) Flower Oil, Prunus Amygdalus Dulcis Oil/ Prunus Dulcis (Sweet Almond) Oil, Disodium EDTA, Caprylyl Glycol, Decylene Glycol, Potassium Sorbate, Citric Acid.
Collagen Facemask - Aqua/Water, Cyclomethicone, Paraffinum Liquidum/Mineral Oil, Cera Alba/ Beeswax, Ethylhexyl Methoxycinnamate, Faex Extract/ Yeast Extract, Glycerin, Glyceryl Stearate, Kaolin, Panthenol, PEG-100 Stearate, Propylene Glycol, Pullulan, Simmondsia Chinensis Seed Oil/ Simmondsia Chinensis (Jojoba) Seed Oil, Aloe Barbadensis Leaf Extract/ Aloe Vera Leaf Extract, Ascorbic Acid, Hydrolyzed Corallina Officinalis Extract, Daucus Carota Sativa Extract, Daucus Carota Sativa (Carrot) Root Extract, Hydrolyzed Silk, Imidazolidinyl Urea, Magnesium Aluminum Silicate/ Magnesium Aluminum Silicate, Phenoxyethanol, Tocopheryl Acetate, Citrus Aurantium Dulcis Flower Oil/ Citrus Sinensis (Sweet Orange) Flower Oil, Limonene, Ethylparaben, Methylparaben, Propylparaben.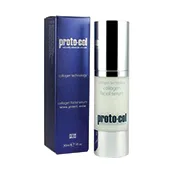 Collagen Facial Serum
Daily Use
To use, with clean fingers, apply a small amount of the facial serum to cleansed and dry skin and work gently upwards beginning from the base of the neck. To get the best out of this serum, use on a daily basis all over the face, avoiding the eyes and mouth.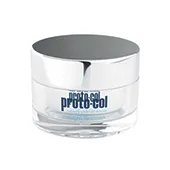 Collagen Facemask
Twice Weekly
With clean fingers apply a small amount of the mask to a clean and dry face, avoiding the eye area. Once applied, relax for 10-15 minutes then remove with tepid water and gently pat dry. Treat your skin to this mask twice a week.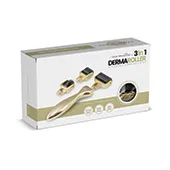 3 in 1 Derma Roller
Use 7 days, rest 7 days
Attach the correct head and on clean skin, gently roll it back and forth in different directions for 2-3 minutes. Make sure to clean the roller after use. Repeat daily for 5-7 days, then allow the skin to rest for the same amount of time before using again.
Advice
This unique 3 part kit has been specifically designed to promote collagen production and a beautiful complexion so is made using high quality ingredients and materials and is safe to use. Before using any new skincare products on your face for the first time, we always suggest reading through the full list of ingredients to check for any potential personal allergens and then conducting a patch test 24 hours prior to first use. This super pack is not suitable for vegetarians. When using the 3 in 1 Derma Roller, if you feel your skin is starting to become irritated, you may be using too much pressure so we suggest either using lighter strokes or waiting for the skin to recover before trying again. The Derma Roller uses 0.5mm microneedles so is safe for the skin and will not affect the deeper layers. To keep your roller hygienic, we recommend keeping it clean and not sharing with others.

* Results may vary from one person to another.