Discreet Service
Plain packaging and discreet billing.
Free UK delivery on orders over £35
Save on postage today
Customer Data Protection
Your data is safe and secure with us
maxmedix HairGenesis TrichoCeutical Activator Serum
50 ml Serum | Serum for Thinning Hair
Overview
Natural, simple to use and clinically tested, the HairGenesis® Trichoutical Serum by maxmedix is a targeted way to care for fine and thinning hair. Made up of a unique combination of natural ingredients and using advanced Trichoceutical® technology and evolving research, it is a top natural choice. This is why the serum has become trusted and used worldwide by men and women looking for help with their thinning hair issues.
Ideal for thinning & fine hair
For both men & women
Advanced Trichoceutical® Technology
Clinically researched & proven formula
With Serenoa Repens and botanical extracts
Easy to use hygienic foam pump applicator
Gluten-free
GMP
Clinically Proven
£6.99
£27.96
You Save £20.97
Free Delivery on all UK orders over £35.
What Is The HairGenesis Tricoceutical Serum?
The new maximum strength HairGenesis® TrichoCeutical® Activator Serum is a top choice for those needing help with their thinning hair, and represents a particularly elegant and naturally derived alternative to drug-based scalp therapies, such as those containing minoxidil. Highly potent, yet free from negative side effects, the serum is safe, effective, and now more powerful than ever before. A one of a kind product, it is comprised of a proprietary composition including thioctic acid, LSESr and a patented form of carnitine (Carnisol®). This works on thinning hair deep down for specific targeted action on the scalp.
Key Ingredients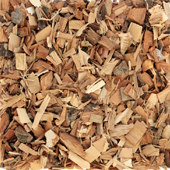 Serenoa Repens
Commonly known as Saw Palmetto, Serenoa Repens is a small palm tree from North America. Widely used in natural hair products, the palm has been said to help reduce the pace of hair thinning. This ingredient has also been linked to healthy hair in men.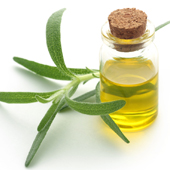 Rosemary Oil
This ingredient has been used for centuries in the Mediterranean as food and medicine. Known for its numerous health benefits, Rosemary Oil is especially known for its ability to stimulate hair. It has even been said to reduce hair thinning.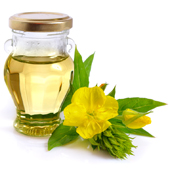 Evening Primrose Oil
Taken from a plant native to North America, Evening Primrose Oil (EPO) contains high levels of the omega 3 fatty acid GLA which can improve hair health and is believed to stimulate the strands. It's also said to help with follicle damage.
Directions
Begin by using the foam pump applicator to apply a small amount of the serum onto the scalp. Using fingertips, massage gently into the scalp, targeting areas where the hair is thin. Apply the Serum once each day before bedtime, so the ingredients to work throughout the night. To get the best for your hair, we suggest using alongside the HairGenesis® TrichoCeutical® Shampoo and Conditioner.
Made using natural botanical extracts, the serum has been clinically tested so is safe to use by both men and women. This also makes it suitable for continuous and long term usage. We suggest reading the full list of ingredients to check for any personal allergies and to consult your doctor if you are using medications on the scalp. For external use only. This product is not for those under the age of 18.
Full List Of Ingredients
Water, Serenoa Serrulata (Saw Palmetto LSESr - Liposterolic Serenoa repens,) Oil Disodium Laureth Sulfosuccinate (and) Sodium Lauryl Sulfoacetate, Polysorbate 20 (PEG-20 Sorbitan Laurate), Lecithin, (Glycine Soya Liposome Phosphatidylcholine), Beta Cyclodextrin, Dimethyl, Polysorbate 60, Vitamin D3 Cholecalciferol, Oenothera Biennis (Evening Primrose) Oil, Carnitine, Lysine, Thioctic Acid (Alpha Lipoic Acid), Hydrolyzed Triticum Vulgare (Wheat Biotin) Protein, Camellia Sinensis (Green Tea) Leaf Extract, Sodium Hyaluronate (Glycosaminoglycans), Citrus Limonum (Lemon) Oil, Rosmarinus Officinalis (Rosemary) Oil, PEG-16 Macadamia Glycerides (Macadamia Nut Oil Ester), Borago Officinalis (Borage) Seed Oil, Pygeum Africanum (African Bark) Extract, Hypoxis Rooperi (African Star Grass) Extract, Phenoxyethanol, Caprylyl Glycol, Sorbic Acid.
Frequently bought together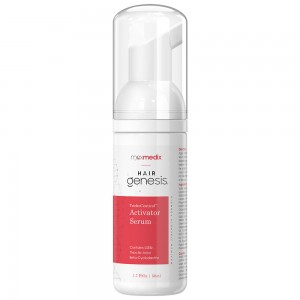 +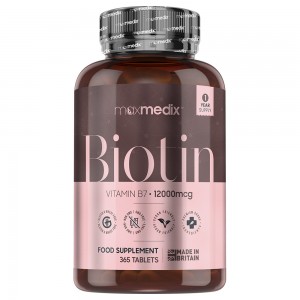 +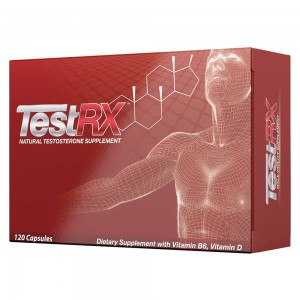 TestRX™
120 Capsules | Natural Supplement For Men
£46.99

* Results may vary from one person to another.