Discreet Service
Plain packaging and discreet billing.
Free UK delivery on orders over £40
Save on postage today
Customer Data Protection
Your data is safe and secure with us
PyratineXR Soothing Antioxidant Cleanser
Gentle Cleanser For Redness
Overview
PyratineXR Soothing Antioxidant Cleanser is a gentle way to cleanse, refresh & hydrate the complexion, making it ideal for use on sensitive and irritated skin. With a dermatologically tested delicate formula, this soothing cleanser makes use of some of the best natural ingredients, including Aloe Vera and Vitamin E, that can help to protect and soothe the skin on a daily basis.
Refreshes, cleanses and hydrates
Dermatologically tested
With Green Tea, Aloe Vera & Vitamin E
Ideal for irritated & sensitive skin
Free from parabens
Removes makeup, oil & dirt
Product that you are looking for is no longer available.
Redness In The Face
Often occurring in rosacea or acneic skin, redness in the complexion is a common experience. Usually appearing on the nose, cheeks, forehead or chin, it is typical for those that blush easily, but can then turn into a longer-lasting deeper shade of red. Those with this sort of redness can additionally suffer from small dilated blood vessels and red bumps, with the area feeling itchy and sensitive and can even sting.
This makes it something that can lead to annoyance or embarrassment, meaning many people are looking for help with it. For those suffering with redness in the face, you can try making some lifestyle changes to help deal with the problem. Try to avoid alcohol and spicy foods as well as sun exposure to the area. Additionally, avoid stress as much as you can and swap out any skincare or beauty products that can be causing irritation. Use products with natural ingredients that can help to soothe the skin such as chamomile or aloe vera; linoleic oils or those rich in "oleic" fatty acids are also considered beneficial.
The PyratineXR Soothing Antioxidant Cleanser Formula

Green tea
Made from the leaves of the Camellia Sinensis plant, Green Tea is not just a popular hot drink. It is also great for topical uses on the skin thanks to it's revitalising and purifying properties.
Research
has also shown it can help to protect cells from oxidative stress, something which can lead to the premature signs of ageing.

Aloe Vera
Grown in tropical climates all around the world, Aloe Vera is an extremely popular plant. This is because it has so many amazing properties which can be especially beneficial for topical application on the skin. It is known to be soothing and calming, making it perfect for redness and irritation. It is also refreshing and has a pleasant mild scent that is ideal for skincare.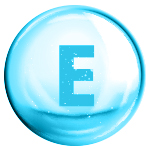 Vitamin E
Found in small amounts in foods such as nuts, seeds and green leafy vegetables, Vitamin E is a great nutrient for the body and in particular the skin. This is because it contributes to the protection of cells from oxidative stress, meaning it can help to support the health and maintenance of the cells.

Grape Seed Extract
Also known to be good for the body, Grape Seeds can have a range of benefits. It is known to be strengthening for the skin because it is rich in polyphenols, a broad group of substances found in plants that have been linked to a high protection from oxidation, stressors and premature ageing. This makes it ideal for helping to achieve a healthy-looking glow.

Grapefruit extract
With a refreshing citrus scent, Grapefruit is a secret weapon in skincare. Thanks to its astringent properties, it can help to purify and exfoliate. Additionally, it can help to even out skin tone as it contains protecting and revitalising compounds such as carotenoids (lycopene is responsible for the pink-red colour of grapefruit) and Vitamin C.
Complete Ingredients List
Water, Glycerine, Cocamidopropyl Hydroxysultaine, Polysorbate-20, Triethanolamine, Furfuryl Tetrahydropyranyladenine, Ananas Sativus (Pineapple) Fruit Extract, Carica Papaya (Papaya) Fruit Extract, Vitis Vinifera (Grape) Seed Extract, Camellia Sinensis (Green Tea) Leaf Extract, Phenoxyethanol & Caprylyl Glycol & Ethylhexylglycerin & Hexylene Glycol, Carbomer, Citrus Grandis (Grapefruit) Peel Oil, Disodium EDTA, Aloe Barbadensis Leaf Juice Powder, Tocopheryl Acetate.
Directions
This calming cleanser has been created to be simple to use and an easy addition to your skincare routine. Apply the cleanser to a damp face and then gently massage into the skin in a circular motion. Rinse off with lukewarm water and then pat dry with a clean towel or cloth. For those with highly sensitive skin, carefully tissue off the cleanser instead of rinsing.
Advice
As the PyratineXR Soothing Antioxidant Cleanser is made to a high standard using premium quality ingredients, it is safe to use and suitable for even sensitive skin types. If you have not used this product before, as with any new skincare product, we recommend checking the ingredients list in order to avoid any personal allergens and patch test on the skin 24 hours prior to first use. This product is not intended for those under the age of 18.

* Results may vary from one person to another.