Discreet Service
Plain packaging and discreet billing.
Free UK delivery on orders over £35
Save on postage today
Customer Data Protection
Your data is safe and secure with us
Mysmile Activated Charcoal Powder
200 g Powder | Teeth Whitening Charcoal Powder
Overview
Are you looking for a brighter, more vibrant smile, while keeping plaque and bad breath at bay? Try EcoMasters Mysmile Activated Charcoal Powder. Made from our finest coconut charcoal powder and flavoured with fresh peppermint, the porous composition of this mineral is highly absorbent and can help to control odours and surface stains to leave you with brighter teeth and a healthier mouth.
Ideal for removing tooth surface stains
Helps to remove staining caused by smoking or drinking tea, coffee or red wine
Refreshing peppermint flavour
Helps absorb mouth odour for fresher breath
Sustainably sourced from coconuts
Vegan
Vegetarian
Cruelty-Free
buy 1

£9.99

buy 2

£17.98

£19.98 You Save 10%
buy 3

£23.97

£29.97 You Save 20%
What Is Eco-Masters mysmile Activated Charcoal Powder?
Made with the finest, sustainably sourced coconut Activated Charcoal, this tooth powder can help reduce plaque, improve the appearance of surface stains and cleanse the mouth of impurities and bacteria that can cause bad breath. Regular use of this product has the potential to hinder further staining caused by drinking beverages such as tea, coffee and red wine, and can keep the natural colour of your own enamel stinging through.
What Are The Benefits?
If you suffer from bad breath, the activated charcoal in EcoMasters tooth powder has been known to detoxify the mouth and gums by regulating plaque acidity and bacteria. The highly absorbent charcoal used in our product helps to bind toxins and lift them away from your teeth and gums. As well as this, it helps in removing surface stains, including those caused by coffee, tea and red wine, to reveal the natural colour of your own enamel.
Who Is It For?
EcoMasters mysmile tooth powder is a great solution for anyone looking to regain a healthier mouth and more vibrant teeth. More specifically, this product can be beneficial for those who wear braces, as the light abrasive properties can help to remove plaque and bacteria more effectively. It is also a great option for anyone that smokes or drinks tea, coffee or red wine, as it can help with the build-up of stubborn surface stains.
Directions
Use only as directed.
Advice
Keep out of the reach of children. Add more water consumption to your routine when using activated charcoal. If you have a pre-existing condition, consult your dental care provider before use.
Storage
Keep in a cool place and avoid direct sunlight.
Ingredients
Coconut Activated Charcoal (90%), Calcium carbonate (7.9%), Peppermint (Mentha Piperita) Powder (1%), Stevia (0.5%), Potassium Sorbate (0.6%).
Frequently bought together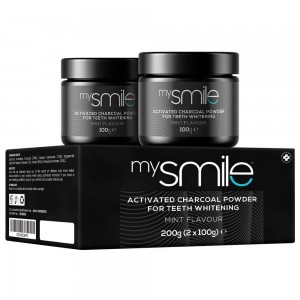 +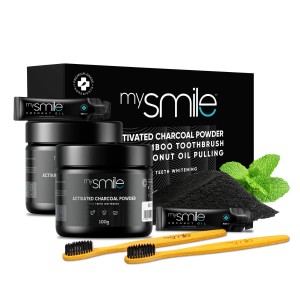 +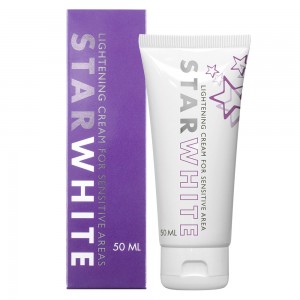 Star White
50 ml Cream | Lightening Cream for Sensitive Areas
£29.99

* Results may vary from one person to another.