Hair loss is more than just losing a few strands from your head. For many, it can alter looks, self-confidence and age your appearance. Hair loss can start at any point of time due to various causes such as geographical change, lifestyle change, health problems and so on. Men and women are always trying to find solutions for their hair loss problem. Hair can be re-grown on the scalp in several conventional ways but the common drawback for them is that they take time to show results.
Today, the search is for a quick and healthy remedy to the growing problem of hair loss where the trending answer is... laser treatment! Laser therapy for hair regrowth has become increasingly popular and is performed by a trained trichologist. Laser therapy works on hair loss caused by stress, medications, excessive chemical processing, menopausal changes, hormonal hair loss, thinning hair and patterned hair loss.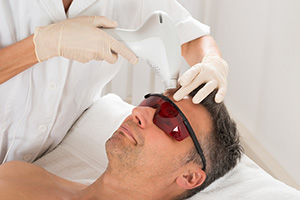 During the laser treatment, non-surgical therapeutic lasers irradiate the scalp or regions where there's no hair. The laser and LED devices used for the process are also called cold lasers because they produce no heat on the scalp. This method works in both men and women through the process of androgenetic alopecia. As the laser is absorbed by the hair cells, they trigger hair growth by increasing microcirculation of blood supplies to the hair follicles. It's a restorative process that also solves hair related problems like dry scalp, dandruff or scalp itchiness.
Now like any other scientific discovery, laser therapy for hair regrowth has pros and cons associated with it. It's good to know these pros and cons before buying a laser hair growth product or investing in clinical laser hair therapy. Take a look below!
Pros Of Laser Therapy For Hair Growth
Can be used at home

To keep up with the busy demand of modern day life, more and more people are choosing home methods of hair growth. Devices such as the Theradome LH80 PRO that offer a unique hands-free helmet for hair growth at home. The Theradome lh80 can be used whilst watching your favourite shows, doing your routinely cleaning chores or even while you're simply relaxing and browsing on your laptop.

Fast treatment sessions

Generally speaking, each laser session takes around 30 minutes at the clinic. This could also be even less depending on the surface area of the scalp that you're treating. Treatment sessions of laser hair growth therapy aren't scheduled daily and in most cases only need to be carried out once or twice a week (sometimes even less). You'll only need maintenance treatments after a certain period of time. This makes it a popular choice for people who would like to avoid daily hair growth supplements or shampoos and invest less time in their hair treatments.

Permanent and painless

Using laser hair growth therapy products like the iGrow has the potential to offer permanent results over time and are safe to use. The specific lights that are used work painlessly to bring hair on your scalp. These 2 factors of permanency and painlessness makes laser hair therapy often the preferred choice over hair transplants.

Pocket friendly

When it comes to laser hair growth therapy at home, the cost advantages and results you can get are almost unrivalled. You can also take away the travel costs to a clinic. It also means that if more than 1 person is struggling with hair loss in the household, the device (in many cases) can be shared, which means splitting the cost even further!
Cons Of Laser Therapy For Hair Growth
Beneficial for specific hair types

It has been established that laser hair growth therapy can be advantageous to the health, thickness and quantity of hair on your head. As a general rule of thumb, it has been shown to be more effective for traditional pattern hair loss, which is commonly known as androgenetic alopecia. This is because the effective laser light targets hair follicles specifically to rejuvenate and energise them to kick start healthier growth.

If you find laser hair therapy isn't working for you, it's worth checking out the reasons as to why you're losing your hair. The cause may be affecting the impact of the results you should be gaining from your laser hair growth device.

Depends on skin colour

Laser therapy works better for fairer skin than dark or darker types. For darker skin types, the hair follicles compete to get attention of the laser when applied.

Can cause skin problems

Laser therapy for hair regrowth can be the root cause of skin problems. Untrained professionals often mess with the laser machine which makes the skin or scalp burn and get marks. Thus, it's important to decide on a clinic for laser treatment that's certified and licensed to do the procedure if you do choose to go down this route of permanent hair removal.
Conclusion
Now you know the good and the bad about laser hair growth treatment you can try to find solutions for your hair loss problems. Try laser hair growth treatments at home today and reap the benefits of laser therapy. Whether you're buying a laser hair growth product or investing in clinical laser hair therapy you now know the benefits and drawbacks.