100% Discreet Service
We offer discreet packaging, billing & delivery
Free UK Delivery
Enjoy free shipping on orders above £40
Customer Data Protection
Your data is safe and secure with us
VigRX Delay Spray
50 ml | Premium Delay Spray for Men
Free Delivery

Buy now and earn 4 Comfort Points ?
Key Features
Specially Formulated for stamina and endurance
Ideal to boost confidence in the bedroom
Approximately 500 sprays per bottle
Convenient travel-sized bottle
Easy to use with quick absorption
All-natural and GMP certified
Vegan
Vegetarian
Formulated For Men
What is VigRX Delay Spray
The decade long best-selling VigRX Delay Spray, the natural way to help men extend those pleasurable moments. Made with a unique blend of botanical extracts, the VigRX Mens Delay Spray formula is completely safe to use and trusted by thousands of men worldwide. This tantalising cherry-scented spray is gentle and safe to use, and as it is easily absorbed with no sticky residue you can quickly give a few sprays and you're ready to go. Designed to help extend the pleasure for both you and your partner, you can see why VigRX Delay Spray is the top choice for so many.
Not only has a special cherry aroma been added for the delight of the partner, but this nifty spray also comes in an elegantly designed 50ml bottle that contains approximately 500 sprays - enough to last for plenty of intimate encounters. It can also be used alongside other male enhancement products and with its travel-friendly size, it is ideal for use whenever you need to boost your confidence and take control.
Are You Lasting Long Enough?
Although it's not a race, how long it takes to cross the finish line is a big concern for many men. With the average time being 5.5 minutes, this could be seen as either an achievement or a disappointment. For many, this is not long enough and when the ideal time for women is 23 minutes it can be a big leap from one to the other. As a result of this, many men are feeling that they would like their time in the bedroom to be lasting longer and are now taking steps to help satisfy their experiences.
Benefits of VigRX Delay Spray
The secret to the success and popularity of the VigRX Delay Spray comes down to its natural and one of a kind formula, trusted by thousands of men worldwide. Firstly, this spray contains Ethyl Aminobenzoate which is often used in male delay products due to its mild, natural and safe numbing properties. It also contains a number of popular herbal extracts found in the male enhancement industry such as Panax Ginseng Root Extract and Ginkgo Biloba Root Extract, which aspire to help firm the skin.
Why Choose VigRX Delay Spray
The VigRX Delay Spray ingredients are completely natural and so there are no known VigRX Delay Spray side effects. When using, avoid contact with eyes and rinse with water if contact does occur. This delay spray is intended for those over the age of 18, so keep out of sight and reach of children. When trying any new product we always suggest checking the ingredients for personal allergies.
How To Use Delay Spray By VigRX?
VigRX Delay Spray is a simple to use mens' delay spray, making it ideal to take with you wherever you go. To use, 10 minutes before intimacy simply spray 1-3 applications onto the desired area and rub into the shaft and glans. Do not apply to broken or irritated skin.
Does it really work?
A quick look at our 100+ positive reviews will show you how our customers have benefitted. With the expertly developed formula, the VigRX delay spray has been made to provide optimal results
Is it safe to use?
The delay spray is 100% safe to use and has no lasting effects!
How long does it take to see results?
Simply spray 10 minutes before action and feel it get to work!
Frequently bought together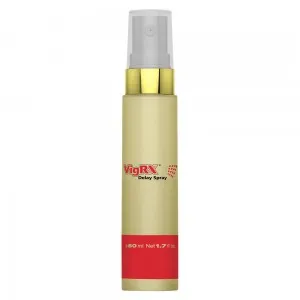 +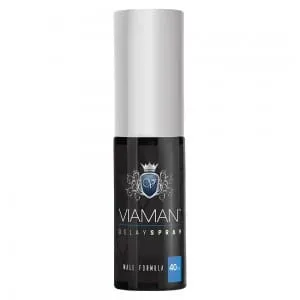 Customer Reviews
At ShytoBuy we strive to offer the best possible customer service and we take great pride in the feedback we have received from our customers.
Outstanding

5
88.57% based on 13 Reviews

* Results may vary from one person to another.