Activated charcoal emerged as a beauty and cosmetic trend of 2017. With a host of beauty and health benefits, activated charcoal became a key ingredient in many natural products used for teeth, skin and hair. It's now considered one of the safest natural ways for teeth whitening. So how exactly does activated charcoal help in teeth whitening? Keep reading to know more about this magic ingredient, its effectiveness in whitening teeth and how to use it.
What Is Activated Charcoal?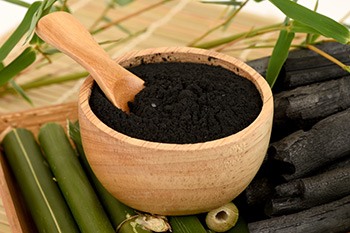 Activated charcoal is nature's secret to a bright and white smile. It's an ancient method that's becoming increasingly popular across the world. But don't mistake it for the charcoal or residue that remains after a bonfire.
What is the difference between charcoal and activated charcoal?
Charcoal is made up by exposing saw dust, coconut shells, petroleum coke, peat and few other substances to maximum heat. The regular charcoal is then treated further to increase its absorption abilities and can be used for medicinal purposes. It's this special method of exposing the charcoal to high temperatures with steam or chemically, that makes regular charcoal beneficial in the teeth whitening process.
Regular charcoal is best used for cooking, art work or odour removal while activated. The surface area of activated charcoal is much more than regular charcoal and hence it can absorb more substances whether toxic or not. In fact, active charcoal is more porous than regular charcoal.
Activated charcoal is basically activated carbon and is used in many everyday things like water purification systems and fish tank filtering systems.
Activated Charcoal & Teeth Whitening
Teeth lose their natural colour as you age or with time because of the consumption of various food substances. Extrinsic factors like coffee, wine, tea, curries, tomato sauces and smoking leads to teeth staining. Intrinsic factors like certain health conditions that affect the teeth, using toothpastes with high fluoride content since childhood and certain medications can also lead to yellowing of teeth. If you've started observing discolouration, it's best to tackle it in the early stages. Natural ingredients like activated charcoal, coconut oil and attention to dental hygiene can help brighten the teeth.
Using activated charcoal for teeth
It might seem odd that a paste or powder that makes the teeth black can actually lead to teeth whitening. There are several methods for teeth whitening from simple natural ways like gels, tooth whitening strips, kits, oil pulling to advanced treatments like veneers, caps or laser treatments.
When activated charcoal paste or powder is used on the teeth, it absorbs the bad bacteria, plaque and other particles from the surface of the teeth to clean them thoroughly. Due to this property, activated charcoal not only helps fade discolouration of the teeth but also fights other dental issues. It's important to note that activated charcoal doesn't bleach teeth.
However, it may help in preventing tooth decay as it absorbs the germs and toxic particles. Activated charcoal is considered as potential treatment for teeth whitening because it traps the toxins and chemicals and flushes them out so that there's no reabsorption. It's an all-natural and economical solution for teeth whitening.
Activated charcoal is often combined with other ingredients like spearmint, peppermint or strawberry for additional benefits and flavour.
Is Activated Charcoal Safe For Use?
There are no known side effects of activated charcoal. It's simple to use and safe too as long as you don't ingest it in huge amounts. Being completely organic, activated charcoal doesn't affect gums or cause any kind of inflammation. However, DIYs with regular charcoal can be harmful and must be avoided.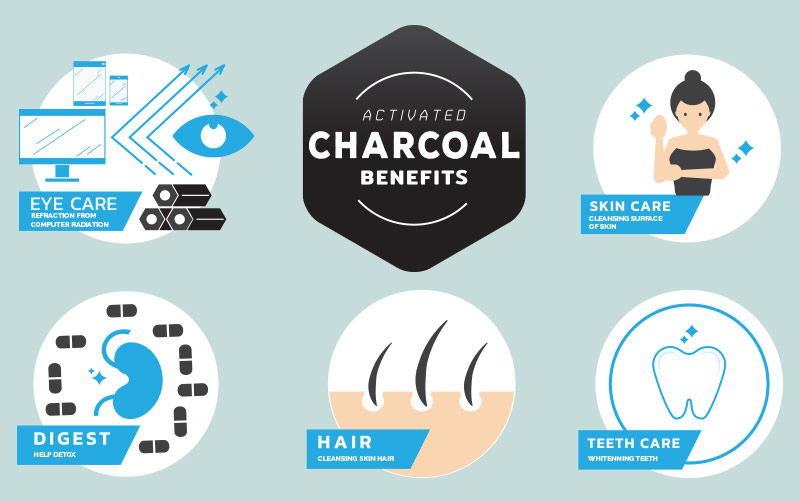 How To Use Activated Charcoal?
Activated charcoal powders, pastes and gels are available for teeth whitening. The toothpastes, gels or mouthwash often combine activated charcoal with organic coconut oil for additional teeth whitening benefits. Coconut oil pulling is also one of the popular methods for teeth whitening.
While excessive use of activated charcoal powder may be abrasive for teeth enamel, charcoal toothpastes are a preferred choice and less messy. About 3 minutes of brushing time is recommended when using activated charcoal pastes. Alternatively, you can also apply it on your teeth and leave it for a few minutes and then rinse your mouth.
Frequently Asked Questions About Activated Charcoal
Who can use it?

Activated charcoal can be used by everyone unless you're taking medication for certain chronic illnesses. In that case, you may consult with the doctor before using it.

Is charcoal toothpaste safe for use during pregnancy?

All-natural charcoal toothpaste is completely safe to be used during pregnancy. Look for the list of ingredients when choosing your charcoal toothpaste or gel.

Does activated charcoal cause abrasion of tooth enamel?

Repeated or everyday use of charcoal powder may lead to some abrasion of the enamel due to the coarse nature of the powder. However, powders can be used 2-3 times a week for 2-3 minutes to minimise the risk. Another favourable option is to use activated charcoal toothpastes or gels as they have a smooth texture.

Can activated charcoal be used on veneers or caps or fillings?

Activated charcoal doesn't have any known side effects on veneers, caps or fillings. Charcoal gets easily washed away and doesn't leave any black stains on your teeth.
The Final Word
The main aim behind choosing a teeth whitening product is to gain maximum benefits with minimal or no side effects. All of the products available at ShytoBuy are designed with all-natural ingredients to provide noticeable results at affordable prices. They're simple to use and aim at allowing you to enjoy a gorgeous smile.
Along with these products, a regular dental hygiene routine and limiting the consumption of foods and substances that cause staining will help you retain the sparkling and bright smile.