Ideal For Fighting The First Signs Of Aging: Wrinkles And Fine Lines
Numerous studies have reported on the anti-wrinkle properties of retinol. It's a substance derived from vitamin A that acts in 2 ways on the skin. First, it promotes the elimination of dead or old cells from the epidermis while optimising cell regeneration. Second, it stimulates the production of collagen and elastin. Retinol-based creams are therefore recommended in your fight against skin aging folds. Anti-wrinkle creams are very often suitable for all skin types.
Eliminates Brown Spots
At a certain age, the weight of overly sunny days begins to be felt on your face. This is because the sun's rays can disrupt the skin's pigments; hence the appearance of brown spots. Retinol fights against this phenomenon thanks to the properties it inherits from vitamin A. It acts directly on melanin to restore the uniformity of the complexion by eliminating brown spots.
Fights Acne Effectively
Retinol also helps young people. Acne, which affects both young and old, is treated with this molecule. Retinol is therefore used to get rid of pimples that roughen the texture of the skin. It's capable of such a feat, thanks to the regenerative effects it exerts on the cells of the epidermis. The skin thus regains all it's radiance and becomes totally smooth again.
In view of these elements, you may assimilate retinol as an element identical to vitamin A and beta-carotene. However, there's a difference between these 3 substances.
It fights acne effectively. It has an exfoliating effect that helps unclog pores, regulates keratin production and reduces the visibility of scars caused by acne pimples.
Retinol with Vitamin A is essential for skin health and is a super-effective weapon in the treatment of a multitude of skin conditions. One of the benefits of Vitamin A on acne-prone skin is the visible exfoliation and smoothing of the skin. This powerful vitamin also repairs cell structures, slows sebum production and reduces marks and pigmentation.
In addition, retinol helps reduce pimples by modifying sebum production and preventing dense sebum from clogging pores. In the absence of sebum, bacteria cannot proliferate and cause blemishes.
It Adapts To All Skin Types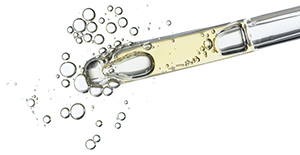 Contrary to popular belief, Retinol is no longer unsuitable for sensitive skin. Until now, sensitive skin was forbidden to use Retinol because of its irritating effects, causing the skin to pull, tingle and redden. Many lab's have studied the problem of sensitive skin in order to offer a concentration of Retinol without harming fragile skin. Today's Retinol is adaptable; it has been reworked, combined with anti-inflammatory agents as well as moisturising active ingredients, making Retinol now suitable for all skin types!
An Indispensable Product In Our Evening Routine
It's all a question of dosage with Retinol: we love it but we bet on responsible use! If you don't skimp on cleansing, moisturising and toning products in the morning, in the evening you're often lazy. Don't panic, Retinol is the ultimate skin care product to be used in the evening, but what are the reasons for this?
Because it stimulates cell renewal, it refines the skin's surface and is often photosensitising. We then avoid exposing ourselves to the sun directly after the application of this miracle molecule. Let Retinol act on your tired skin all night long for a radiant and more supple skin the next morning!
Retinol VS Hyaluronic Acid
With ShytoBuy you no longer have to choose between these 2 ingredients thanks its Retinol Serum composed of Retinol (obviously) as well as Hyaluronic Acid. With its unique blend of natural ingredients and moisturisers, the formula is designed to help you fight the signs of ageing, whether it's wrinkles, fine lines, marks or other imperfections. It's suitable for all skin types: normal, oily, dry and sensitive.
A Product That Is Self-Sufficient
The world of beauty is unanimous. Retinol improves the appearance of acne-prone skin, reduces wrinkles and fine lines, improves the complexion, smoothes skin texture, illuminates the epidermis and unclogs pores…what if tomorrow we discover new, unsuspected properties?
In short, there's no need to add a layer, retinol is simply... miraculous!