100% Discreet Service
We offer discreet packaging, billing & delivery
Free UK Delivery
Enjoy free shipping on orders above £40
Customer Data Protection
Your data is safe and secure with us
Total Curve Gel
100 ml Gel | Breast Enhancement System
Overview
Developed to firm, plump, tone & lift
Ideal to enhance curves and boost confidence
Up to 8.4% increase in less than 60 days*
Formulated with clinically studied Volufiline®
Easily absorbed with no stains or bad odours
100% natural ingredients - No known side effects
Suitable for women of all ages and lifestyles
Use with Total Curve Capsules for best results
Designed to lift & shape your breasts, Total Curve Gel is the discreet, topical solution you need for getting that desired curve. With the plumping ingredient Volufiline, this easy-to-apply breast enhancement gel has been clinically proven to increase breast size by up to 8.4% in less than 60 days*! So feel confident and amazing about your natural curves with the Total Curve Gel today!
Vegan
Gluten-free
Halal-friendly
Kosher-friendly
£30.59
£33.99
You Save £3.40
Free Delivery on all UK orders over £40.

Buy now and earn 3 Comfort Points ?
Why Choose Total Curve Gel?
In today's image-driven world, many women feel unhappy about their breast shape and size. Ageing, weight change, pregnancy, and hormonal changes, there can be numerous causes that lead to losing volume and firm shape, leaving women feeling less confident about their bodies. While breast augmentation surgeries can be a solution, these are too costly and painful. That's why HerSolution came up with Total Curve Gel, a soothing non-surgical breast enhancement solution for this 'Everywoman' problem!
Benefits Of Total Curve Gel
Blend of an all-natural formula for breast uplift that works without causing you any known harmful side effects.
Easy-to-apply gel form, a great alternative to bitter tablets and painful surgeries.
Thanks to its quick-absorption formula, now you don't have to worry about staining your clothes.
The smell-free gel leaves no bad smell on your skin after application
Whether you're in your thirties or sixties, you can enjoy this gel as it is suitable for women of all ages and lifestyles.
Discreet packaging so that no one has to know the secret of your youthful natural breasts.
Can be ordered prescription-free with no need for embarrassing visits to the doctor.
Our positive Total Curve reviews from customers will tell you how much they have benefitted from this breast enlargement gel. So make your curves look more attractive with a stimulating massage with the Total Curve Gel!
*Please note that this is an average result based on clinical studies, and different people may experience different results.
Actively Plumping Ingredients
Volufiline® Gel - Specially Formulated For Your Curves!
Drawn from sarsasapogenin, a compound extracted from the powerful Chinese plant Zhu Mu, Volufiline® was specifically designed to help restore your voluptuous curves to the plump fullness you dream of. Created by a skilled group of researchers, it was then subjected to in-depth laboratory research. Using sarsasapogenin's potential lipogenesis-invigorating qualities, it appeared to build the volume of fat tissue in the bosom by up to 8.4% in under two months.
Total Curve Gel
Designed for the unique needs of women's bodies, this soothing topical skin product is a natural approach to common worries. With a range of both traditional, natural and scientifically developed ingredients, they perfectly work together to help you restore your self-confidence. This revolutionary formula offers a safe, natural and cost-effective alternative to invasive breast augmentation surgery, which can be very expensive and often leads to unwanted side effects.
Actively Plumping Ingredients
The potent formula of Total Curve Gel is composed of carefully selected ingredients, including six natural extracts, every one of which aims to help give you the sensation of a fuller, firmer, and more pert bust. Total Curve has included these potent natural ingredients to bring ancient knowledge into the future, blending them with Volufiline® to create the ideal supplement for all of your needs.
Mango Butter
This exotic fruit is increasingly known for being incredibly moisturising and nutritious. It can soften and soothe your skin with intensely nourishing effects. Despite its rich texture, it is highly absorbable. Its scientifically researched skin-repairing and protecting qualities have made it a mainstay of body care products.

Bearberry Extract
Found in North American forests and named for the animal that so enjoys eating it, it's been traditionally consumed by indigenous Americans for generations. It's now increasingly gaining research for its uses regarding skin ageing. It's also used to help revitalise and protect.

Caffeine
Popularly well known for its stimulating, 'wakening' effects on the whole body, it is now increasingly used in a variety of products to enhance and speed up their beneficial effects. It's found more and more in both skin and hair care products used to help firm, tone and protect.

Aloe Vera
Drawn from a succulent tropical plant, it is a natural, highly regarded ingredient included in innumerable skin care products for its fresh sensation and hydrating nature. Research has investigated its protective effects and interaction with free radicals. It's often used to promote skin firmness and strength. Read more here.

Algae Extract
Once little known, Algae is now a cult favourite, packed with minerals and Vitamins A, B, C, and E, considered vital in enabling your skin's moisture-retaining abilities, leading to enhanced hydration and skin softness and firmness. Combined, they support numerous components of physical appearance. Find out more here.

Vitamin C
Commonly found in oranges and other citrus fruit, this highly important skin-loving vitamin, is known to support collagen production, a key protein that fills and restores skin's appearance. It's also understood to help protect cells from damage, ageing oxidative stress. It aspires to firm, tone and fight the signs of ageing.
How To Use
If you're wondering how to increase breast size with Total Curve Gel, then simply apply a thin layer of gel to each breast in its entirety twice daily. Massage gently in a circular motion until the gel is fully absorbed.
Advice
We suggest making use of the gel for at least three months, as well as investing in long-term use, to get the most out of it. We advise you to look for the ingredients before use to check if you're allergic to any.
How long does it take to work?
Many customers have reported to feel and see differences within a month of use, but we recommend using it for at least 3 months to see optimal results.
Are there any side effects?
We pride ourselves on sourcing all-natural ingredients in our products which means there are no known negative side effects and you can have peace of mind when using them.
How do I maximise results?
We would highly recommend you using the gel in conjunction with the total curve capsules to see optimal results in the shortest amount of time.
Frequently bought together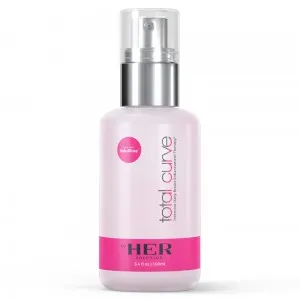 +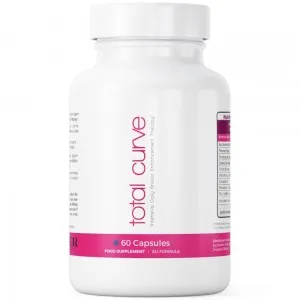 Total Curve
60 Capsules | Intensive Daily Breast Enhancement
£35.99

* Results may vary from one person to another.