Discreet Service
Plain packaging and discreet billing.
Free UK delivery on orders over £40
Save on postage today
Customer Data Protection
Your data is safe and secure with us
Viaman T-Boost
180 Capsules | Male enhancement supplement
Overview
Looking to give your body an all-natural T boost to keep you feeling at your peak? Viaman T Boost is a premium supplement that helps you maintain your body's test levels. T levels can decrease as we age, and since it plays an important part in muscle mass, bone density, hair growth and our vigour, why not give yourself the boost you need today?
Natural enhancement capsules
Zinc contributes to the normal levels of T
Safe formula with selected ingredients
Free from the side effects of prescribed medication
180 capsules - a 3 month supply
Gluten-free
GMP
Formulated For Men
GMO Free
buy 1

£24.99

buy 2

£44.98

£49.98 You Save 10%
buy 3

£59.97

£74.97 You Save 20%

Buy now and earn 2 Comfort Points ?
What Is Viaman T-Boost?
Viaman T Boost is a premium male enhancement supplement designed to naturally maintain your body's levels of test. Formulated with Zinc & Selenium, these 2 natural ingredients are often used for their part in the creation of sperm and test, all while helping maintain your body's natural vigour.
Through ageing and other unavoidable factors, our T levels can begin to decrease. This can weaken the bones and muscles, and even results in the loss of libido. As such, this supplement can help balance your T levels, ensuring they're at normal levels.
What Are The Main Benefits & Ingredients?
Low test can have negative effects on our bodies. Test helps produce red blood cells, which carries oxygen throughout our bodies. It can also help manage your weight, as it increases your energy and helps you work out for longer. It can also boost your mood, and strengthen your bones. That's why it's so important. So, if you're worried about your body's T levels, give yourself a much-needed boost today.
Zinc
Zinc contributes to the maintenance of normal T levels in the blood. It is recognised that healthy T levels are contributors towards optimising masculinity and drive. Since T levels can naturally deplete for a variety of reasons, it is important to top up on a regular basis.
Fenugreek
For centuries, Fenugreek has been used for its body benefits all over the world. Primarily, it's recognised by practitioners for its libido-enhancing functions, in both men and women alike. Now, science is finally catching up with its holistic use, as recent studies have found.
Maca Root
The humble maca root has been used to boost desire and performance for generations. Hailing from Peru, it's positively stuffed with protein, vitamins and other body-key nutrients that are known to aid endurance, stamina and support male performance.
Who Is Viaman T Boost For?
Viaman T Boost is the perfect, natural alternative to discreetly and confidently bring back your confidence, performance, and masculinity.
Suitable for men over the age of 18.
How To Use
Take 2 capsules every day, ideally with water, to help maintain the natural level of test in your blood.
Full List Of Ingredients
Vitamin A, Vitamin D, Vitamin K, Vitamin B6, Folic Acid, Vitamin B12, Pantothenic Acid, Magnesium, Zinc, Selenium, D-Asparatic Acid, Maca Root (Lepidium meyenii) (from 15:1), Fennel Seed (Foeniculum vulgare) (from 10:1), Fenugreek (Trigonella foenum-gra cum), Silicon Dioxide, Magnesium Stearate, Microcrystalline Cellulose
Frequently bought together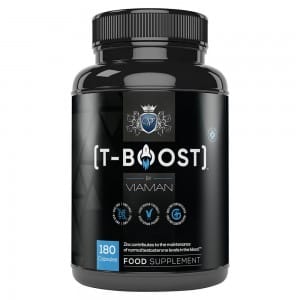 +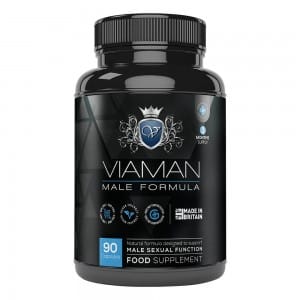 * Results may vary from one person to another.