Delivery Notice: Due to Royal Mail strike action on 30th September and 1st October 2022, please expect delays in delivery times. We appreciate your understanding.
Discreet Service
Plain packaging and discreet billing.
Free UK delivery on orders over £40
Save on postage today
Customer Data Protection
Your data is safe and secure with us
CC Fabulous Breasts Tablets
90 Tablets | Natural Feminine Enhancement Tablets
Free Delivery on all UK orders over £40.
Key Features
Ideal to naturally firm and lift your breasts
Supports natural beauty from the inside out
Formulated with fenugreek and fennel
Calcium supports a normal function of (chest) muscles
90 tablets per bottle - 1 month supply
Suitable for women of all ages and lifestyles
Use with CC Fabulous Breasts Cream for optimal results
Vegan
Gluten-free
Vegetarian
Expert Formula
Formulated with a perfect blend of powerful botanicals and natural ingredients, the Cobeco Cosmetics Fabulous Breasts Tablets are the ideal way to enhance your body without any medical or invasive procedures. Designed to firm and lift your breasts, this innovative formula targets the pectoral muscles by utilising ingredients such as Fenugreek, Fennel Seeds, Saw Palmetto and Calcium. Take on your day with confidence today.
CC Fabulous Breasts Tabs
These small yet potent tablets expertly blend seven botanicals to offer women a convenient, daily herbal supplement. Perfectly balanced for the feminine form, they include natural ingredients historically and traditionally proven over the generations. Innovatively designed, it seeks to supersede costly, expensive and unpleasant invasive methods. The carefully selected plant extracts included here are understood to be helpful across feminine wellbeing worries, and in particular with helping women to achieve the appearance of fuller, lifted, plumper breasts.
The Feminine Figure
A lusciously curvaceous figure has been idealised since prehistory - from the ancient Greek goddess Aphrodite to Hollywood icon Marilyn Monroe, hourglass figures have long been considered the 'ideal' feminine shape. In an increasingly image-driven world, many of us are left wishing we could enhance our physical assets. Many women might be turning increasingly to plastic surgery to achieve these effects, but with stories filling the newspapers, who knows what side effects you might be facing. Wouldn't we all prefer a natural, holistic approach, working from the inside out to enhance what nature gave us?
Breast Enhancing Pills For A More Confident Future
CC Fabulous Breasts Tablets are perfect for busy women who want to enhance their innate beauty in a discreet, simple way. They also contain seven rare plant derivatives, each carefully selected with expert knowledge on their traditional uses. These three-a-day tablets also include 38% of your recommended daily amount of Calcium, helping breasts tissues to be supported by healthy, reinforced muscles. Easily, simply and without any invasive intervention, you can take a positive step forward into a more confident future.
Full List of Ingredients
Saw Palmetto berry (Serenoa repens), Calcium (calcium carbonate), Fenugreek seed (Trigonella foenum-graecum), Fennel seed (Foeniculum vulgare), Cumin seed (Cuminum cyminum), bulking agent: E460, thickener: E466, Blessed thistle (Centaurea Benedicta), Dong Quai (Angelica Sinensis), Chili pepper (Capsicum annuum), colour: E171, anticaking agents: E570, E572, emulsifier: E465, humectant: E1518, colour: E172, anticaking agent: E551, acidity regulator: E553b, glazing agent: E903.
Advice
Fabulous Breasts Tabs are based on a natural, herbal formula, and have no known side effects. However, as with any new supplement, we recommend thoroughly reading the full ingredients, in case of any individual allergies. If you're on any medication, or are pregnant or breastfeeding, please check with your healthcare professional before taking. They are not intended for use by those under eighteen.
Directions Of Using CC Fabulous Breasts Tablets
Fabulous Breasts Tablets are designed to be easy and simple, fitting into your day with minimal effort. Once daily, take three tablets with a large glass of water. We recommend enjoying the CC Fabulous Breast Enhancing Pills for at least three months, as well as investing in long term use, to get the most out of this dietary supplement.
Incredible Compounds
To give women alternatives to harsh surgical procedures, more and more researchers are turning their attention to naturally stimulating factors that can be included in a dietary supplement. Increasing interest is leading to the use of phytoestrogens. These naturally occurring compounds are found in many plants, including Fennel, Fenugreek and Dong Quai, and are known to impact the fertility of animals that consume them. Equally, healthy circulation is considered more and more to be crucial to a bountiful, beautiful body. Rather than turning to side-effect laden chemicals, natural plant extracts are becoming considered useful. By boosting the natural flow of blood, the whole body can be enlivened and reinvigorated, leading to breasts that are their most lifted, full, and pert.
CC Fabulous Breasts' Active Ingredients
Do the CC Fabulous Breasts Tablets Work?
One look at our reviews will show you the positive results that our customers have seen! The Cobeco Cosmetics team have carefully developed and formulated these tablets to provide optimal results.
Are there any side effects?
>Fabulous Breasts Tabs are based on a natural, herbal formula, and have no known side effects. However, as with any new supplement, we recommend thoroughly reading the full ingredients, in case of any individual allergies.
How do I achieve optimal results?
To achieve optimal results, we recommend pairing the CC Tablets with the Cream. In combination, these products work brilliantly to achieve maximum results.
Frequently bought together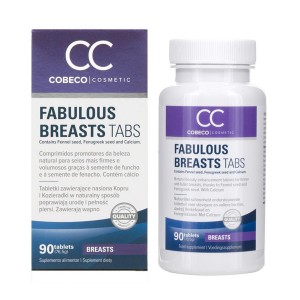 +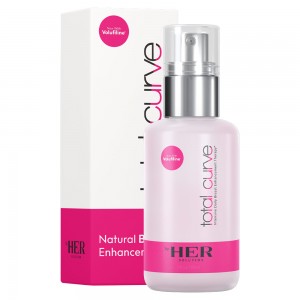 +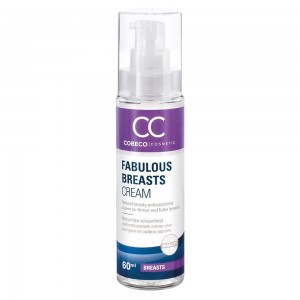 Customer Reviews
At ShytoBuy we strive to offer the best possible customer service and we take great pride in the feedback we have received from our customers.
Outstanding

4.5
87.36% based on 162 Reviews

* Results may vary from one person to another.