Get free, discreet shipping on orders above £40 in the UK
100% Discreet Service
We offer discreet packaging, billing & delivery
Free UK Delivery
Enjoy free shipping on orders above £40
Customer Data Protection
Your data is safe and secure with us
ViaTight
50 ml | Vaginal Tightening Gel
Free Delivery on all UK orders over £40.

Buy now and earn 2 Comfort Points ?
Key Features
Developed for tightens women intimate zones
With witch hazel for tightening astringent properties
Infused with Aloe-vera for moisturising
Soothing chamomile and allantoin
Made with 100% natural ingredients - no known side effects
Easy to apply gel formula - apply once a day
Vegan
Gluten-free
Vegetarian
Cruelty-Free
What is ViaTight
Intimate regions on the body can be a sensitive topic to discuss and can affect confidence both in and out of the bedroom. ViaTight has been developed to help you take on your days and nights with confidence and experience the pleasure you deserve.
Formulated with industry leading natural ingredients such as witch hazel and aloe vera, ViaTight is the perfect topical solution to help you tighten and moisturise your intimate area.
The Vagaries Of Time
Pleasure between a man and woman is dependent on many factors - but tightness down below is often cited as one of them! Many hormonal changes, and often some genetic factors, can play a role in that part of feminine anatomy. But with female empowerment came a desire to enjoy passionate bedroom experiences into middle and later years. Due to this, women began considering all number of devices, as well as invasive and somewhat disconcerting procedures. For so many women, a naturally based topical gel would be the very best way forward.
Benefits
To help you in addressing this particular, difficult and - in every sense of the word - sensitive subject, ViaTight takes an innovative path. In bringing together six incredible botanical extracts, they have harnessed centuries of traditional knowledge, combining extracts that have been in the hands of female practitioners for generations. This is utilised with 21st century innovation, so that each ingredient is perfectly balanced within the stimulating gel.

Aloe Vera
This centuries-old plant extract has been incredibly popular for generations, a mainstay amongst ancient peoples of Greece, Egypt and China. It's known everywhere for its simultaneously moisture-instilling and refreshing capabilities.

Menthol Oil
A blend of several mints, this fusion of extracts is considered important in various body-loving ways. By combining various powerful strains, its seen to instill a zingy sensitivity while nourishing and caring, and can be understood to be an astringent.

Witch Hazel
Also known as Hamamelis Virginiana, this ingredient has become very popular in the targeting of localised and general skin concerns, such as acneic skin. This is due to its tightening, astringent qualities, as well as its ability to purify.
Chamomile
An almost legendary herb, Chamomile has become a vitally important ingredient in various hot beverages, as well skincare everywhere. It's used as a balancer to astringent, sensitivity-boosting factors. This is due to its calming, relaxing abilities.
Allantoin
Extracted chemically from Chamomile, this factor has been called by the press a 'Miracle Ingredient'. Due to its intensive hydration-boosting and skin cell invigorating qualities, it is understood to heighten natural rejuvenation.
Marigold
Known to some by its Latin name Calendula Officinalis, this flower has increasingly grown in popularity in skincare products. In balance to stimulating boosters, its used to soothe and rejuvenate whilst adding a light fragrance.
Using ViaTight
Step 1 - Apply daily to the desired area near the opening
Step 2 - Carefully apply a thin, even layer internally as well
Guidance
Every product of the Cobeco labs is expertly created with a drive toward excellence and customer satisfaction. However, especially as the ViaTight gel is intended for application on a highly sensitised area, we do recommend carefully check the ingredients for allergens before applying. If you have any particular concerns regarding your intimate regions, please check with a doctor before using.
Does ViaTight really work?
A quick look at our reviews will show you how our customers have benefitted from ViaTight. With premium, industry-leading ingredients to provide you with optimal results.
Are there any side effects?
We pride ourselves on using all-natural ingredients in our products which means there are no known negative side effects and you can have peace of mind when using them.
Can anyone use this?
Anyone can use ViaTight due to its all-natural formula, but this product has been developed for individuals over the age of 18.
Frequently bought together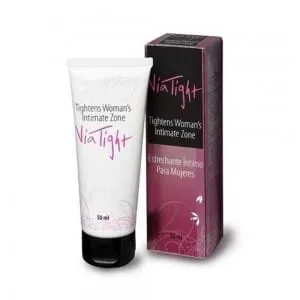 ViaTight
50 ml Gel | Gel for Feminine Tightness
£24.99
+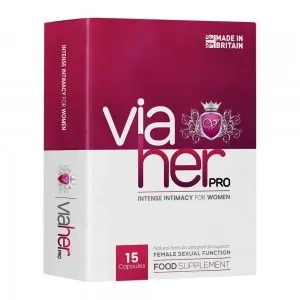 ViaHer Pro
15 Capsule | Supplement for Intense Intimacy for Women
£21.99 £22.99
Customer Reviews
At ShytoBuy we strive to offer the best possible customer service and we take great pride in the feedback we have received from our customers.
Outstanding

5
90.00% based on 13 Reviews

* Results may vary from one person to another.