Get free, discreet shipping on orders above £40 in the UK
100% Discreet Service
We offer discreet packaging, billing & delivery
Free UK Delivery
Enjoy free shipping on orders above £40
Customer Data Protection
Your data is safe and secure with us
Maxmedix VariGo Combo
60 Capsules + 60ml Cream | Helps in Varicose Veins
£33.58
£41.98
You Save £8.40
Free Delivery on all UK orders over £40.

Buy now and earn 3 Comfort Points ?
Key Features
2-in-1 formula for the appearance of leg veins
Ideal for cramped, tired & achy legs
60 capsules to help with spider veins
Packed with 7 active natural ingredients
60ml soothing cream to hydrate & nourish your skin
With Aloe Vera, Shea Butter & Collagen
100% natural formula - no known side effects
Fast-acting gel & capsules for quicker results
What's In maxmedix VariGo Combo?
Do you often get a heavy or achy feeling in your legs or notice swollen veins? Chances are your normal circulation and functioning of blood vessels are disrupted which has given rise to swollen, blue or dark purple-coloured varicose veins. Maxmedix brings you the VariGo Combo Pack comprising VariGo Cream and VariGo Capsules, which work in tandem to help you combat the annoying, itchy and often painful varicose veins. Now tackle the appearance of these unwanted swollen veins discreetly with maxmedix VariGo Combo!
How Does VariGo Cream Help?
VariGo Cream uses a topical approach to nourish, strengthen and soothe your skin while taking on those unattractive varicose or spider veins. Here's how the skin-loving natural ingredients in this fast-absorbing cream help you inside out -
Grapeseed Oil is known to support normal circulation and blood vessels to soothe down the appearance of varicose veins.
Lemon oil, Orange Oil & Chamomile are rich in Vitamin C which contributes to normal collagen formation for the normal function of blood vessels.
Aloe Vera, Shea Butter and Allantoin deeply moisturise and nourish your skin.
Cornmint, Cypress and Lavender soothe dry, irritated skin while imparting a pleasant and rejuvenating aroma.
Collagen helps in maintaining your normal skin.
Why Do You Need VariGo Capsules?
Varicose veins can be often rigid and may need attention from within. VariGo Capsules is your grab-and-go solution to target the root cause of these swollen veins without much effort! These discreet and easy-to-take capsules combine 7 carefully chosen active ingredients, each of which helps you in the following ways -
Piperine helps in normal circulation and soothes swollen veins in your legs and feet.
Horse Chestnut Seed contains Aescin compound which is often linked with the alleviation of swelling.
Pine Bark Extract is often credited for supporting microcirculation and relaxing blood vessels.
High in flavonoids, Rosemary Leaf extract helps in tackling swelling or pain in veins.
Hesperidin assists to deal with symptoms of poor circulation in the legs.
Why Choose maxmedix VariGo Cream & Capsules Combo?
2-in-1 combo pack with cream and capsules, allowing you to target varicose veins in both topical and oral ways.
Just 2 capsules a day and twice-daily application of the cream can help you easily manage swollen veins.
100% natural and GMP-certified products causing no known harmful side effects, making them stand out from competitors.
Quick-absorbing formula to let you experience their benefits faster.
Contains 60 capsules for 1 month's supply and 60 ml of cream for long-term use.
Comes with a 90-day full money-back guarantee so you can try them risk-free.
Save 10% more on this combo than on individual products.
How To Use VariGo Cream For Veins In Legs?
Simply apply the cream gently by massaging it into the desired area of the legs or feet in a circular motion until it is fully absorbed. Use twice a day, preferably once in the morning and once in the evening. Read the list of ingredients to check for any personal allergies. Consult a doctor before use if you are pregnant, lactating, or on medication. This product is not for those under the age of 18.
How To Use VariGo Capsules?
Take 2 capsules daily with a glass of water, preferably after a meal. You can take one capsule in the day and another ta night or take them both at once. We recommend you take the capsules at the same time every day to maintain consistency. Store in a cool, dry place (less than 30°C). Do not exceed the recommended daily dose. Do not take this product if you are allergic to any ingredients. Do not use it during pregnancy or lactation period or in case of antihypertensive treatment. Do not administer to children under 18 years.
Does varicose vein cream work?
A quick look at our reviews will show you how much our customers have benefitted! We have formulated our VariGo cream for varicose veins with premium industry-leading ingredients to provide optimal results!
Do varicose veins supplements work?
Our reviews are enough to show how much VariGo capsules have helped our customers. This varicose veins supplement has been specially formulated with 7 natural ingredients to give you optimal results while being gentle on your skin.
Can varicose veins grow back?
Yes, even after getting disappeared using the right solution, varicose veins may recur in your legs and feet. So it is important to continue using the products to keep these swollen veins under check.
Who can get varicose veins?
Varicose veins are very common and can be usually seen in 3 out of 10 adults. While both men and women can get varicose veins, women are more prone to it, especially during pregnancy.
How are varicose veins caused?
Varicose or spider veins can be caused by multiple factors such as ageing, pregnancy, obesity, family history of varicose veins or prolonged standing. It is mainly caused due to weak vein walls and valves. When the small valves in your veins don't function properly, you're likely going to develop varicose veins.
Are there any side effects of the spider veins cream and capsule?
We pride ourselves on using all-natural ingredients in our products which means there are no known negative side effects and you can have peace of mind when using them.
Is it safe to take the spider vein capsules every day?
Yes, it is usually considered completely safe to take our VariGo capsules for varicose veins on a daily basis. However, we suggest you do not exceed the daily recommended dosage.
How long will it take to see results using the capsule and the cream?
Our customers have reported seeing positive results in a matter of a week. Having said that, we recommend you continue using the cream and the capsules till you see your desired results as everyone can experience results at different times.
Is it suitable for all ages?
VariGo Cream and VariGo Capsules by maxmedix are suitable for both men and women above the age of 18 years.
What if the capsules and the cream don't work for me?
Although we are confident that you will love our products, we understand that everybody is different and may not feel the effects in the same way. We value our customers and prioritise customer satisfaction first, that's why we offer you a full money-back guarantee! If these don't work for you, we will refund you for your order!
Frequently bought together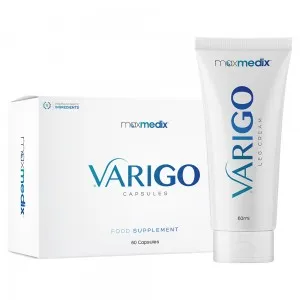 +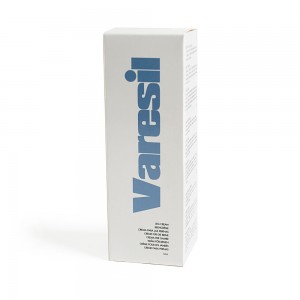 Varesil Cream
60 ml Cream | 100 ml | Cream for Leg Veins
£19.99 £21.99
+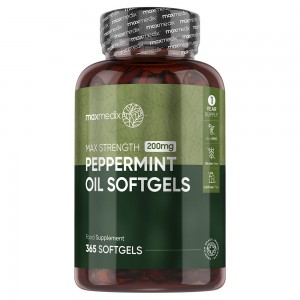 Customer Reviews
At ShytoBuy we strive to offer the best possible customer service and we take great pride in the feedback we have received from our customers.
Outstanding

4.5
82.11% based on 18 Reviews

* Results may vary from one person to another.