Discreet Service
Plain packaging and discreet billing.
Free UK delivery on orders over £40
Save on postage today
Customer Data Protection
Your data is safe and secure with us
Silk'n Cleansing Box
For Silk'n Glide & Infinity
Overview
Designed to help you clean your Silk'n hair removal devices in just 5-6 minutes, the Silk'n Cleansing box is an innovative invention that has never before been seen on the market. Created so that you can easily clean your Glide & Infinity devices in a convenient mess-free way, the smart blue LED light works to actively cleanse the device and keep it protected from bacteria so that you can keep your devices hygienic and able to share
Cleans your device in 5-6 minutes
Perfect for sharing a single device
Compatible with Silk'n Glide and Infinity
Official Silk'n Premium Partner
2 year warranty
With blue LED light for bacteria
Product that you are looking for is no longer available.
The Silk'n Cleansing Box System
It's important to clean your device after every use but using water could be dangerous and a damp cloth may be able to remove surface particles but not bacteria. Thanks to this clever invention exclusive to Silk'n however, this issue is no longer a problem. The Silk'n Cleansing Box is a compact and lightweight device that is designed to help you clean your Silk'n hair removal devices to keep it hygienic and capable of sharing.
The secret to the cleaning efficiency of the Cleansing Box lies in its blue LED lights. Blue LED lights are well known for their abilities to fight against bacteria and there has even been scientific research conducted looking into their potential properties to back this up. This technology makes for a simple hands-free as well as mess-free way to clean your device without having waste time doing it before sharing, so you can spend more time enjoying it!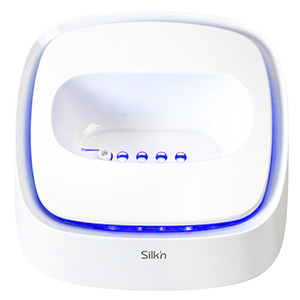 What's Included
Silk'n Cleansing Box
Glide Cover
Infinity Cover
2x LRO3 (AAA) Batteries
How To Use
Insert batteries into Cleansing Box.
Select the corresponding cover for your device (Glide or Infinity).
Place your device into the Cleansing Box with the treatment surface face down.
Gently press the device down to press the on/off button and active the box and so the blue LED lights turn on.
Leave your device to clean for 5-6 minutes.
The lights will automatically turn off once cleaning is complete, but if you wish to end early simply press the device down again.
Advice
As when using any new device, we always suggest reading through the user manual provided in order to fully understand the product and how to use it. This device is not intended for use by children and it should not be in contact with water. Only press down on the on/off button when the device is in the Cleansing Box, do not operate manually in order to protect your eyes from the concentrated light. This device is CE certified so is fully safe to use in accordance with EU directives.

* Results may vary from one person to another.