Discreet Service
Plain packaging and discreet billing.
Free UK delivery on orders over £35
Save on postage today
Customer Data Protection
Your data is safe and secure with us
Pure Marine Collagen
120 Capsules | High-Potency Supplement
Overview
Not all Collagen is equal in its benefits, which is why Pure Marine Collagen uses one of the finest sources available, making it the ideal supplement for caring for the health of your skin, bones and joints. When it came to choosing the Collagen to use, we wanted to ensure they had the best; using only NatiCol® Marine Collagen sourced from Pangasius and Tilapia fish in regions of America & Asia, this provides a natural supplement with a 1755mg strength per serving, one of the strongest found on the market.
Targets the appearance of ageing
Healthy skin, bones and joints maintenance
Made with premium NatiCol® Marine Collagen
Neutral taste and odour
No artificial colours, flavours, sweeteners or preservatives
Powerful 1755mg strength per serving
Gluten-free
Lactose Free
GMP
GMO Free
buy 1

£16.99

buy 2

£30.58

£33.98 You Save 10%
buy 3

£40.77

£50.97 You Save 20%
Collagen In The Body
As the main structural protein in the skin, bones and joints, Collagen is key to their health and maintenance. When the body is young there are ample levels of Collagen which results in firm and smooth skin, strong bones and flexible joints. Many factors however can affect the naturally occurring levels of Collagen in the body, including age, physical stress & environmental factors. For the skin this can lead to oxidative stress and the signs of ageing such as wrinkles, sagging skin and fine lines. For the bones and joints, they can mean a reduction in movement & brittle bones.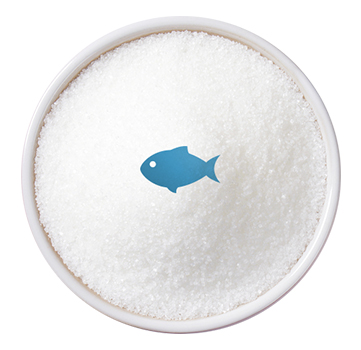 Marine Collagen vs. Bovine Collagen
Commonly referred to as Fish Collagen, Marine Collagen is a natural protein that is extracted from the scales of saltwater fish. This form of collagen contains molecules called peptides, which are well known for their low molecular size and weight. As a result of these peptides, Marine Collagen is said to be absorbed 1.5x more efficiently than other forms including Bovine and Porcine. This is why it is becoming far more popular than many other Collagen sources, with pure forms of Marine Collagen often being very potent and beneficial for the body.
Due to the popularity of this form of Collagen and the special properties of the peptides, they have now also been widely studied. More specifically, the link between these amazing peptides and collagen synthesis and quality has been studied and it has been suggested that Marine Collagen can have beneficial properties for the skin as well as being very useful for those following a high antioxidant diet or skincare regime.
NatiCol® Marine Collagen
As a specific type of Marine hydrolysed Collagen, NatiCol® Marine Collagen is a premium source that is made to the highest quality. This particular type of Collagen is selectively derived from Pangasius and Tilapia fish originating from areas of Asia and North and South America and consists of 95% pure Marine Collagen. It is also some of the finest quality around and to prove it, it is a carbohydrate, fat, bovine, cholesterol, OGM and preservative free source of Collagen. What also makes NatiCol® Marine Collagen so unique compared to many other sources, is that it has an extraordinary level of low molecular weight and contains a massive 8 different amino acids with their own individual properties and benefits.
Directions
Simply take 3 capsules every night after dinner with a glass of water. For consistency, try to take the capsules around the same time each day. Each bottle contains 90 capsules or 30 servings so will last for 1 month. In order to properly assess the results of the product for you and your body, we recommend taking this supplement for a minimum of 3 months.
Full List Of Ingredients
Active ingredients: Marine Collagen.
Other ingredients: Gelatin (capsule), Magnesium Stearate.
Pure And Natural Supplement
This supplement is made using only pure marine collagen and contains no artificial colours, flavours, sweeteners or preservatives so is safe to take with no known side effects. This product is also Halal certified. As the capsule shell is made from Gelatin however, it is not suitable for vegetarians and vegans. As when taking any new supplement, we always suggest checking the ingredients for any personal allergies. This supplement is not intended for those under the age of 18.
Frequently bought together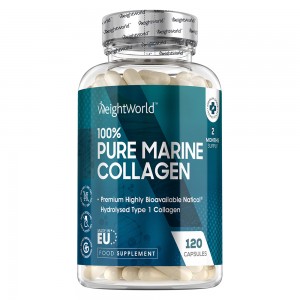 +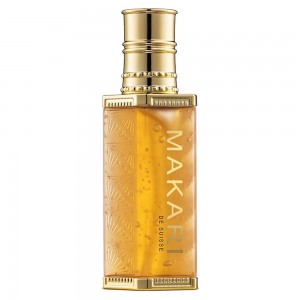 +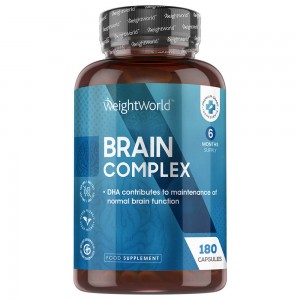 Brain Complex
287 mg 180 Capsules | Mental Performance Supplement
£12.79 £15.99

* Results may vary from one person to another.