Discreet Service
Plain packaging and discreet billing.
Free UK delivery on orders over £35
Save on postage today
Customer Data Protection
Your data is safe and secure with us
MySmile Bundle
Combo | Teeth Whitening Bundle Set
Overview
Let your smile shine bright with the MySmile Bundle! The teeth whitening products within this unique bundle combine to naturally take care of your teeth and gums. This bundle is a convenient and ideal way to whiten the appearance of your teeth to help you feel more confident with your smile. Address your teeth concerns without the need of visiting the dentist with all your teeth whitening needs found in this bundle!
Eco Masters mysmile Teeth Whitening Kit
Eco Masters mysmile Teeth Whitening Gels
Eco Masters mysmile Activated Charcoal Powder with Bamboo Toothbrush
£60.78
£75.97
You Save £15.19
Free Delivery on all UK orders over £35.
What Can I Find In The MySmile Bundle?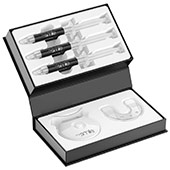 Eco Masters mysmile Teeth Whitening Kit
Ideal for teeth whitening
With natural botanicals
Intensive 6 day program
Comes with light, tray & gel
Shade guide & manual included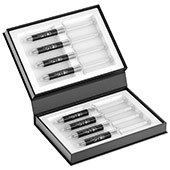 Eco Masters mysmile Teeth Whitening Gels
6 refills for the mysmile Teeth Whitening Kit
Perfect for a brighter smile
Ready to use teeth whitening gels
All-natural formula
With Grapefruit, Aloe Vera & Chamomile
Gently takes care of your teeth & gums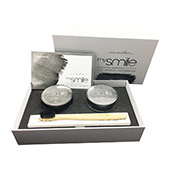 Eco Masters mysmile Activated Charcoal Powder with Bamboo Toothbrush
Natural teeth whitening combo
2 Activated coconut charcoal powders
Enriched with Sodium Bicarbonate & refreshing Peppermint Oil
Eco-friendly with recyclable packaging
With 2 natural bamboo toothbrushes
Binchotan Charcoal-infused bristles to complement Activated Charcoal Powder
How To Use The MySmile Bundle
To get the most out of your MySmile Bundle, here's what you need to do:
Use the mysmile Teeth Whitening Kit 2 times a day.
Attach the mouth tray to the teeth whitening light (make sure to remove the plastic battery protector before first use).
Apply 1/4 of a syringe of 1 of the Teeth Whitening Gels into each side of the mouth tray - there should be just enough to coat the front surface of your teeth without touching your gums. Place the mouth tray over your teeth, and wipe off any gel that is in contact with your gums.
Press the start button to commence the 10 minute countdown. Close your mouth to fix the tray in position.
Once the light automatically turns off and you hear the prompt tone, remove the mouth tray. Rinse your teeth with warm water, then take off the mouth tray from the whitening light and clean it.
For optimal results, repeat this whitening procedure for 6 to 12 consecutive days. Read complete instructions prior to first time use.
Complete the process with the Activated Charcoal Powder and Bamboo Toothbrush when the time comes to brush your teeth. Dip a clean, wet toothbrush into the charcoal powder. Put the powder covered toothbrush in the mouth, and brush in small and gentle circles. Continue to brush in circular motions for 3-4 minutes. Once you've finished, thoroughly rinse your mouth with water and let your smile shine bright!
Customer Reviews
At ShytoBuy we strive to offer the best possible customer service and we take great pride in the feedback we have received from our customers.
Outstanding

5
95.56% based on 35 Reviews

* Results may vary from one person to another.