100% Discreet Service
We offer discreet packaging, billing & delivery
Free UK Delivery
Enjoy free shipping on orders above £40
Customer Data Protection
Your data is safe and secure with us
iDerma
LED Low Level Light Therapy Face Mask
Overview
Discover the future of facial skincare with the one of a kind iDerma mask! Harnessing the power of Derma Pulse™ technology and putting it into a patented visor design, this revolutionary mask creates a one of a kind Low Level Light Technology (LLLT) device. Say goodbye to wasting money on expensive creams that just sit on top of the skin; with the iDermas 128 safe LED lights with varying wavelengths, they can deeply penetrate the skin to help truly renew its complexion and appearance.
Hands-free, painless LED LLLT device
Patented Derma Pulse Technology™
Ideal for spots, wrinkles, pore size and skin tone
For all skin types on both men and women
128 red and infrared LED lights
Use 3 times a week for just 8 minutes
As we're now in the age of technology and countless gadgets designed to aid our everyday lives, the iDerma has been created to advance your skincare but still with the ultimate in comfort and convenience. To use the device, all you need is 8 minutes where you can simply sit back, relax and let the device do all the work for you. Join the men and women bringing their skincare into the 21st century today with the iDerma!
ISO
Clinically Proven
CE Certified
Product that you are looking for is no longer available.
What does Low Level Light Therapy (LLLT) mean?
Discovered initially by established organisations such as the National Institute of Health and NASA, Low Level Light Therapy (LLLT) or light-emitting diode phototherapy (LED-LLLT) is an advanced technique that works by applying low-level light-emitting diodes (LEDs) onto the skin's surface. These LED lights use specific and carefully chosen wavelengths that work to painlessly penetrate deep into the skins layers in order to aid its complexion and appearance. Most LLLT devices use between two different types of LED lights; the red lights help with stimulating elastin and collagen whilst the infrared lights help to stimulate regeneration. Blue and yellow may also be used, but red and infrared are often chosen as they are said to penetrate further into the skin.
The iDerma mask
Customly engineered with cutting edge innovation that was pioneered originally by NASA, the iDerma is considerably one of the most advanced technologies for skincare available today. Whilst there are technological beauty devices that can literally go from head to toe, with it comes to facial skincare the choices when looking for a good quality product can really be lacking. This is why the iDerma has been created.
Created using a pioneering patented visor design and leading Derma Pulse™ technology, the iDerma mask is a unique device that harnesses the power of Low Level Light Therapy (LLLT) to help with the skin's appearance. By using a progressive combination of 128 red and infrared LED lights with a specific wavelength of 660nm and precise positioning, this mask is a real leap forward when it comes to skincare technology. Finally gone are the days of layering countless expensive lotions and creams that just sit on top of the skin's surface or wasting precious time with simple handheld LLLT systems; the revolutionary iDerma device can penetrate deep into the layers of the skin and as it is hands-free and covers the entire face, it makes for a quick, simple and relaxing way to care for your complexion.
Benefits of the iDerma

Patented Derma Pulse Technology™
Whereas most devices usually use one or the other, by harnessing visible red as well as infrared LED lights, this technology combines the two to make a truly powerful combination. Most LLLT devices also only use between 1-30 LED lights, whereas the iDerma mask makes use of a massive 128 of both red and infrared!

Cost-Effective
When you buy the iDerma device, it is a one-off investment. This may be more upfront than one of your high-end face creams, but if you combine all the expensive lotions and spa sessions together, you may just find that in the long-run this device could be a lot better value for money than you first thought.

Safe to Use
The iDerma mask is painless and safe for use long term. To ensure this, it includes protective goggles for the eyes and was designed to sit at a safe and comfortable distance from the skin on the face. Additionally, many worry about the LED lights, but as they do not use heat they will never over-warm or burn the skin.

Full Coverage
As the mask features a unique patented full face visor design using 128 varying diodes, it is made to reach the whole face so there is no need to worry about missing a spot as when using other shaped devices. What's more, as it can cover the entire face at once, it can actually be a real timesaver when you compare it to smaller devices designs.

Hands-Free
With handheld devices, you're constantly worrying about missing an area or not evenly distributing the light over the face. Then you have the aching arm to worry about. Thanks to the handy design of the iDerma this is no longer an issue so you can just sit back and relax and let the mask get to work and do it all for you.

Adjustable Head Strap
The iDerma has been specifically designed to be comfortable and easy to wear. One way it does this is through its adjustable head strap. This can be easily altered for any head shape so is perfect for women and men of any size. To emphasise how it has been created for premium comfort, it even features a user-friendly cushioning pad made of elastic foam.

Self-Timer
In order for you to be able to simply sit back and relax whilst using your iDerma, the mask includes a handy self-timer which means that at the end of each 8 minute session, the LED lights will the automatically turn off. This makes it even easier to relax whilst using the device as you no longer need to spend the whole session staring at the clock!

Warranty
As we believe that the iDerma has been made to the highest possible quality, we think that each customer will love to use it. To prove how much trust we have in the device and so that you can buy yours in confidence, we offer a 2 year warranty for each and every iDerma device so you can be be completely sure of your purchase.
What is included?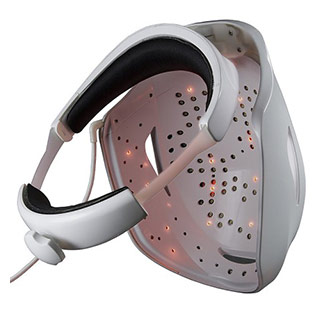 iDerma Mask
Protective Eyewear
Power Supply
User Manual
Directions for use
Start by positioning the mask on the head and adjusting the strap to make it comfortable. Whilst keeping the mask in the 'up' position, place the protective eyewear provided over the eyes and then rotate down the visor so it is over the face. Then you can turn on the iDerma and sit back and relax whilst it gets to work. At the end of the 8 minute session, the device will automatically switch off.
Safe and easy to use
The iDerma mask has been created using high quality materials and technology in order to provide complete safety during use. To ensure the best, the highest attention has been paid all the way from design, to production and use. The technology within the device was first pioneered by organisations such as NASA and now with the iDerma device it is CE certified, making it completely safe to use. The device also includes goggles to protect the eyes as well as padding in the strap for extra comfort. Additionally, it comes with a handy user manual that, as when using any device for the first time, we suggest fully reading in order to understand the device and how to use it correctly.
The iDerma mask is a non-invasive and painless device that can even be used on sensitive skin. When using the device there is no potential harm from over-exposure or increased photosensitivity, so you are able to go out in the sun after using (with suncream on of course!). Unlike many other skincare devices, the iDerma needs no downtime to recover after use so you can be ready to go as soon as your session is complete. What's more, it can even be beneficial for use alongside other skincare products and make them even better for the skin, so it's ideal as we suggest using the mask with your favourite quality moisturiser.

* Results may vary from one person to another.