Discreet Service
Plain packaging and discreet billing.
Free UK delivery on orders over £40
Save on postage today
Customer Data Protection
Your data is safe and secure with us
Foligain Biotin Tablet
10000 mcg 60 Tablets | For Hair, Skin and Nails
Overview
Hair, skin, and nails are all essential parts of the body that need regular care. If you're struggling to maintain them due to work or other commitments, that's where Foligain Biotin tablets come in! Take Foligain Biotin's fast-dissolving tablets to help support the maintenance of your hair, skin and nails from the inside out. Each cherry flavoured tablet gives a potent dose of 10,000 mcg and is suitable for men and women. Feel and look your best everyday by incorporating this natural supplement into your daily regimen!
Easy-to-take quick-dissolving tablets - no water intake required
Maintenance of normal hair and normal skin
Comes in a delicious cherry flavour
60 tablets, each with 10,000 mcg for a 2 months supply
For Men and Women
Gluten-free, lactose-free and vegan
buy 1

£11.99

buy 2

£22.78

£23.98 You Save 5%
buy 3

£32.37

£35.97 You Save 10%

Buy now and earn 1 Comfort Point ?
What Makes Biotin So Unique?
There are many things that affect how we see ourselves. Amongst the most instant are our skin's complexion and hair, which people first notice when they meet us for the first time or look at a picture with you in it. Unfortunately, as we age, most of us begin to experience hair thinning or some loss of hair volume, along with thinning of the skin. While hair loss could be attributed to diet, nutrient deficiencies or hereditary causes, its impact on your self-esteem can be far more damaging.
Foligain Biotin Tablet is a natural supplement that has been designed to help maintain normal hair, hair, nails and skin. These capsules are highly convenient, as they dissolve directly in your mouth, without the need for water. We prioritize your convenience and ensure no other brand on the market has a fast dissolve variant that Foligain provides. This delicious, easy-to-use supplement is a practical support solution for those too busy to invest time in extensive hair care routines and salon visitations.
Main Ingredient And Its Key Benefits
Biotin
Biotin is a water-soluble vitamin that contributes to many of the body's metabolic functions. In addition to Biotin helping to maintain your skin, hair and nails, it also contributes to a normal energy-yielding and macronutrient metabolism. An active process of energy production is vital for weight management and overall health.
Who Are Foligain Biotin Fast Dissolve Tablets For?
Biotin's fast dissolving tablets can be taken by men and women looking to take care of their hair, skin and nails. Biotin offers a practical and sustainable solution if you live a hectic lifestyle and require something on the move.
Full List of Ingredients
Biotin 1000 mcg, Sorbitol, Fructose, natural fruit flavours, Vegetable stearic acid, vegetable magnesium stearate, cellulose, citric acid
How To Use
Foligain Biotin Hair Capsules is a highly concentrated supplement, so only one capsule per day is enough - quick and easy! Take each serving daily preferably with a meal.
Storage
Keep your medicine in a cool, dry place, out of reach from children. If the safety seal on the bottle is broken, please do not use it.
Warning
This supplement has been formulated using only premium ingredients and has no known side effects. It also is not known to interact with any drugs. However, if you do suffer from allergies, please check the product's ingredient list before consuming, or consult with your physician. In addition, pregnant and nursing mothers should consult with a doctor before using this product.
Frequently bought together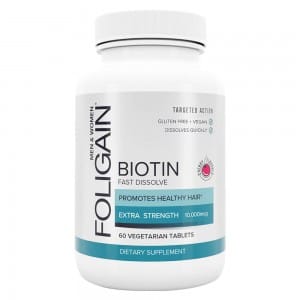 +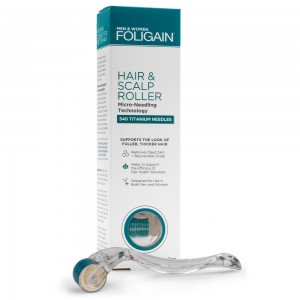 +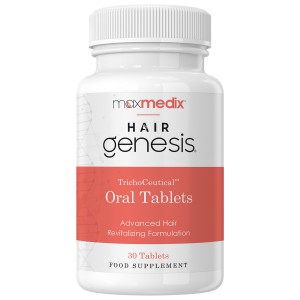 * Results may vary from one person to another.