Discreet Service
Plain packaging and discreet billing.
Free UK delivery on orders over £40
Save on postage today
Customer Data Protection
Your data is safe and secure with us
Foligain Biotin Shampoo
For thicker and fuller-looking hair
Overview
Are you struggling with self-confidence due to thinning hair? Then ShytoBuy is here for you! Foligain Biotin Shampoo provides an all-natural solution formulated to manage thinning hair. With premium ingredients like Biotin, this shampoo offers all the necessary nutrients for fine and thinning hair. It is enriched with natural moisturisers, vitamin E, and oat kernel extract to help soothe and condition your scalp and hair for added volume and shine.
Suitable for men and women with thinning hair
Contains biotin, vitamin E, and oat kernel extract
Convenient and easy-to-use
No synthetic fragrances and colours
Paraben and Sulphate-free
All Hair Types
Paraben free
GMO Free
Product that you are looking for is no longer available.
Methods to Effectively Aid in Hair Management
Your hair is one aspect of your appearance that people immediately notice. Hair loss is a condition that can make even the most confident person feel insecure, leading many to resort to hair plugs, hair transplants, or other expensive products and styling services. And while hair loss certainly isn't the end of the world, there's no denying that healthy tresses make us feel good about ourselves
Foligain Biotin Shampoo is a safe and natural formula that can help cleanse your scalp for a thicker and fuller-looking hair.
The Numerous Benefits of Biotin
Biotin, often referred to as vitamin H, is among the B complex group of vitamins and an essential nutrient to help maintain hair, skin, and nail. Although Biotin exists in various dairy and meat products, it can be taken in capsule or tablet form and be topically applied to the scalp through creams or shampoos like this one!
Foligain Biotin Shampoo is infused with Biotin and all-natural ingredients and extracts, which can help nourish hair that promotes a thicker, more voluminous hair. If used continuously in a hair care routine, it can help give a fuller and shinier appearance. So, try Foligain's outstanding shampoo now!
Key Ingredients
Lavender
Boasting countless benefits and a heavenly scent, lavender supports the maintenance of normal hair by helping soothe and condition both hair and scalp.
Juniper
The juniper tree, Juniperus communis, is an evergreen shrub that grows in many parts of the world, including North America, Europe, and Asia.
A popular ingredient in numerous hair care products, juniper is prized for its benefits. Juniper is known to offer effective yet gentle care to the scalp. The result is soft, manageable, and fuller-looking hair.
Citrus Oil
Citrus oil offers exceptional cleansing benefits as well as nourishment which makes it extremely beneficial for addressing common hair problems. It is known to aid with dry scalp by providing the essential care and moisturising it needs.
Calendula Oil
Calendula oil is a natural oil extracted from marigold flowers. Known for dispelling myriad hair woes, it hydrates and moisturises dry scalp keeping itchiness and dryness at bay.
Aloe Vera
It's no secret that Aloe vera has been used as a herbal remedy for centuries. The Aloe plant is renowned for its moisturising and soothing properties that can nourish hair and help manage an itchy scalp or greasy strands.
Application
Incorporate Foligain Biotin Shampoo by applying small amounts into wet hair. Proceed to massage thoroughly into your hair and scalp for 1-2 minutes. Rinse properly and repeat if necessary. Can be used 3 to 4 times a week. We recommend using this shampoo with Foligain Biotin Conditioner and Foligain Biotin tablets for the best results.
Before using this product, carefully review the ingredient list and consider any allergies you may have. If you experience irritation, redness, itching, or other means of discomfort, stop immediately and consult a licensed healthcare professional. Foligain Biotin Shampoo has no known side effects.
Warning: Suitable only for external use. Avoid contact with eyes.
Storage: Store shampoo in a dry and cool place, out of reach of children.
Shelf Life - 2 years
Ingredients
Aloe Barbadensis Leaf Juice, water (aqua), Glycerin, Sodium C14-16 Olefin Sulfonate, Cocamidopropyl Betaine, Decyl Glucoside, Sorbitol,Cocamidopropyl Hydroxysultaine, Sodium Laurylglucosides Hydroxypropylsulfonate, Biotin, Lauryl Glucoside, Guar Hydroxypropyltrimonium Chloride, Juniperus Mexicana (Cedar) Oil, jasminum Officinale Oil, Citrus Nobilis peel oil, Citrus reticulata leaf oil, Citrus Aurantium Dulcis peel oil, Hydrolyzed Quinoa, lavandula Hybrida oil,Citrus Aurantifolia peel oil, Bergamot fruit oil, Amyris bark oil, Hydrolyzed soy protein, Sodium PCA, Vit E, Baobab seed protein, Sodium Lactate, Arginine, Aspartic acid, Calendula officinalis flower extract, Saw palmetto fruit extract, Oat kernel extract, Glycine, Alanine, Serine, Histidine, valine, Theonine, Isoleucine, Proline, Histidine, Phenylalanine, Potassium Sorbate, Sodium Benzoat, Gluconolactone, Natural Fragrance.
Frequently bought together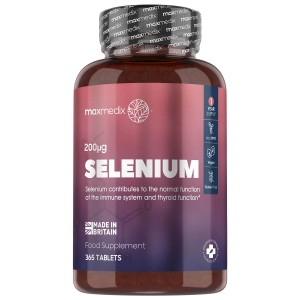 Selenium
200 mcg 365 Tablets | For Hair and Nails
£10.39 £12.99
+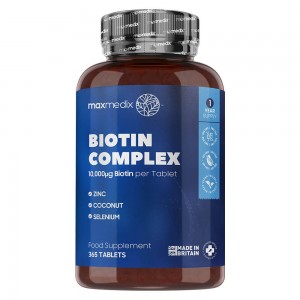 Biotin Complex
10000 mcg 365 Tablets | For Hair, Skin and Nails
£14.39 £17.99

* Results may vary from one person to another.