Discreet Service
Plain packaging and discreet billing.
Free UK delivery on orders over £35
Save on postage today
Customer Data Protection
Your data is safe and secure with us
Brain Complex
287 mg 180 Capsules | Mental Performance Supplement
Overview
Brain Complex is an innovative, all-natural supplement for those looking to help maintain balanced mental energy. This easy-to-take supplement can be a simple addition to your daily routine. With a natural formula that includes Caffeine & Bioperine, Brain Complex is a natural way to keep your brain at its best.
Helps support memory and focus
Contains B-Vitamins to promote normal psychological function
Enriched with Bioperine and Caffeine extract
Contains 40mg caffeine per serving
180 tablets - a 6 month supply
Gluten-free
GMP
Vegan
Expert Formula
buy 1

£12.79

£15.99
buy 2

£23.02

£25.58 You Save 10%
buy 3

£30.69

£38.37 You Save 20%
What Is Brain Complex
It isn't always easy to maintain focus. We all have days where we feel tired or distracted, unable to work or perform tasks to our full capability. Sometimes, even getting up in the morning or simply finding creative inspiration can be difficult. These feelings can lead to procrastination or exhaustion, which can have an impact on your mental energy. Typical causes that can lead to a loss of energy may include lack of sleep, low vitamin intake, dehydration, and stress.
After extensive research into vitamins and minerals, MaxMedix designed Brain Complex. Using an array of carefully selected ingredients known for their beneficial properties, this natural dietary supplement supports individuals looking for motivation and energy. Formulated into gluten-free capsules, Brain Complex is a daily supplement that aims to become the ideal addition to your daily routine.
Main Benefits And Ingredients Of Brain Complex
DHA
DHA, an omega-3 fat, is known to support normal cognitive function. However, your body can only make a small amount of DHA, so supplementing your diet is the perfect way to ensure you have enough DHA.
Ashwagandha
This ancient medicinal herb is well known across the globe for its stress-management properties. Ashwagandha can also provide numerous other benefits for your body and brain. In particular, it targets your stamina, energy, and endurance.
Vitamin C
One of the most well-known vitamins around, Vitamin C plays a key part in our body's overall wellness. It helps form collagen, absorb iron, the healing of wounds, as well as the maintenance of the immune system and normal bones and teeth.
Ingredients
DHA (Docosahexaenoic Acid) [Veg Source], Vitamin C (Ascorbic Acid), Vitamin B1 (as Thiamine HCL), Vitamin B2 (as Riboflavin), Caffeine Anhydrous, Panax Ginseng with 80% Ginsenosides, Ginkgo Biloba Extract, L-Theanine, L-Tyrosine, Niacin (as Niacinamide), L-Taurine, L-Phenylalanine, 5-HTP (Griffonia Seed Extract 8:1),Turmeric (Curcuma Longa) Powder, Ashwagandha (Withania Somnifera), Vege Capsule Shell: Hypromellose (HPMC), Filler: Dicalcium Phosphate.
How To Use
Take 1 capsule daily with a full glass of water, preferably with a meal.
Advice: Do not exceed the recommended daily dose. Food supplements must not be used as a substitute for a varied and balanced diet and a healthy lifestyle. If you are pregnant, breastfeeding, taking any medications or are under medical supervision, please consult a doctor or healthcare professional before use. Discontinue use and consult a doctor if any adverse reactions occur. Not intended for use by persons under the age of 18. Contains caffeine (40mg) per serving.
Warning: Not advised for people on antidepressants
Safe And Natural Supplement
Brain Complex is vegetarian and vegan-friendly and contains a gluten-free formula. This supplement contains natural ingredients and has been made in the UK to high GMP standards. Therefore, it has no known side effects.
Frequently bought together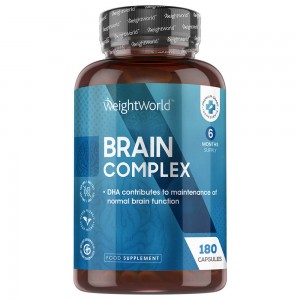 Brain Complex
287 mg 180 Capsules | Mental Performance Supplement
£12.79 £15.99
+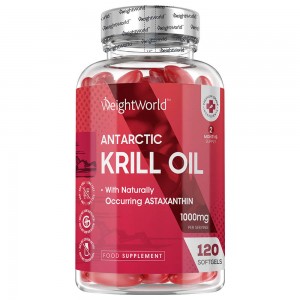 * Results may vary from one person to another.