Discreet Service
Plain packaging and discreet billing.
Free UK delivery on orders over £35
Save on postage today
Customer Data Protection
Your data is safe and secure with us
Antarctic Krill Oil
1000 mg 120 Softgels | Pure & Sustainable Omega-3
Overview
Are you looking for a potent, pure source of Omega-3? Harvested from uncontaminated Euphausia Superba, the foundation of all ocean life, this premium supplement naturally contains Omega-3's EPA and DHA, Astaxanthin and Choline. MaxMedix's Antarctic Krill Oil provides a daily dose of high-strength 1000mg Omega-3, which helps to support a healthy heart.
Sustainability harvested Omega-3 source
Choline for healthy lipid metabolism
Provides 1000mg of powerful Krill Oil daily
Liquid capsules are easy to swallow and absorb
Neutral taste and odour
DHA contributes to brain function & blood pressure
Gluten-free
Lactose Free
Dairy-free
GMO Free
buy 1

£24.99

buy 2

£44.98

£49.98 You Save 10%
buy 3

£59.97

£74.97 You Save 20%
Why Choose Krill Oil?
For thousands of years, fish have been humans' best source of Omega-3s. But fish are frequently exposed to pollutants. Removing these pollutants, so the Omega-3 is safe for human consumption, fundamentally changes its structure, rendering it less absorbable by the body.
In the pursuit of an alternative, researchers began to consider Krill Oil. Krill live in the deep, pristine waters of the Antarctic, far from fishing channels and shipping routes. They also live remarkably short lives, so they're at a much smaller risk of being exposed to contaminants.
Furthermore, they are incredibly sustainable and thanks to their high EPA and DHA content, they're the perfect alternative. By taking Antarctic Krill Oil as a dietary supplement, you can enjoy a purer, more potent source of Omega-3.
Dynamic Ingredients
Omega-3 fatty acids, including eicosapentaenoic acid (EPA) and docosahexaenoic acid (DHA), are essential to our bodies natural processes, even though we cannot produce them ourselves. EPA and DHA together contribute to healthy blood triglyceride, as well as healthy blood pressure. Omega-3 has been linked to an improved response to intense workouts, as well as dealing with sugar-levels.
Unlike other fish oils, Antarctic Krill Oil provides unique benefits like Choline, a water-soluble nutrient that is a structural part of fat. Supplementing your diet with Choline has been suggested to improve cognitive function and lift mood, in addition to metabolising fat lipids and maintaining energy levels.
Taking Antarctic Krill Oil
The capsules are easy to take and will become an easy part of your day. With a full glass of water, take one capsule twice daily before a meal. With any new supplement, we recommend trying it for at least three months and investing in longer-term use to get the most out of Antarctic Krill Oil.
Advice
With just one, natural ingredient encased in a soft gel shell, Antarctic Krill Oil capsules are not known to have any side effects. However, please do not take it if you have a crustacean allergy. If you're pregnant, breastfeeding, or taking any medication, please consult a healthcare professional before use. They are not intended for use by anyone under the age of eighteen.
The beneficial effect of EPA and DHA on the maintenance of normal blood pressure is obtained with a daily intake of 3g, and on the maintenance of normal triglyceride levels with a daily intake of 2g, of EPA and DHA. The beneficial effect of DHA on the maintenance of normal brain function and normal vision is obtained with a daily intake of 250 mg. Do not exceed a supplemental daily intake of 5g of EPA and DHA combined.
Frequently bought together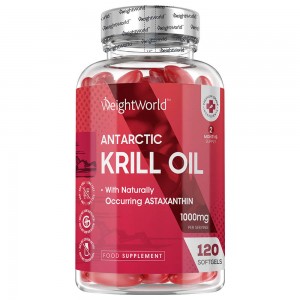 +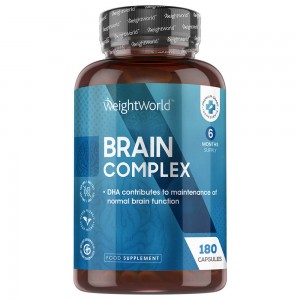 Brain Complex
287 mg 180 Capsules | Mental Performance Supplement
£12.79 £15.99

* Results may vary from one person to another.