Discreet Service
Plain packaging and discreet billing.
Free UK delivery on orders over £40
Save on postage today
Customer Data Protection
Your data is safe and secure with us
U-Visage Cream & Device Combo
2 Part Combo
Overview
Having young-looking skin has always been a mark of beauty! Active ingredients and innovative technology make U-Visage Cream & Device Combo an essential step in targeting the signs of ageing and enhancing the skin's elasticity. Trigger the production of collagen; reduce the appearance of wrinkles by activating younger-looking skin with this precisely formulated U-Visage Cream & Device Combo. Use on the face and neck, daily, to give your skin the care it deserves! U-VISAGE has a modern design, is easy to use, and has been ergonomically engineered to suit areas of the face and neck.
2-part combo
3 modes of operation
Face and neck care combo
Targets signs of ageing
Tones and enhances elasticity
Hydrates & protects skin
GMP
ISO
Clinically Proven
Product that you are looking for is no longer available.
U-Visage Cream & Device Combo
As you age, the skin loses its elasticity. Without external intervention, it is impossible to find a smooth and flawless complexion. Injections, chemical-laden creams, cosmetic surgery, are just some of the options that you can choose to address ageing. At home, anti-ageing or contouring devices have emerged as a comfortable and easy option in this area. A device requires less time than creams, is painless and offers fairly visible outcomes.
It provides a gentle stimulation to help tone the skin and facial muscles. When used along with a cream, it facilitates better penetration of the cream to the lower layers of the skin. The contouring device thus helps you find supple, toned and smooth skin, which can help reduce wrinkles and promote brighter complexion.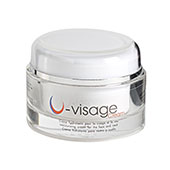 Cream
The high concentration of active ingredients in the U-Visage Cream makes it an essential step in the regeneration of cells and the improvement of the elasticity of the skin. Light and easily absorbing, it aims to help significantly reduce the appearance of lines and wrinkles. This blend of naturally sourced ingredients is formulated to help revitalise the skin and give it a healthy, radiant glow. Collagen strengthens and connects to form a strong foundation for your skin whilst the Elastin supports your skin's elasticity and resilience.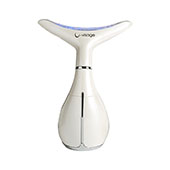 Device
U-Visage has three modes of operation. Firstly it works to provide a gentle and soothing massage helps activate the circulation around the area of application. Producing a rejuvenating effect by providing a firmer and more elastic appearance With a light and elegant design. It is intended for the daily care of the skin of the face and the neck. This device aspires to prevent and reduce the appearance of wrinkles and visible signs of ageing through its micro-vibration and heat systems.
Ingredients list
Cream: Bio-Marine Collagen, Bio-Marine Elastin, Chiaprotect, Omega Butter
How To Use U-Visage Cream And Device
Cream: Clean your skin thoroughly before application. Apply it evenly on the face and neck, preferably at night, by gently massaging it in circular motions with your fingertips.
Device:
Step 1: Apply the U-Visage cream or your usual cream evenly before you begin using the device. You can skip this step and use the device on regular skin too.
Step 2: Perform top to down movements on your face with the device, for 90 seconds, covering the entire face.
Step 3: Continue the same steps on the neck for 60 seconds.
What To Consider When Using U-Visage Cream And Device:
It is recommended to follow the instructions while using both the cream and the device. To get the most out of the products, we recommend using the cream in combination with the U-Visage device.

* Results may vary from one person to another.