Discreet Service
Plain packaging and discreet billing.
Free UK delivery on orders over £35
Save on postage today
Customer Data Protection
Your data is safe and secure with us
Makari Oralight Capsules
Advanced Natural Skincare
Overview
Create the ultimate healthy and radiant glow from within with Makari Oralight Clear Complexion Capsules. These easy to swallow and convenient capsules are an ideal complement to any of the products in the Makari Lightening range. This brand new innovative formula consists of specially selected ingredients known to help promote beauty from within. Watch your inner radiance and complexion shine through at last!
Take 2x daily for optimal results
Uses essential minerals and vitamins
Helps protect the skin from free radical damage
Aids the look of even skin tone
Comes as easy to swallow capsules
Vegan
All Skin Types
Vegetarian
Product that you are looking for is no longer available.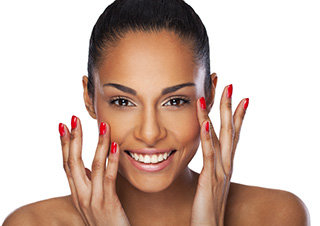 What Are Makari Oralight Clear Complexion Capsules?
They are easy to swallow capsules to be taken with the intention of boosting the appearance of your skin from the inside out. If you are already applying cream and lotion onto your skin and simply want those results to go even further, then here's your answer. Even if you aren't applying products onto your skin already, Oralight Clear Complexion Capsules could be easy alternative option. To be taken twice a day, they fit easily into every daily routine. These play a vital role in helping to maintain a healthy level of oil production while improving your complexion and skin tone for a healthy radiant glow.
How Do These Makari Oralight Clear Complexion Capsules Work?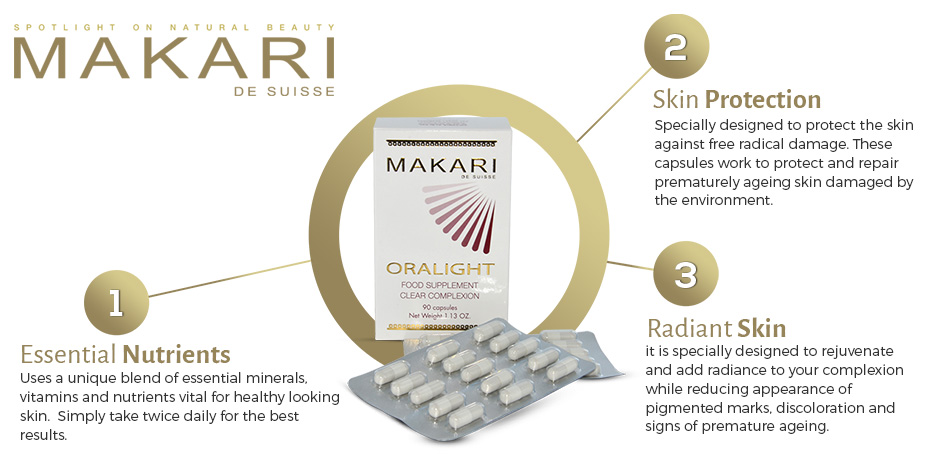 How Do I Take Them?
The Makari Oralight Clear Complexion Capsules are incredibly easy to take and only take a few moments out of your day to consume. Take two capsules a day with water and a meal. It is recommended that you preferably take one with breakfast and the other with lunch or dinner.
When Will I See Results?
As with any natural product, results from Makari Oralight Clear Complexions Capsules many vary from person to person with some enjoying benefits sooner than others. Therefore, it's important to stick with the course and continue to take regularly. These also work to prevent any breakouts and can have the potential to protect the skin from any free radical damage.
What Are The Ingredients In Makari Oralight Clear Complexions Capsules?
Zinc Oxide, Bearberry Leaves Extract, Vit E, Vit C, Magnesium Stearate, Gelatin and Lemon Fibres.
Safe To Use
Makari Oralight Clear Complexion Capsules are completely natural and made with only carefully selected ingredients. Even so, it is advised that you check the ingredients before consuming to ensure you aren't allergic to any. If you do experience any unwanted effects, please stop taking these skin enhancing capsules.

* Results may vary from one person to another.