Discreet Service
Plain packaging and discreet billing.
Free UK delivery on orders over £35
Save on postage today
Customer Data Protection
Your data is safe and secure with us
Makari Exclusive Complete Range
Combo | Advanced Skin Care System
Overview
Makari Exclusive Combo pack has all the products you need to help eliminate discolouration, dark spots and uneven skin tone whilst helping to give the skin a brighter complexion and improved radiance. The Makari Exclusive range uses a special blend of natural ingredients to help achieve visibly clearer and brighter skin.
Exclusive Lotion Lightening Body
Exclusive Lightening Cream
Exclusive Brightening Serum
Lightening Gel exclusive
Exclusive lightening soap
The Makari Exclusive range is made up from natural plant extracts and can be used by both men and women. The main ingredient in Makari Exclusive range is Organiclarine an all-natural whitening agent, mixed with algae, aloe vera, caviar, citric acid, lemon, malic acid, mulberry, sour salicylic and vitamin C. These natural ingredients work together to help fade away dark spots and discolouration.
£199.72
£221.91
You Save £22.19
Free Delivery on all UK orders over £35.
Organiclarine : A Lightening Natural Ingredient
Organiclarine is the main ingredient used in the Makari Exclusive Range. Its main funtion is to help the process of skin lightening in which flavonoids are used to fight skin glycation, helping to lead to more radiant and smooth skin.
The Organiclarine is extracted from the roots of the white mulberry tree, mostly found in Asia and the Middle East. It has been cultivated in Europe for many years and is an integral part of the silk making process as silkworms only feed on white Mulberry leafs. The white mulberry has also been used for thousands of years in traditional Chinese medicines it is well known to help fight against hypertension, oedema and coughing.
The Makari Exclusive Range can help to reduce the effects of melanin, a pigment produced by the melonocyte cells which give skin, hair and eyes their colour. It is impossible to completely remove melanin from your skin entirely but Makari have engineered a formula that can help reduce melanin production, giving you a clear and healthy glow. The melanin is produced in the basal layer of the skin and takes around 3 weeks to reach the surface.
Organiclarine is the active ingredient which helps to reduce melanin production naturally without any side effects. It works by reducing the effects of tyrosine, an enzyme that is vital for the formation of melanin. As a result, tyrosine becomes less active and the melanin production decreases, resulting in a lighter skin complexion.
When it comes to sourcing the finest natural ingredients Makari are in a class of their own. Many similar products in the market offer similar results but contain harmful chemicals which can cause skin irritations. Hydroquinone is a chemical found in many products and can be extremely damaging to the skin cells. The Makari Exclusive Range uses Organiclarine which is a blend of flavonoids, antioxidants and anti-free radicals, these properties are welcomed in anti-ageing products.
What is in the Makari Exclusive pack ?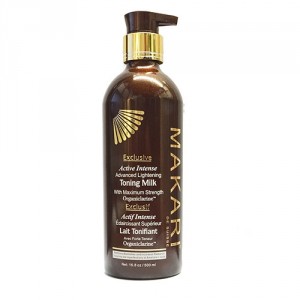 Makari Exclusive Lotion for the Body
The use of Organiclarine combined with other plant extracts makes Makari Exclusive Lotion for the body one of the safest and most effective skin lightening product to help tackle hyperpigmentation. It is specially formulated to help reduce the visibility of dark patches, scars, acne and blemishes with the aim to leave the skin radiant and healthy.
Capacity: 500ml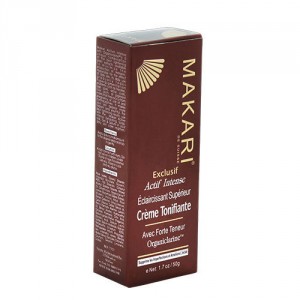 Makari Exclusive Toning Cream for the Face
Makari Exclusive Toning Cream is specifically designed to help reduce the appearance of dark spots and blemishes on the face while improving firmness and complexion. Applying a small amount to the effected area on the face will help to increase radiance and brighten complexion.
Contents: 50ml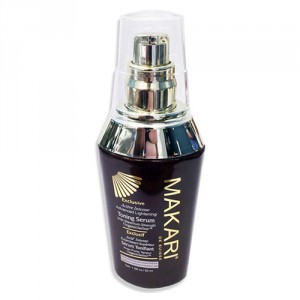 Makari Exclusive Serum for the Body
The Makari Exclusive Serum for the body is designed to protect, lighten and refine the skin. The serum contains a higher concentration of ingredients and is thicker in texture than the cream and the gel. Applying the serum couldn't be any easier, simply apply twice weekly for optimum results. The use of Organiclarine helps to reduce the hyper pigmentation in the skin and gradually fades dark spots and skin discolouration.
Contents: 50ml
Makari Exclusive Toning Gel for the Face
Makari Toning gel for the face provides the skin with the most effective ingredients for helping to reduce freckles, acne scars, wrinkles and hyperpigmentation. This completely natural formula is suitable for all skin types and is 100% hydroquinone free.
Contents: 30g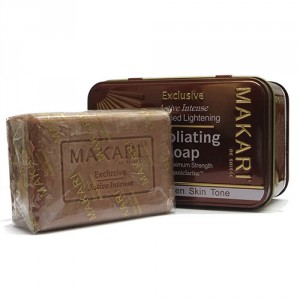 Makari Exclusive Exfoliating Soap
Exfoliating soap is essential to the removal process of dead skin cells, dry skin and rough spots. The aim is simple, to give you soft, smooth and hydrated skin. The use of Organiclarine and plant extracts together help repair and clear the skin naturally.
Contents: 200g
Customer Reviews
At ShytoBuy we strive to offer the best possible customer service and we take great pride in the feedback we have received from our customers.
Outstanding

5
90.00% based on 9 Reviews

* Results may vary from one person to another.