Discreet Service
Plain packaging and discreet billing.
Free UK delivery on orders over £35
Save on postage today
Customer Data Protection
Your data is safe and secure with us
Silk'n Silhouette
Device | Home Reduction Device
Overview
Less cellulite and firm skin without surgery? Help transform your figure with the innovative Silk'n Silhouette. Its unique and patented HT ''Home Tightening'' Technology feature allows 3 modes to come in to effect, which helps to strengthen, rebalance and improve skin structure. Recommended by physicians & dermatologists, This tool is designed to help reduce cellulite density. The HT Technology reaches all skin layers and warms them up, which helps make the fibres in the skin contract & gradually tighten.
Help to firm deeper skin layers & helps loosen skin
Silk'n is the global leader in professional aesthetic devices
Safe & convenient way to help reduce your cellulite density
Promotes tighter contours & reduced body circumference
Suitable for buttocks, thighs, upper arms and hips
Safe to use in the comfort of your own home
$271.76
$339.64
You Save $67.89
Free Delivery on all UK orders over £35.
How Does It Work?
Silk'n Silhouette helps reduce cellulite density by targeting the fat layer under the epidermis. These types of fat cells are known as adipocytes. They store surplus nutrients in the form of fat, which can increase in volume, causing a 'clump' effect. This creates that undesirable bumpy effect many men and women get, commonly known as cellulite.
Silk'n Silhouette uses HT technology as a triple action method of enhancing your body contours. The three key aspects include:
Bi polar FF energy: This helps to tighten the skin naturally up to a depth of 10mm, which can help lead to a reduction of cellulite.
LED light-based energy: This works to help rebalance the skin structure and help restore it .
IR thermal energy: Works to improve the skin structure due to the heat emitted by the Silk'n Silhouette.

Different Treatment Modes
Silk'n Silhouette offers three different types of modes. Each of these three modes are easily recognisable, thanks to the individual lights placed at the front of the unit. The different modes are complementary and help to produce the best results when used together. In order to change from one mode to another is very simple to do. Simply press the 'Select' button for different modes several times until you reach the desired one you wish to use.
Which Energy Level Is For Me?
For the initial session of an area of skin, it's advised that you use level one. Once you are familiar using it in this way, you can then go to the next energy levels to gain results.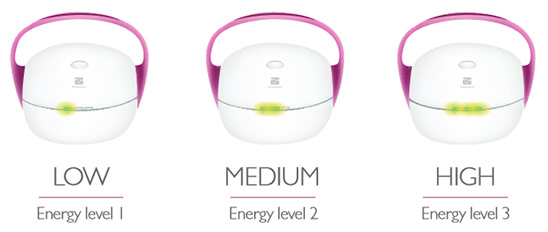 How To Use The Silk'n Sillouette
Before the start of any session, ensure the skin is clean and dry for optimum results. The following stages outline the best methods you can use to gain the most out of your device and the different sessions.
Apply a thin layer of the slider gel (included with your device) onto the area of skin you wish to apply
Select the first mode. Here, the LED light will turn on.
Slide the device over your skin slowly, you should be able to feel a pleasant warmth on your skin.
Use a light and linear motion when sliding the device around the area that needs attention. It's important to avoid rushing the process, take you time over the entire area, moving the device very slowly.
Examples Of How To Use The Silk'n Silhouette Properly
If you're unsure of how to reduce your cellulite density in the best way, don't worry! Take a look at some of the diagrams below to help you.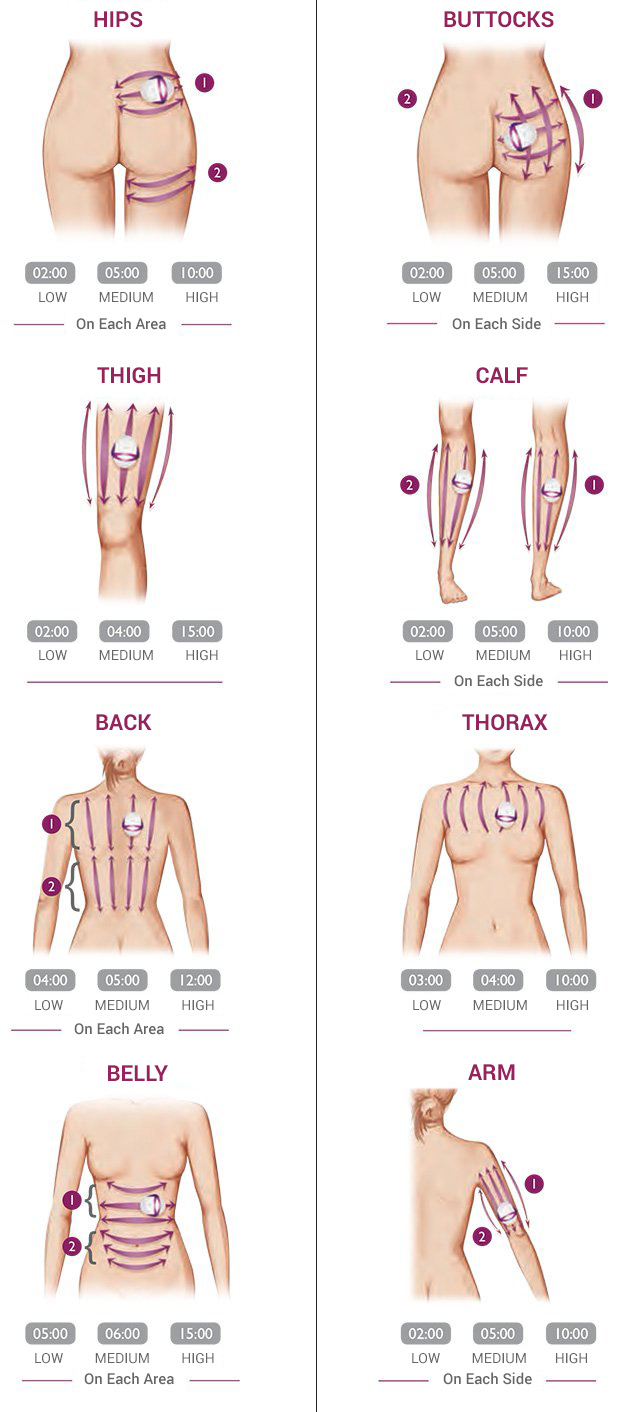 How Often Should I Use The Device For?
To make the most out of each session, we recommend that you use Silk'n Silhouette twice a week for 10 weeks. It's common that after this time, you may already be able to see changes in the contour of the body. In order to help maintain this, simply carry on using the device regularly every two weeks.
Safe To Use
Recommended by doctors and physicians worldwide, Silk'n Silhouette has also been approved by the medical authorities.
Includes A Thermal Sensor For Optimal Safety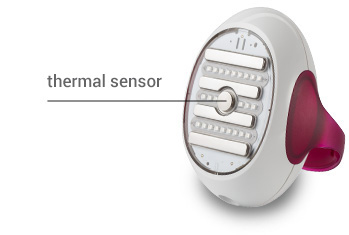 To ensure complete safety when using the device, Silk'n Silhouette features a thermal sensor that measures the temperature of the area of skin that you're working on. It automatically stops transmitting heat if the temperature of your skin exceeds 41°c. Therefore, you can be rest assured that the use of this product poses minimal risk to your safety at all times.
What Will You Get In Your Box?
Upon opening your package, you will find the following parts:
Silk'n Silhouette™ Body Contouring Device
A bottle of Slider gel
An AD/DC wall mount adaptor
Instructions for use booklet

Silk'n Silhouette
Device | Home Reduction Device
Customer Reviews
At ShytoBuy we strive to offer the best possible customer service and we take great pride in the feedback we have received from our customers.
Outstanding

4.5
80.00% based on 8 Reviews

* Results may vary from one person to another.