100% Discreet Service
We offer discreet packaging, billing & delivery
Free UK Delivery
Enjoy free shipping on orders above £40
Customer Data Protection
Your data is safe and secure with us
mysmile Teeth Whitening Gels
Pack of 8 Gel Refill Syringes
Buy 1

£15.99

£24.99
Buy 2

£28.78

£31.98 You Save 10%
Buy 3

£38.37

£47.97 You Save 20%

Buy now and earn 2 Comfort Points ?
Key Features
8 teeth whitening gel refill syringes - for 16 applications
Perfect for extended use of mysmile Teeth Whitening Kit
Designed to help achieve a brighter smile
Advanced PAP formula for effective whitening in 10 minutes
Enamel-safe & no-sensitivity formula - For sensitive teeth & gums
Enriched with Pomegranate, Aloe Vera & Chamomile
Easy to use, clean & mess-free
Minty flavour for fresh breath
Chemical-free and non-peroxide teeth whitening gel for safe use
CE-certified teeth whitening syringes
Money Back Guarantee
Vegan
Vegetarian
Cruelty-Free
What Are mysmile Teeth Whitening Gel Refills?
Want to maintain that brighter smile? Top up your mysmile Teeth Whitening Kit with the mysmile Teeth Whitening Gel Refills and keep enjoying the experience of teeth whitening at home! Formulated with PAP along with active natural ingredients, this PAP teeth whitening gel targets stubborn stains on your teeth without damaging your enamel. Rigid stains caused by coffee, tea, wine, smoking, you name it, this easy-to-apply gel has the power to break them down to leave you with a radiant smile anytime you want! So avoid rushing to the dentist's clinic and sign up to brighten your smile from the comfort of your home with mysmile Teeth Whitening Gel Refills!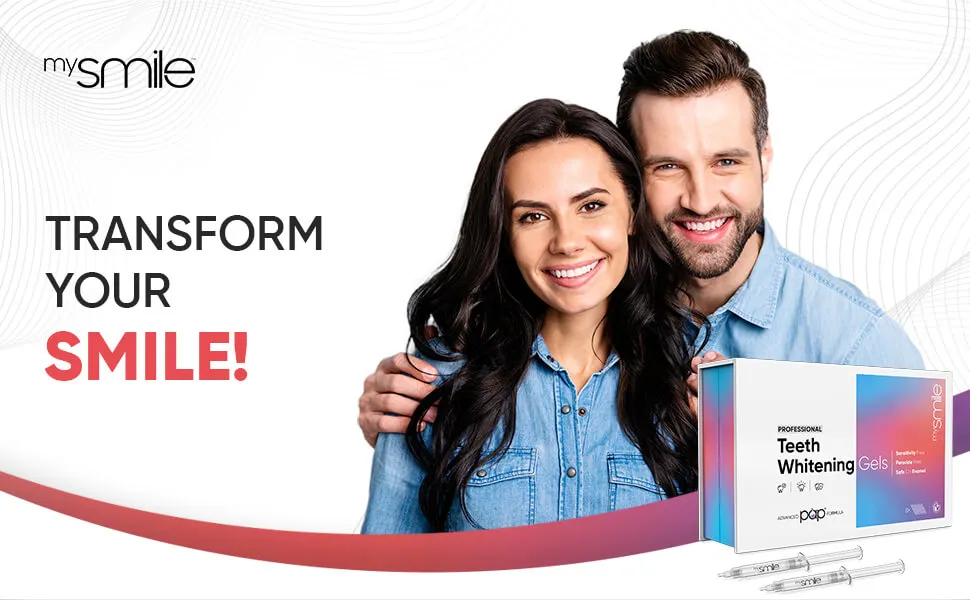 Why Choose mysmile Teeth Whitening Gel Refills?
If you want to brighten your smile in a natural way, then mysmile Teeth Whitening Gel Refills can be your go-to solution! But why is this gel refill set so special?
Extended Use
Containing 8 gel-filled syringes, our mysmile refill kit is designed to extend your use of the mysmile Teeth Whitening Kit for a longer period. You can keep taking on rigid stains and glowing up your smile with these gel syringes for up to 16 applications.
Non-Sensitive Formula
mysmile refill syringes contain a unique gel made with Phthalimidoperoxycaproic Acid (PAP) and leading natural ingredients like Pomegranate, Chamomile, Glycerin, Aloe Vera and more to manage stains while being gentle on your teeth and gums. Thanks to its chemical-free and peroxide-free teeth whitening formula, this vegan-friendly refill gel is safe for your enamel and doesn't give any feeling of sensitivity.
Rapid Results
mysmile has used the same proven formula in this refill gel as is used in the Teeth Whitening Kit gel to ensure effective teeth whitening with every application. With this gel, you can attack dental stains and see visible results in just 10 minutes!
Convenient Application
Our ready-to-use refill gel comes pre-infused in CE-certified syringes so that you need no major, messy preparations before starting your teeth whitening process. Simply apply the gel, let it stay for 10 minutes, rinse well and you are ready to flaunt your glittering smile!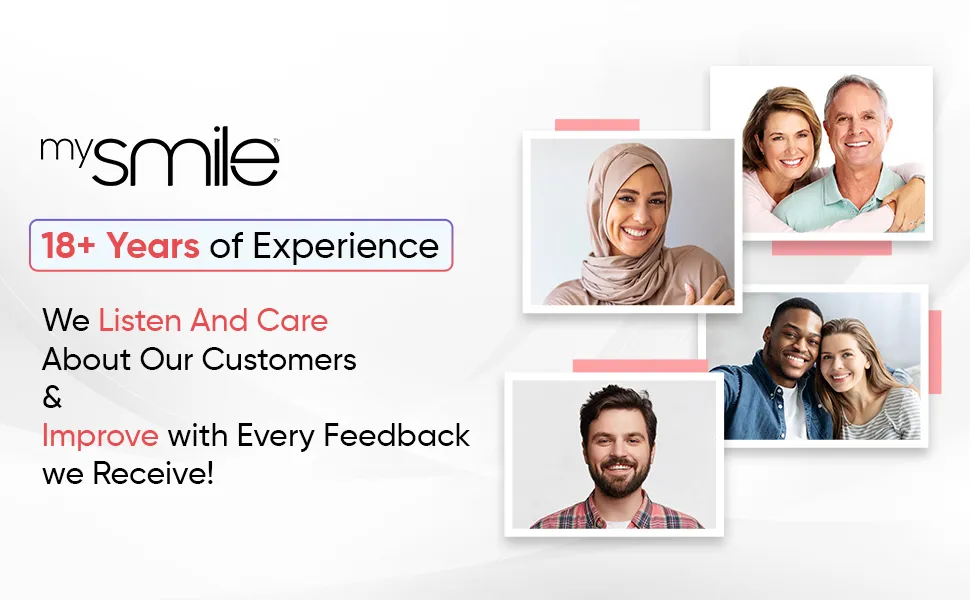 How To Use Teeth Whitening Refill Gel?
Use the mysmile Teeth Whitening Gel Refills to enjoy your Teeth Whitening experience at home Kit. To use the gels, apply one-quarter of a syringe of the gel to each side of the mouth tray so that it covers the front surface of the teeth. Place the tray in your teeth, close your mouth to keep the tray in position and press the start button. This will begin the 10-minute countdown. After 10 minutes, the light will automatically turn off and you can remove the tray from your mouth. Rinse your mouth and teeth then clean the tray.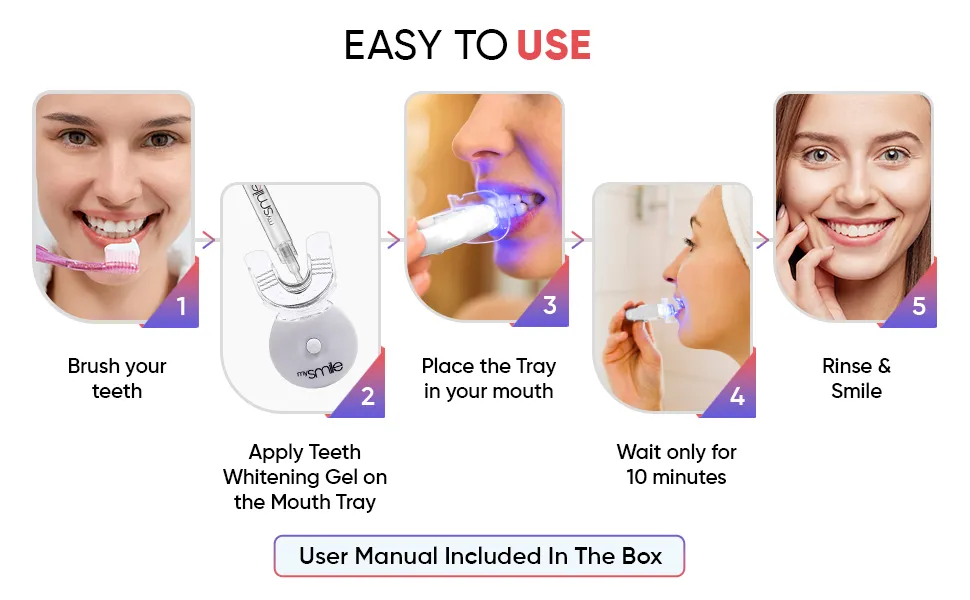 Advice
To get the most out of the mysmile Teeth Whitening Syringe, use it for 6-12 days consecutively. Please read the user manual provided with your kit for complete instructions and cautions. Do not swallow or ingest the gel and do not use it if you are pregnant, lactating or under the age of 18.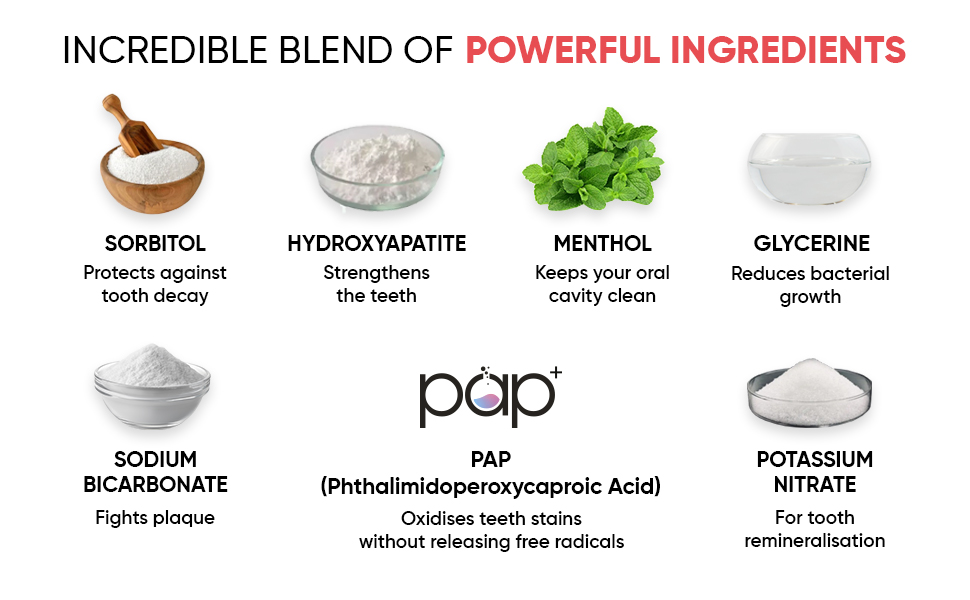 Sorbitol (40%), Deionized Water (20.1%), PAP (Phthalimidoperoxycaproic Acid) (12%), Propylene Glycol (10%), Glycerine (6%), Potassium Nitrate (5%), PEG-8 (Polyethylene Glycol-8) (3%), Hydroxyapatite (1%), Cellulose Gum (1%), Hydroxyethyl Cellulose (0.5%), Xanthan Gum (0.35%), Sodium Saccharin (0.2%), Menthol (0.2%), Methylparaben (0.15%), Aloe Barbadensis Leaf Juice (0.1%), Chamomilla Recutita (Matricaria) Leaf Extract (0.1%), Punica Granatum Seed Oil (0.1%), Sodium Bicarbonate (0.1%), Propylparaben (0.1%).
What is PAP teeth whitening?
PAP or Phthalimidoperoxycaproic Acid is a synthetic orgaic peroxy acid that is known to offer teeth whitening benefits without damaging your teeth or gums as is usually seen while using other tooth bleaching products.
How long will these teeth whitening refills last me?
This kit includes 8 teeth whitening syringes which will last for 16 applications! Simply apply a quarter of a syringe to each side of the mouth tray and start to brighten your smile!
Do Teeth Whitening Gel Refills work?
We are confident in our products and one look at our reviews will show how much our customers have benefitted from our teeth whitening refills. We have spent the time to research and develop these kits to provide optimal results.
Is this non-peroxide teeth whitening gel safe to use?
We pride ourselves on using industry-leading active ingredients in our products and our teeth whitening gel has no known negative side effects and is not known to interact with drugs so you can have peace of mind when using them.
What if they don't work for me?
We are confident that you will love our products, but we also understand that everybody is slightly different and may not feel the effects in the same way. We value our customers and want to make sure that they are 100% happy with their purchase which is why we offer our full money-back guarantee! If it doesn't work for you, we will refund you for your order!
Can I use this Teeth Whitening Gel every day?
It is usually considered safe to use our teeth whitening gels on a regular basis. However, it is recommended that you don't exceed the recommended amount.
Frequently bought together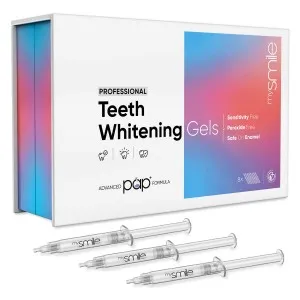 +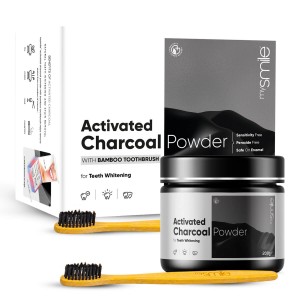 +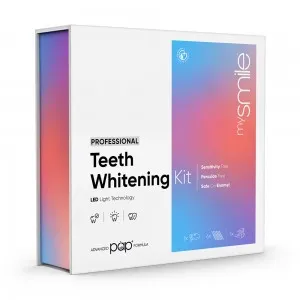 Customer Reviews
At ShytoBuy we strive to offer the best possible customer service and we take great pride in the feedback we have received from our customers.
Outstanding

5
93.33% based on 50 Reviews

* Results may vary from one person to another.