Get free, discreet shipping on orders above £40 in the UK
100% Discreet Service
We offer discreet packaging, billing & delivery
Free UK Delivery
Enjoy free shipping on orders above £40
Customer Data Protection
Your data is safe and secure with us
maxmedix Biotin Tablets
12000 mcg 365 Tablets | Natural Hair Thinning Supplement
Buy 1

£14.99

£15.99
Buy 2

£26.98

£29.98 You Save 10%
Buy 3

£35.97

£44.97 You Save 20%

Buy now and earn 1 Comfort Point ?
Key Features
Naturally looks after hair, skin and nails
Biotin contributes to the maintenance of normal hair, skin and nails
Max-strength Vitamin B7 Biotin Tablets
Potent Biotin 12000mcg strength per serving
100% Vegan Hair and Nail Vitamins For Men & Women
365 tablets for 1 year's supply
90 day money-back guarantee
Money Back Guarantee
Vegan
High Strength
GMO Free
What Are Maxmedix Biotin Vitamin B7 Tablets?
Our premium biotin tablets for hair growth are our one-stop hair care supplement that's designed to be a super simple way to care for fine and thinning hair. If you're suffering from sparse, patchy or damaged hair, it can be difficult to find a way to help without resorting to expensive treatments or damaging chemicals. With the Maxmedix Biotin Tablets, we provide you with a completely natural and cost-effective way to support your hair with the bonus of looking after the rest of your body. Plus, in the form of easy-to-take capsules, our high-strength biotin vitamin B7 are no-fuss and perfect for both men and women alike.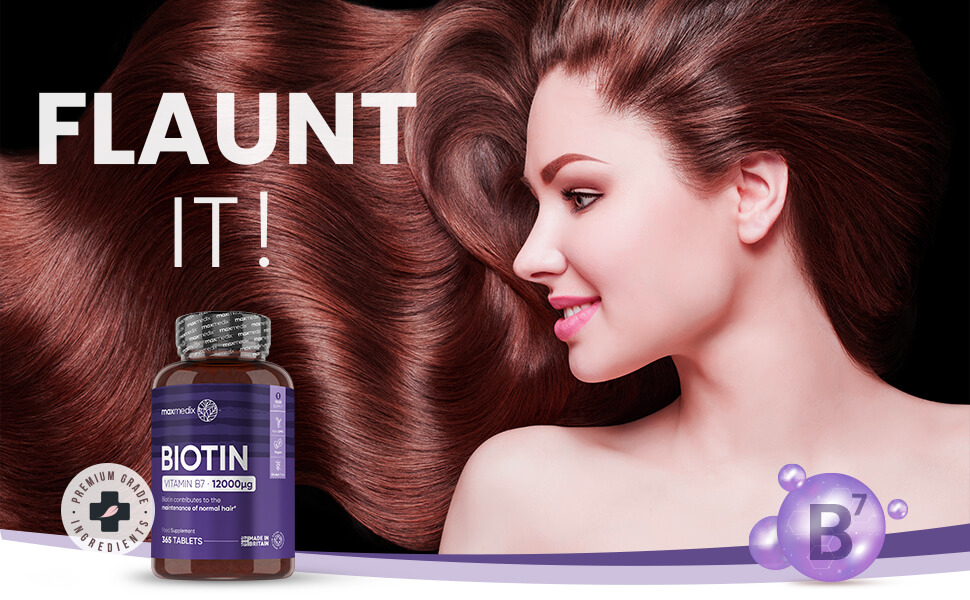 Why Choose Maxmedix Biotin Hair Tablets?
Are you tired of dealing with fine, thin or damaged hair and want a simple way to help? Looking for some of the most reliable biotin capsules or tablets on the market? Discover Biotin Tablets by Maxmedix! Our unique biotin tablets for hair are designed to take care of your hair follicles from root to tip.
Made with a potent 12,000mcg daily strength of the finest Vitamin B7 Biotin, these discreet & one-a-day biotin tablets for hair loss tablets are perfect for those looking to boost their daily hair care routine and want to take care of their thinning hair concerns without any fuss! Thanks to these tablets being made with natural ingredients, they have no known side effects.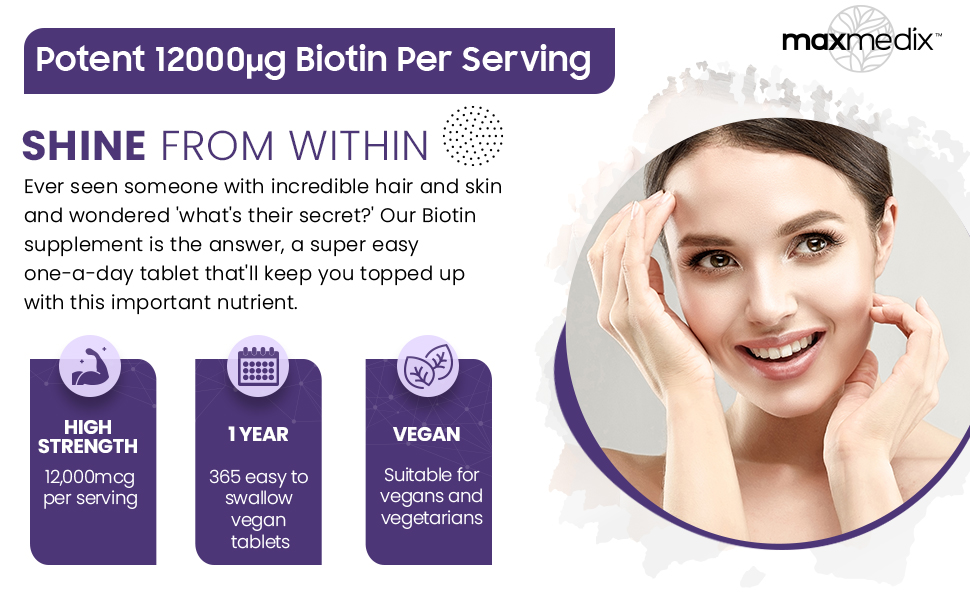 Benefits of Biotin tablets for hair, Skin and Nails
Did you know that a simple vitamin can look after your hair, skin, nails and more? Biotin is a water-soluble B vitamin, also known as Vitamin B7 or Vitamin H. It's commonly referred to as a beauty vitamin as it has been scientifically proven to contribute to the maintenance of normal hair and skin. Feel the benefits of taking this biotin Vitamin B7 daily to feel confident in your locks again and let your skin glow!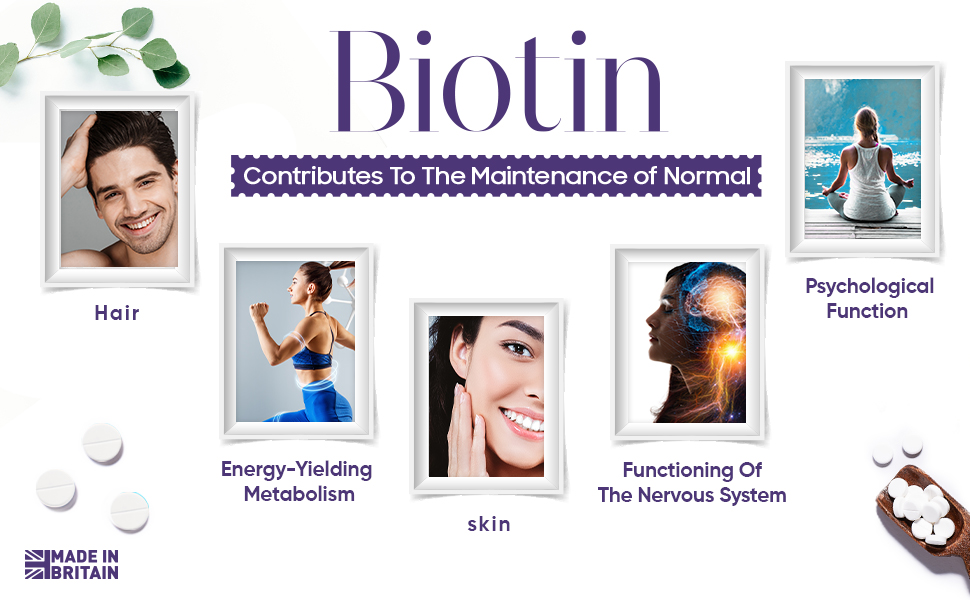 Simply take one biotin tablet every day with a full glass of water, preferably with a meal. You can take the tablet any time during the day, in the morning, noon or evening as per your preference. For optimal results, it is recommended that you take the tablet at approximately the same time every day.
Advice
If you are pregnant, lactating or on medication, consult a healthcare practitioner before taking Vitamin B7 tablets. Not for those under the age of 18. Always read the full list of ingredients before using to check for any personal allergens.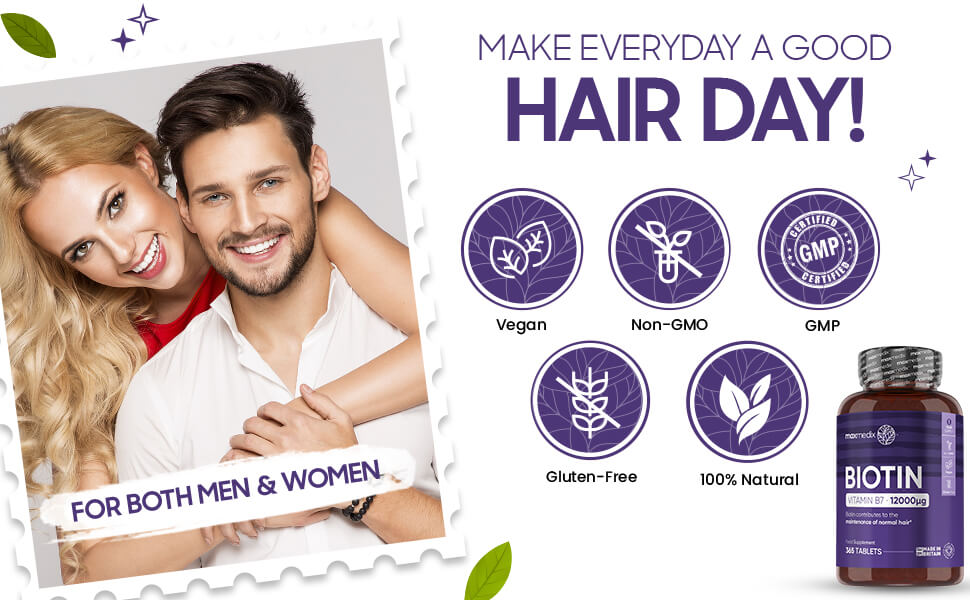 Full List Of Ingredients
Active Ingredient: Vitamin B7 (D-Biotin)
Other ingredients: Microcrystalline Cellulose (Bulking Agent), Magnesium Stearate (Flow Agent)
Do Biotin Vitamin B7 tablets really work?
A quick look at our reviews will show you how much our customers have benefitted from our Biotin tablets for thinning hair! We have formulated our tablets with market-leading ingredients to give you optimal results!
Are there any side effects?
We pride ourselves on using all-natural ingredients in our products which means there are no known negative side effects of our biotin vitamin B7 supplement and you can have peace of mind when using them.
What if it doesn't work for me?
We are confident that you will love our products, but we also understand that everybody is slightly different and may not feel the effects in the same way. We value our customers and want to make sure that they are 100% happy with their purchase which is why we offer our full money-back guarantee! If it doesn't work for you, we will refund you for your order!
What is biotin is good for?
Biotin is known for contributing to the maintenance of normal hair, nails and skin. So people who struggle with hair or skin concerns can benefit from the intake of biotin supplements.
Can I take these biotin tablets every day?
Yes, it is usually considered safe to take these tablets every day. Having said that, it is suggested that you do not exceed the recommended daily intake of our tablets.
Frequently bought together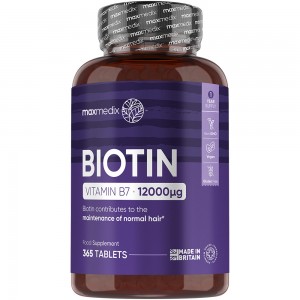 +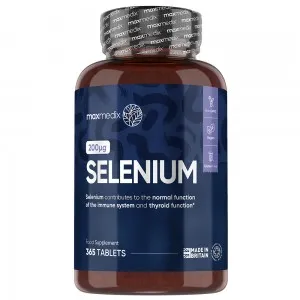 Selenium
200 mcg 365 Tablets | For Hair and Nails
£9.99 £12.99
Customer Reviews
At ShytoBuy we strive to offer the best possible customer service and we take great pride in the feedback we have received from our customers.
Outstanding

5
90.00% based on 11 Reviews

* Results may vary from one person to another.