Discreet Service
Plain packaging and discreet billing.
Free UK delivery on orders over £35
Save on postage today
Customer Data Protection
Your data is safe and secure with us
Makari Extreme Complete Range
Combo | Advanced Skin Care System
Overview
The Makari complete range can help you discover all the products from the Makari De Suisse range for an unbeatable price. The combination of these 5 products go hand in hand, continuously complimenting each other to help leave your skin looking and feeling great. The Makari Extreme products are designed to help brighten the skin and enhance radiance by combatting the main culprit for the dark pigment in the skin, known as Melanin.
Makari Extreme Carrot & Argan Lotion
Makari Extreme Carrot & Argan Cream
Makari Extreme Carrot & Argan Serum
Makari Extreme Carrot & Argan Gel
Makari Extreme Carrot & Argan Soap
The 5 products in the range are composed of highly beneficial ingredients, Argan Oil and Carrot Oil. These ingredients were specifically chosen as they both hold beneficial properties for promoting youthful and radiant skin. The Makari Extreme combination pack can help leave you with softer skin that is free of impurities.
£237.56
£263.95
You Save £26.39
Free Delivery on all UK orders over £35.
The Benefits Of Carrot Oil For The Skin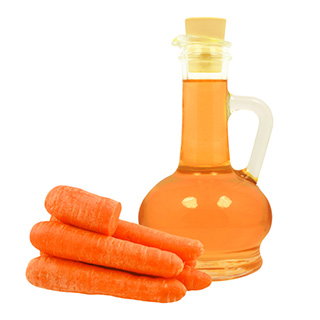 The carrot is typically known for its taste and nutritious qualities, but the properties within carrot also have a dermatological purpose. Carrot is a valuable ally to take care of our skin. The vitamins in carrots are known to help protect the skin and helps to give it that unprecedented glow. Therefore carrot oil is thus an ideal solution for our skin for several reasons:
To have a healthy glow: Carrot oil is known as a natural tanning agent. Makari assured that the products contain the right amount of carrot oil to prevent you turning orange.
To prepare your skin for the sun: The carrot oil nourishes and provides a protective layer to the skin blocking it from the sun's UV rays. Your skin is fragile and deserves the best of care, especially against the sun.
To prolong your tan: If you want to maintain that summer glow there is no oil better than the Makari carrot oil. Its combination of beta-carotene and vitamin A and creates the optimal solution to care for your skin.
To promote your cell regeneration : Carrot oil has natural vitamin A content, this aids damaged tissue and skin lesions as well as acne, eczema, psoriasis and some other dermatological ailments.
To delay the effects of ageing: Beta-carotene found in carrots is an extremely beneficial antioxidant and is capable of neutralising the signs of ageing on your skin.
What Is In The Extreme Makari Complete Range?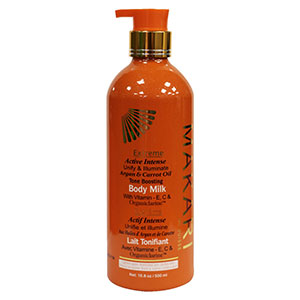 MAKARI EXTREME CARROT & ARGAN LOTION
Makari extreme body lotion is a great way to take care of your body and is specially designed to help moisturise and nourish the skin leaving it with a radiant glow. The ingredients are specially selected to give the skin that beautiful shine it always wanted.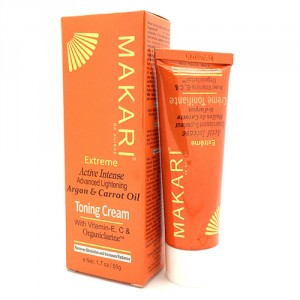 MAKARI EXTREME CARROT & ARGAN CREAM
Makari Extreme Carrott & Argan Cream is a luxury cream that helps to brighten the skin and protects it from any unwanted skin defects.

Contents: 50g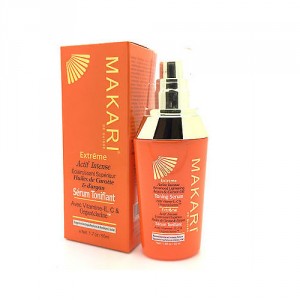 MAKARI EXTREME CARROT & ARGAN SERUM
Makari Extreme Carrot & Argan Serum is the most concentrated product of the extreme range, harnessing highly effective ingredients such as Vitamin E, C, organicalrine and melanin inhibitors , this powerful combination works to help tackle hyperpigmentation problems, helping to leave the skin looking younger and more healthy.

Contents: 50ml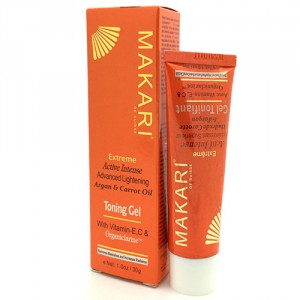 MAKARI EXTREME CARROT & ARGAN GEL:
Makari Extreme Carrot & Argan Gel includes the same ingredients as the other products in the complete combo, a highly beneficial combination of concentrated active agents that helps achieve a youthful, glowing complexion.

Contents: 30g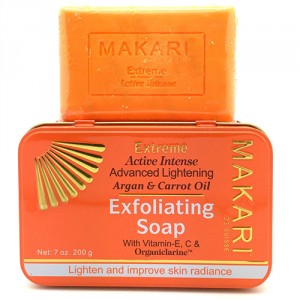 MAKARI EXTREME CARROT & ARGAN SOAP
Makari Extreme Carrot & Argan exfoliating soap is the first step in the combination pack, this soap can be used to help nourish and rejuvenate your skin. Contains plant extracts rich in vitamin E, C and antioxidants combined with Organiclarine, a naturally based skin lightening substance that can help to achieve radiant and youthful skin.

Size: 200g
Customer Reviews
At ShytoBuy we strive to offer the best possible customer service and we take great pride in the feedback we have received from our customers.
Outstanding

5
88.00% based on 9 Reviews

* Results may vary from one person to another.