Discreet Service
Plain packaging and discreet billing.
Free UK delivery on orders over £35
Save on postage today
Customer Data Protection
Your data is safe and secure with us
Theradome Laser Helmet
Device | Laser Hair Regrowth System
Overview
Hair loss affects 8 million women & over half of men in the UK.
Let us introduce to you the first ever FDA approved, over the counter and wearable laser hair therapy, the Theradome™ LH80 PRO Laser Helmet. Considered to be equivalent to a clinical laser hair treatment, yet suitable for home use and completely hands free for your up most convenience. Bring back thickness and fullness in your hair at last.
Clinical strength technology and FDA cleared for absolute safety
1 Year Manufacturers Warranty
Just a 20 minute session twice a week, no pain and no heat
Proven clinical studies on LLLT therapy
80 proprietary lasers at a proprietary wavelength of 678nm
Covers large treatment areas and is completely hands free!
Affordable- no on-going cost or travelling costs to treatment clinics
CE certified for European Conformity
Free Delivery on all UK orders over £35.
Device Description
The Theradome™ LH80 PRO Laser Helmet is a low-level laser therapy (LLLT) device to help promote hair growth via photo biostimulation. 80 laser diodes are contained within the lightweight one-size fits all helmet. These diodes within the helmet deliver laser stimulation to the entire scalp during the hands-free operation during treatment.
This unique device is incredibly easy to use and is operated by just one button. The Theradome™ LH80 PRO delivers visible red light low-level laser radiant energy to the scalp, which works to energise hair follicles. It also has an audible timer that automatically switches of the lasers after the 20 minute treatment is completed.
The technology used has clinical studies providing conclusive evidence that the laser helmet aids in hair growth and induces a reaction deep within the follicle that creates a longer lasting platform for the scalp to fight and fade away the signs of thinning.
Who Is It For?
Theradome™ LH80 PRO Laser Helmet's primary intention is to be used to combat androgenic alopecia in adult males and females. This type of hair loss generally will show a general diffusion of thinning hair across the scalp. Hence why the laser helmets unique design is so effective in dealing with such a condition
Hair loss sufferers experience reduced blood flow to hair follicles and scalp tissue. Less blood flow means fewer nutrients supplied to cells, which can cause under performing hair growth and cellular damage at a follicular level. This is an issue the Theradome™ LH80 PRO helps to resolve, as it has been specially sourced over to the UK all the way from USA were it was designed and developed. Mal-nourished hair follicles cause hair miniaturisation, thinner, shortened and more brittle hair strands. Hair loss accelerates and peach fuzz occurs, in some cases hair stops growing altogether.
Why Does Hair Loss Occurr?
The Theradome LH80 Pro Laser Helmet works to target the many reasons why hair loss occurs. A few of the reasons why hair loss begins is because of: stress, hormone imbalance, pregnancy or disease. Other reasons include It can be the result of heredity, medical conditions, stressful events, excessive hair treatment, a side effect of supplements or a normal part of ageing. Anyone can lose hair on their head, but it's more common in men. So it is important to determine what the reason for your hair loss is in order to gain the maximum benefits from the device.
How Does It Work?
Watch our two videos on the Theradome™ LH80 PRO for more information on how this revolutionary laser helmet device works.
Essentially, the LLLT used by the Theradome™ LH80 PRO helps to stimulate cell activity that is vital in order for them to absorb the light energy needed to improve thicker and better hair growth. Stimulating hair follicles that lie beneath the skin is done by the light photons repeatedly bombarding the cells and exciting the mitochondria (the cells beneath our skin), which works to increase ATP and leads to a boost in blood supply to the hair follicles, increasing essential nutrients to the scalp and hair follicle restoration can start to occur.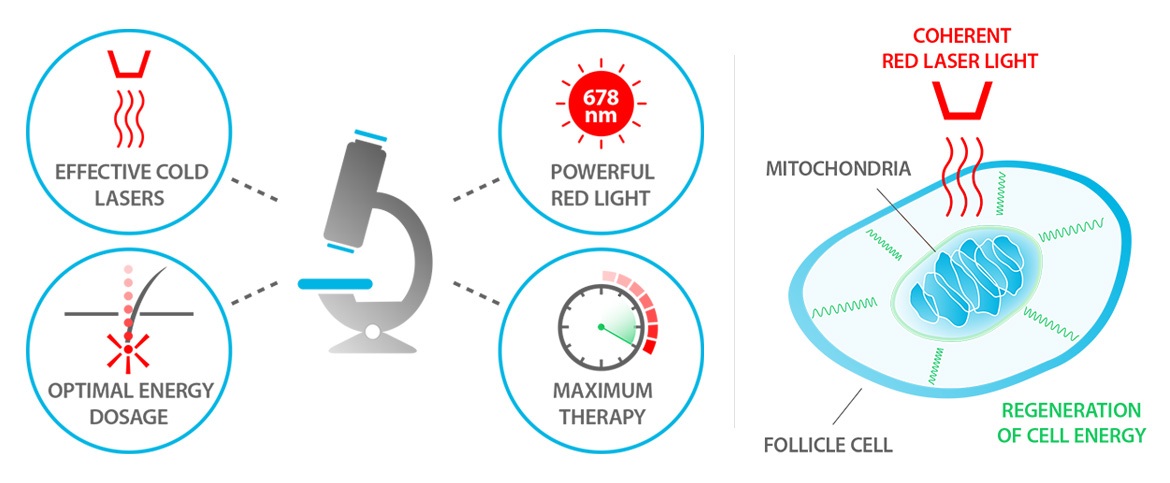 Results From Using The Theradome™ LH80 PRO Laser Helmet
From just a few months of regular use, our many customer testimonials of Theradome has shown vast improvements in the thickness and appearance of hair.
With consistent over the course of a few months, you can expect to see vast improvement to the health, vitality and appearance of your hair. In clinical testing for Low-Level Light Therapy (LLLT) done by an independent study showed positive results stating that LLLT helped with hair loss. The full clinical study can be seen here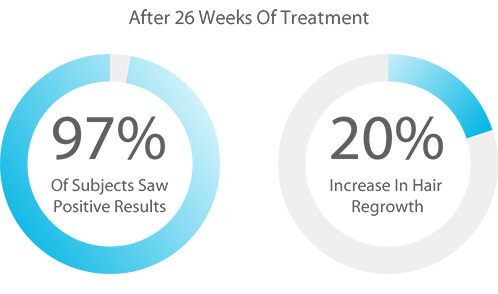 Theradome™ LH80 PRO Unique Features
Former NASA biomedical engineer Tamin Hamid, suffered personally with hair loss decided to do something to help it and so developed Theradome™ LH80 PRO Laser Helmet. It contains 80 lasers at a proprietary wavelength of 678nm that have been FDA approved and clinically proven to increase hair growth in diameter and length due to them being substantially equivalent to clinical laser treatments due to their wavelength, number of lasers and the power produced per laser.

Coherent Laser Light
Engineered with 80 lasers optimized to stimulate hair follicles without generating heat.

Maximum Efficiency and Comfort
Ensures maximum laser hair treatment efficiency by generating less than 1° C of heat during each session.

Penetration and Absorption
Achieves optimal scalp penetration that reaches base of hair follicles for powerful, effective energy absorption.

Proven Reliability
??????Custom-made and tested laser diodes designed to last 6,000 operational hours – equivalent to 18,000 treatments.

Maximum Scalp Coverage
Treats all areas affected by androgenetic alopecia for best possible results.

Safety and Comfort
Designed for safe and comfortable home treatment, with zero side effects.

Optimized Wavelength
Stimulates hair follicles with a clinically proven wavelength specifically effective for hair growth.

Clinically Tested
??Proven to benefit >98% of participants that complied with laser hair treatment protocols.

FDA-Cleared
??Clinically tested and FDA-cleared as safe and effective for OTC sale in the US.

ISO/IEC Compliance
??Complies with international standards – does not emit dangerous radiation.

CE Mark
??Authorized for sale and export within the European Marketplace.

Treatment Tracking
??Fully automated for tracking progress and ensuring hair growth treatment protocols

Cordless and Mobile
Operates with no cords, cables or remotes.

At Home Use
??For convenient, at home use – does not require prescription.

Timed Treatments
??Timed for 20-minute hair growth treatments with automatic shut-off and optional voice monitoring.

Voice Guidance
??Offers useful reminders for session timings, product status, battery charging and more.

Light Weight
??Designed for comfort with minimal weight and maximum durability.

Multi-Language
??In the process of completing alpha testing for Spanish and French. Updates on other languages to be announced soon.

Universal Fit
??Designed to suit 98% of the population with optional foam pads to adjust fit.

Firmware Updates
??Implemented with accessible software easily updated with Internet access.
Two of the key differences between using the Theradome and clinical treatments is the price, whereby this device works out as more cost-effective, and the convenience. The results the Theradome can give are also on the same level as some clinical therapies as the technology crosses over. The hands free nature of this laser helmet is suitable for home use and really easy to wear at any time.
Safe To Use
Please note that if you do have skin types 5 and 6, this doesn't mean the device will not work, it simply means the results have not been documented for them.
The Theradome™ LH80 PRO Laser Helmet technology has been clinically tested and FDA approved for safe and effective home use. Always follow the instructions for use and use twice a week for 20-minute treatments.
Clinical & Media References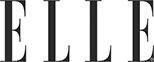 Evidence for Low-Level Laser Therapy in the Treatment of Hair Loss – click here
The use of low-level light therapy in the treatment of androgenetic alopecia and female pattern hair loss – click here
Efficacy and Safety of a Low-level Laser Device in the Treatment of Male and Female Pattern Hair Loss – click here
Low-Level Light Therapy for Androgenetic Alopecia: Randomized, Double-Blind Trial – click here
Photobiomodulation therapy for androgenetic alopecia – click here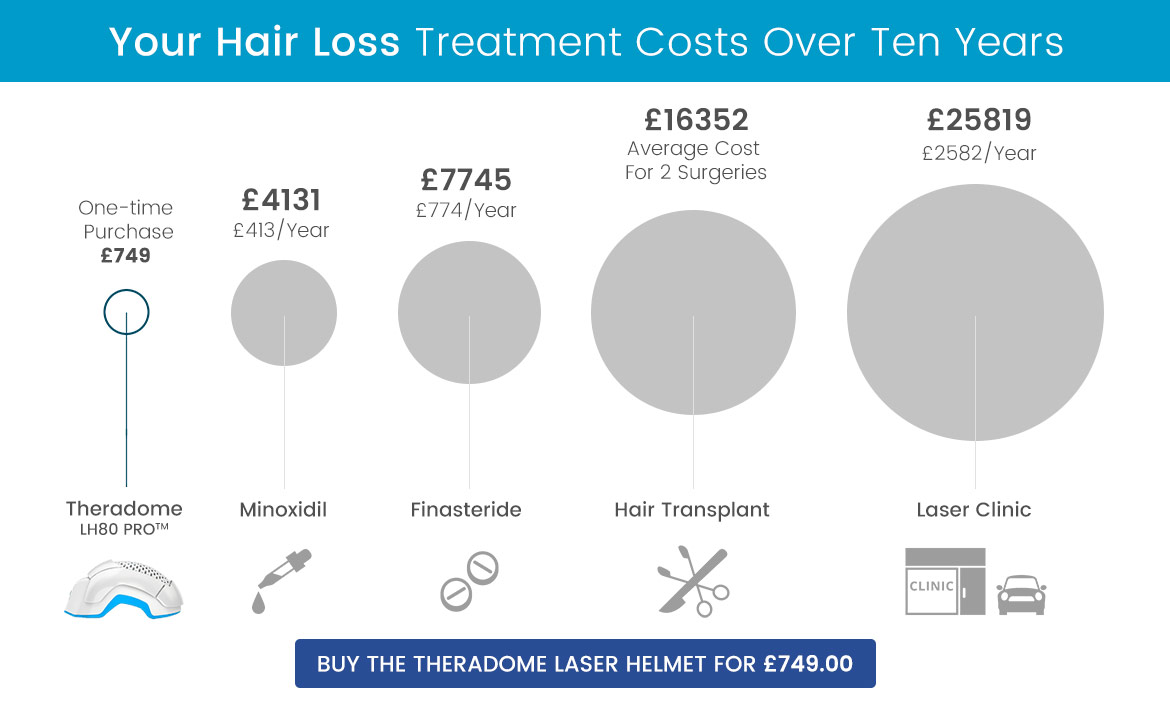 Frequently bought together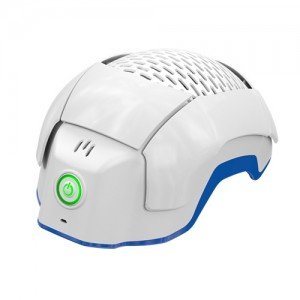 +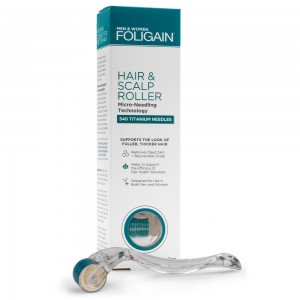 +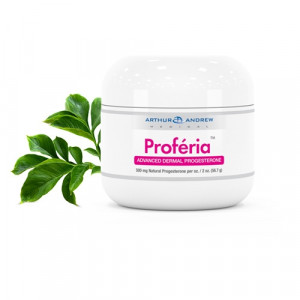 Proferia
56.7 g Cream | Advanced Dermal Progesterone
£29.95

* Results may vary from one person to another.