Silk'n ToothWave
Revolutionary Electric Toothbrush
Are you looking to achieve healthy gums and brighter teeth? Take your brushing routine to the next level with the Silk'n ToothWave! Thanks to clinically proven and safe DentalRF™ technology, the ToothWave does far more than any other toothbrush by working to remove plaque, discolourations, stubborn stains and even calculus (tartar). Discover unparalleled professional-quality results today - all from the ease and comfort of your own home!
Waterproof electric toothbrush
With patented DentalRF™ technology
Up to 8 shades whiter teeth in just 6 weeks
70% more plaque removal
1st electric toothbrush to remove calculus
Up to 2 full weeks of charge
Product that you are looking for is no longer available, please select from an alternative below.
What is the Silk'n ToothWave?
The Silk'n ToothWave is the next innovation in oral health products. So much more than your regular manual or electric toothbrush, the ToothWave takes things to the next level with its patented DentalRF™ technology. With the ability to deliver professional quality results at home, the ToothWave can look after your dental health and brighten your teeth, all by simply brushing!
How does it work?
The Silk'n ToothWave delivers unparalleled results for your teeth and gums thanks to its clinically proven DentalRF™ technology. It works by sending radiofrequency waves that consist of charged molecules directly to the surface of each tooth. This reaches underneath the gumline where regular toothbrushes can't to detach the impurities from the tooth's surface and wash them away. The impurities are then replaced with a strong protective layer that shields the teeth from new impurities looking to attach. This means your teeth are cleaned deep down to help get rid of plaque and calculus (tartar) as well as discolourations and stains that can lead to yellow and dull-looking teeth.
The ToothWave also features innovative brush heads unique to Silk'n. These contain 2 electrodes with a silicone strip in between so that the radiofrequency waves move between the two electrodes to effectively reach the tooth's surface. These brush heads also work to sweep away any loose dirt and impurities and in doing so, thanks to their extra soft bristles, won't damage the enamel surface or cause sensitivity. By working together, the DentalRF™ technology and unique brush heads effectively clean the teeth deep down as well as on the surface for a brighter smile and a healthier mouth.
Why choose the Silk'n ToothWave?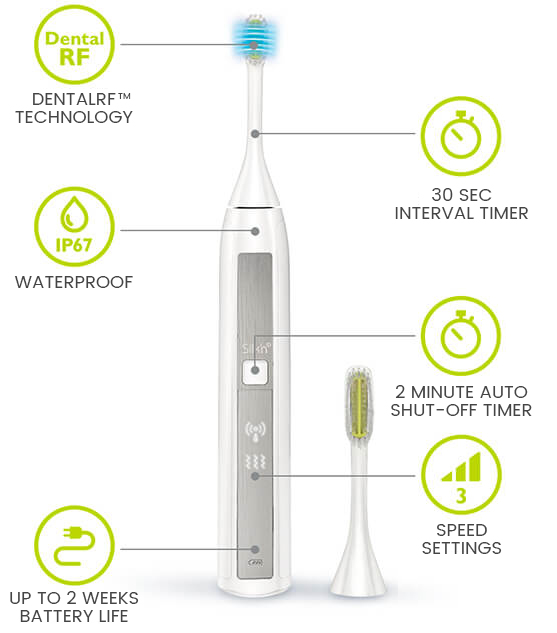 Patented DentalRF™ technology
Clinically proven
Unique extra-soft brush heads
Designed not to cause sensitivity
Won't damage the enamel
3 vibration speed settings
Waterproof with IP67 rating
Smart internal timer
Auto shut-off timer
Up to 2 weeks of battery life
Safe on braces and dental implants
Innovative brush head design
Directions for use
To use your ToothWave, first wet the bristles then apply a regular amount of your favourite toothpaste. When ready, turn on the device and press the control button to select your treatment mode. There are 3 vibration settings to choose from: low, medium and high. Brush your teeth as normal using small and gentle circular motions over each tooth. Brush your teeth for 2 minutes and every 30 seconds you will feel a slight vibration indicating to move onto another part of your mouth. Please refer to the treatment plan in the user manual for more information. The device will automatically shut off after 2 minutes. Rinse the bristles and then store for next time.
Brush your teeth with the ToothWave twice daily, once in the morning and once in the evening. The ToothWave is suitable for use on metal braces, fillings, facings and all other types of dental implants. Replace the brush head every 3 months or when you feel it is worn out or damaged. Contact your dentist before use if you have severely injured gums or have had oral or gum surgery in the last 2 months. Read the instruction manual before use for full information.
What do I get with my Silk'n ToothWave?
Silk'n ToothWave device
2 extra soft brush heads (small and large)
Charging cradle
USB wall adaptor
Read More

Silk'n ToothWave
Revolutionary Electric Toothbrush
Customer Reviews
At ShytoBuy we strive to offer the best possible customer service and we take great pride in the feedback we have received from our customers.
Outstanding

4.5
76.67% based on 5 Reviews
* Results may vary from one person to another.