Discreet Service
Plain packaging and discreet billing.
Free UK delivery on orders over £40
Save on postage today
Customer Data Protection
Your data is safe and secure with us
Silk'n Fresh
2 in 1 Electric Facial Cleansing Brush
Overview
Want to get rid of oil, makeup and impurities without all the hassle or irritation of scrubs and creams? Silk'n Fresh is a 2 in 1 electric cleansing brush that includes a built-in face wash dispenser to make washing your face a breeze. Thanks to its patented 360° vibration technology, it can remove up to 6x more makeup than manual cleansing alone and as it is 100% waterproof, you can use it in the bath or shower for the ultimate in convenience.
2 in 1 electrical face cleansing brush
Integrated face wash dispenser
Holds enough wash for 30 uses
Patented 360° vibration technology
Removes 6x more makeup than manual cleansing
Easily rechargeable device
Product that you are looking for is no longer available.
What is Silk'n Fresh?
A revolution in facial cleansing, the Silk'n Fresh is a 2 in 1 electrical face cleansing brush with an integrated face wash dispenser. This makes cleaning the skin a breeze and means you can remove oil, makeup, dirt and impurities with minimum effort on your part. What's more, thanks to its patented 360° vibration technology, it can also help to remove 6x more makeup than manual cleansing alone, making it the number 1 choice for our valued customers!
Why choose Silk'n Fresh?
Removes 6x more makeup than manual cleansing
Patented 360° vibration technology
2 in 1 brush and face wash dispenser
Gives just the right amount of face wash per use
Vibrating & pulsating modes with 2 different speed settings
Waterproof - use whilst in the shower or bath
Holds enough face wash for up to 30 uses
Rechargeable - can use up to 50 times on a single charge
Gentle enough for everyday use
Helps to improve absorption of skincare products
Handy for travelling
Automatically switches off after 1 minute
Includes face brush stand/charging cradle
Comes with 2 brush heads - regular & soft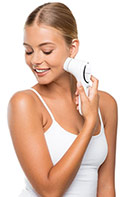 Why use an electric face cleansing brush?
There are hundreds of products out there to help clean your face including washes, scrubs and cleaners. But how can you be sure they're cleaning your skin deep down? Manual cleansing can help to get rid of visible dirt, make-up and grease, but doesn't necessarily get rid of grime and bacteria deep within the pores that lead to spots and blemishes. As a result, electric face exfoliators such as facial cleansing brushes are often preferred as they work to intensely cleanse the pores, but without causing irritation that you can normally find with constant scrubbing.
What is the patented 360° vibration technology?
The patented 360° vibration technology by Silk'n is a revolution in how you can cleanse your skin by combining gentle, yet thorough, vibrating movements with micro-rotations. This means the skin cleansing brush can vibrate impurities out of the pores and then sweep them away thanks to the micro-rotations. This aims to leave the skin looking clear and healthy and feeling refreshed.
How to use Silk'n Fresh
Splash the brush and your face with lukewarm water and make sure you have added your favourite face wash in the dispenser and clicked it shut. Press the dispenser button once and it will give you exactly the right amount of face wash for one use. Turn on the deep cleansing brush and slowly move it all over the skin on the nose, cheeks, chin and neck in a circular motion. After one minute the device will automatically switch off, signalling the end of the session. For full information, consult the user manual provided with the product.
What is included with your device?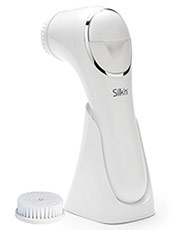 Silk'n Fresh Device
Stand/Charging Cradle
Regular Brush Head
Soft Brush Head
Adaptor
User Manual
Warranty Card
Advice on using the device
As when using any new device, we recommend reading through the full user manual provided. Do not use this device if you have a pacemaker and consult your doctor first if you have any active conditions such as eczema on your face. We do not suggest sharing your brush head with others for hygiene reasons. The device is waterproof, however, keep the power adaptor away from water when charging.

* Results may vary from one person to another.