How Are Wrinkles Formed?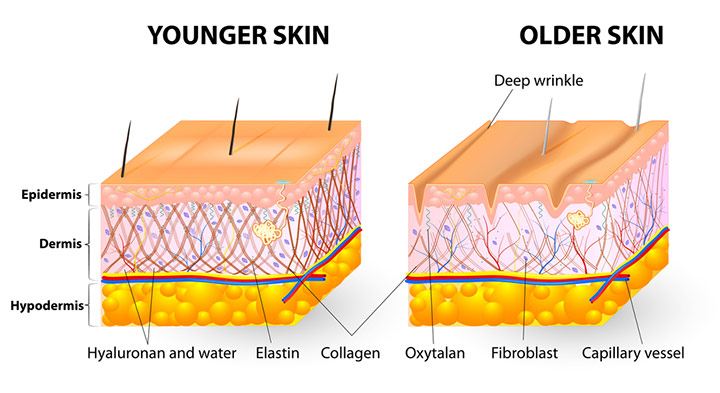 Age takes its toll on our skin and it's visible in the form of wrinkles, fine lines and skin sagging. With age, cells in the epidermal layer of our skin tend to become thinner and their division rate decreases significantly. It has been estimated that the number of cells in our epidermal layer reduces by 10% every 10 years. Along with this, the amount of collagen produced in our skin for repair also goes down. This leads to a loss of skin firmness and elasticity as well as the emergence of wrinkles and other signs of ageing.
What Causes Wrinkles?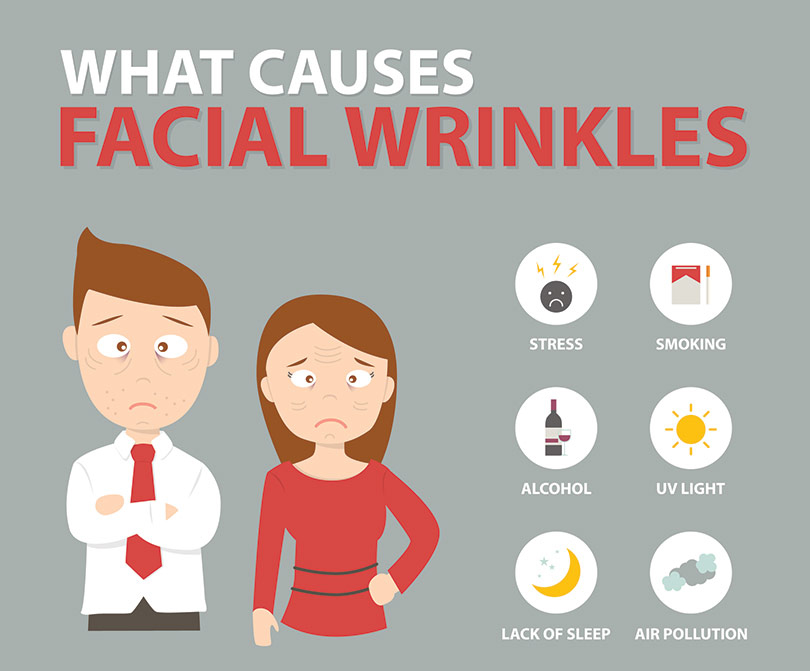 The sun is responsible for 80% of skin ageing signs like wrinkles and sagging. Sun damage can affect the production of collagen and elastin in the skin resulting in wrinkles on the forehead, around the mouth and under the eyes too. Loss of adipocytes or fat cells in the skin due to ageing also leads to permanent wrinkles that are etched on different parts of the body.
Wrinkles appear on different areas of your face to make you look older. Here's an insight on the different types of wrinkles and their causes.
Types Of Wrinkles & Their Causes
11 lines: These are lines between your eyebrows and are the result of facial expressions. If you furrow your eyebrows in confusion or anger frequently, it can lead to wrinkles called 11 lines over time.
Crow's feet: These are one of the early and common types of wrinkles and appear at the outer corner of your eyes. Since the skin around the eyes is too thin, tugging or pulling the area during facials or while applying makeup or eye care products can lead to wrinkling of the area. UV rays are another common cause of crow's feet.
Under eye wrinkles: Hormonal changes in the body can lead to a loss of elastin and collagen in the under eye area and impact the appearance of wrinkles. Under eye bags and dark circles that are a result of ageing make wrinkles look more prominent.
Nasolabial folds:These are commonly known as laugh lines and appear because of years of laughing and smiling.
Mouth wrinkles: These wrinkles appear around your lips and can be a result of puckering or pouting. Excessive smoking results in a loss of elastin in the skin around your mouth and constant puckering while smoking promotes wrinkles.
Cheeks: If you sleep sideways, your face is pressed against the pillow which can lead to vertical wrinkles in your cheek area as you age. Changing your sleeping habit and sleeping on your back can solve this problem.
Why Are Anti-Wrinkle Products Better Than Surgical Anti-Wrinkle Treatments?
In the modern world our stressful day-to-day lives and hectic lifestyles can only add to the signs of ageing in our faces. Luckily, skin-care experts have been hard at work finding solutions to this long-standing problem and have come up with a variety of treatments which have been clinically-proven to help combat the appearance of wrinkles.
Surgical Anti-Wrinkle Treatments
When we say anti-wrinkle treatment, most people think of surgical treatments like Botox and dermal fillers. Surgical methods, undoubtedly, are one of the most popular methods for rejuvenating the skin, all thanks to celebrity endorsements.
However, we all know about the damaging effects they might have on skin. We all have seen Botox and other nip and tuck surgeries that have gone wrong many times. Moreover, these cosmetic surgeries come with a huge price tag that can easily burn a hole in your pocket. Clearly, surgeries aren't a safe bet if you want to stop wrinkles.
There are many different methods available to suit your needs. Whether you'd prefer to use lotions, creams, scrubs, capsules or any of the other array of treatments on offer, all of these have been tested for their anti-ageing properties. As a result, this eliminates the need to opt for expensive, invasive and potentially dangerous treatments such as surgery and Botox which offer short-term benefits but come with a range of possible side-effects that can cause problems later in life.
Natural Anti-Wrinkle Products & Solutions
The most important thing to remember when choosing a solution for wrinkles is to find one that suits your needs.
Natural supplements: Collagen capsules work to help enhance the natural collagen production, helping to promote unique anti-ageing effects with minimum fuss.
Anti-wrinkle creams: These creams are formulated with all-natural ingredients and can trigger the production of collagen in the skin making it look plump and firmer. The best part about using anti-wrinkle creams is their moisturising properties which help bring back the youthful glow. If you have under-eye wrinkles, anti-ageing night creams are one of the preferred products.
Anti-wrinkle serums and gels: Serums are highly concentrated and hence can dig deeper into the skin than creams. Gels are best suited for those with oily skin - anti-wrinkle gels when used with creams can help you achieve better results. The ingredients are rich in antioxidants which help in regulating collagen and elastin.
How To Prevent Wrinkles?
Changing your hairstyle or covering your forehead with bangs or a hat or even wearing big sunglasses to hide crow's feet or under eye wrinkles isn't a permanent solution. If you've already started observing wrinkles on your skin, it's time you act upon them to minimise them before it's too late.
Include vitamins, proteins and healthy fats in your diet. Foods rich in antioxidants like prunes, artichokes, kale, spinach, blueberries, kidney beans and walnuts can help reduce and prevent wrinkles.
Drink plenty of water and cut down on alcohol. Water cleanses your skin that keeps it healthy from the inside and also helps get rid of toxins.
Quit smoking as chemicals in the cigarette smoke are harmful for your skin health. It affects the production of elastin and can make the skin sag.
It's essential that you wear sunscreen daily to reduce signs of ageing as it helps to protect the skin from harmful UV rays. It's important that you apply a good layer of sunscreen on the face, behind the ears, under the eyes and neck as these areas are more prone to wrinkles and damage.
Stress is also a contributor to ageing signs. Proper sleep cycles can lower stress levels and boost the production of the human growth hormone along with skin cell reproduction.
Follow a proper skincare regime (cleaning, exfoliating, toning and moisturising) on a daily basis. Here's all you need to know about anti-ageing skincare and products.
Using anti-wrinkle products to minimise the early signs of ageing is one of the best solutions to prevent wrinkles from becoming permanent.
The Final Word
While all these anti-wrinkle products can't turn back the clock completely, they can slow down time and can help you achieve a younger looking skin. Proper skin care and maintaining a healthy lifestyle are also essential for beautiful skin. So, while you use anti-wrinkle products, it's also imperative that you eat healthily. Nothing can substitute benefits of nutritious food. We offer a range of products at ShytoBuy that fit nicely into your daily grooming routine with no disruption, no matter how hectic your day can be!
If you require any extra information or are worried about your wrinkles, we recommend speaking to a doctor who will be able to talk you through your options and work with you to decide on the best path to suit your requirements. Once you've settled on a preferred method, simply visit the ShytoBuy site where you could find an ideal solution for your wrinkle issues, allowing you to enjoy a softer, smoother and more youthful appearance!