Discreet Service
Plain packaging and discreet billing.
Free UK delivery on orders over £40
Save on postage today
Customer Data Protection
Your data is safe and secure with us
ClearPores Facial Acne Kit
Holistic Approach to Acneic Skin
Overview
One of the first things we see when we arise in the morning is our face in the mirror – so when we find that view displeasing, it can put a daily dent in our confidence! Skin that, due to oil and sebum, is clogged, blocked and blemished can be particularly difficult to deal with, especially when we're sure that harsh chemicals could be a negative influence. With careful consideration, Skinception crafted their ClearPores Wash, Capsules and Cream. Now they are combined in their game-changing ClearPores Facial Acne Kit.
All-encompassing skincare methodology
For looking after clogged acneic skin
Aspires to aid oiliness & blemishes
Trio of unique herbal complexes
Water-based, oil-free formulae
Veggie Caps are easy to swallow
You might have found yourself resorting to a "pick 'n mix" method of skincare, combining different products to try to get the smoothened complexion you aspire to. By using the ClearPores Facial Acne Kit, you can enjoy a really holistic way forward, with a complete blend of optimally balanced herbal extractions, in forms that maximise each's innate powers. Both skin applications are free of additional fragrance and colour; the capsules' contents are totally natural. In complete harmony, they aim to help you to address the most worrying aspects of your looks.
Product that you are looking for is no longer available.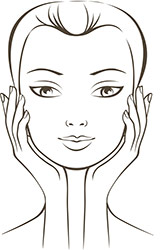 A Bothersome Blemished Complexion
Some of us are fortunate enough to enjoy an unblemished, smooth and healthily radiant complexion that they can rely on – but the rest of us might experience a continual worry with skin marked by bumpy, shiny redness, spots and even acne! Inner confidence might be the really crucial factor, but it's hard not to be upset by a disagreeable exterior. In the long term particularly, how we decide to look after for such skin is just as important, as acne showing cysts is likely to leave enduring scars. With all this brought to bear, it can hardly be a shock that harsh, stripping methods being turned to, with many skipping all moisturisation and continually worrying about their diet. Far too many people are constantly experimenting with various shop bought products, continually searching for a desirable effect. There has to be millions globally, longing for an optimally balanced package of products, all working in harmony with a lightly naturalistic method to help with these anxieties.
The ClearPores System
One key idea drives the Skinception lab team forward: creating a naturally-based method that utilises the astonishing, elemental forces of nature to help us with the look of our complexions. With this considered, they embarked on dedicated study into innumerable plant derivatives and potent scientific formulae, precisely trialling each of them prior to making their selections, and utilising each chosen ingredient in their optimal form.
Starting with the Wash's potent yet kind-on-skin exfoliant Salicylic Acid and finishing the Cream's skin-boosting Vitamin B3, totally twenty-six botanicals are combined with these across the trio. These work in complete and perfect harmony, held in their optimal forms. By using ClearPores Facial Acne Kit, you can appreciate an all-encompassing, holistic methodology so that every conceivable requirement of acneic skin troubled by blemishes is dealt with.
First – Wash

Green Tea
Going further than simply being a staple in kitchens everywhere, treasured as a delicious and healthy hot beverage, numerous specialists are now advising it be used as a topical skin application. It's understood to have exceptional value in strengthening, stimulating and soothing the complexion.

Grape Seed
This powerful plant derivative contains high quantities of flavonoids, the compounds responsible for some plants' colour. Furthermore, it's assumed to be especially helpful in skin products working against the harmful effects of free radicals. It also helps to enhance radiance by removing dead skin cells.
Second – Capsules

Burdock Root
This plant's leaves often grow in heart-like shapes – possibly to show just how much they love to aid our complexions! Thought to have beneficial effects on our bodies' internal workings, for generations it's been used to cleanse and purify our deepest physicality. This is understood to strongly transfer to an external luminance.

Aloe Vera
This incredible extract is written into the annals of skincare, having found extensive use amongst the Ancient Mediterranean, Egyptian, and Assyrian civilisations, in addition to documented use in Biblical times. Seen to own soothing, cleansing, and purifying traits, it can be assumed to detoxify from within.
Finally – Cream

Copaifera Officinalis
Also known by the name Balsam Copaiba, this traditional factor grows in South American jungle and is beloved by indigenous people. A resin extracted from wild trees, it is said to deal with imbalances in troubled skin. Perfectly for acneic faces, it's useful in cooling irritation whilst protecting from bacteria and impurities.

Andiroba
From a type of blossoming plants of the mahogany family, Carapa Guaianensis Oil (its alternative name) has a long history of use by Amazonian tribes. It is understood to be a remarkable emollient, the nurturing traits of which are ideal on irritated skin. This is an everyday experience for skin that suffers from blemishes.
Complete Ingredients
Wash
Water (Aqua), PEG-100 Stearate, Butylene Glycol, Propanediol, Stearyl Alcohol, Cetyl Alcohol, Hydroxyethyl Acrylate/Sodium Acryloyldimethyl Taurate Copopolymer, Dimethicone, Cyclopentasiloxane, Isopropyl Palmitate, Salicylic Acid, Camellia Sinensis (Green Tea) Leaf, Vitus Vinifera (Grape) Seed Extract, Vaccinium Myrtillus (Bilberry) Extract, Silybum Marianum (Milk Thistle) Extract, Pinus Pinaster Bark (Maritime Pine) Extract, Ginkgo Biloba Extract, Steareth-21, Pentylene Glycol, Xanthan Gum, Zea Mays (Corn) Oil, Canola Oil, Glyceride, TBHQ, Propylene Glycol, Citric Acid, Ethylhexylglycerin, Disodium EDTA, Phenoxyethanol.
Capsules
Active - Dandelion (root), Burdock (root), Yellow dock (root), Purple Coneflower (powder), Red Clover (blossom), Aloe Vera (as Extract), Sarsaparilla (root), Licorice (root), Atlantic Kelp (powder), Turmeric, Cayenne (40 HU).
Other - Vegetable Cellulose (Veggie Cap), Silicon Dioxide, Vegetable Stearate.
Cream
Water (Aqua), Niacinamide, Pentylene Glycol, Isopropyl Palmitate, Dimethicone, Stearyl Alcohol, Cetyl Alcohol, PEG-100 Stearate, Copaifera officinalis (balsam copaiba) resin, Carapa Guaianensis Seed Oil, Euterpe Oleracea Pulp Oil, Hydroxyethyl Acrylate/Sodium Acryloyldimethyl Taurate Copolymer, Steareth-21, Zea Mays (Corn) Oil, Canola Oil Glyceride, TBHQ, Propylene Glycol, Citric Acid, Camellia Sinensis (Green Tea) Leaf Extract, Vitis Vinifera (Grape) Seed Extract, Vaccinium Myrtillus (Bilberry) Extract, Silybum Marianum (Milk Thistle) Extract, Pinus Pinaster Bark (Maritime Pine) Extract, Ginkgo Biloba Extract, Ethylhexylglycerin, Disodium EDTA, Phenoxyethanol.
Using the Kit
The ClearPores Facial Acne Kit was expertly created to be the next great aspect of your daily skincare regime. For the wash, twice everyday wet your face with warm water and massage a liberal quantity of the wash into your skin, especially the parts most bothered by blemishes, while avoiding around the eyes. After leaving to be absorbed for a few minutes, wash away with cool water. For the Cream, wait a few minutes after cleansing then apply a fine, even layer of cream and gently massage in. Regarding the Capsules, just swallow two daily before a meal and with a large glass of water. To make the most of the ClearPores Facial Acne Kit the suggestion is to use consistently everyday and making an investment in the long run.
Advice
The ClearPores Kit was made with a devoted focus on the needs of fragile and sensitised skin. However, it's always worth taking a minute to carefully check through the complete ingredients of all three products, just in case they do include anything you are individually allergic to. For extra reassurance, you might like to conduct a patch test the day before using for the first time. If you've been formally diagnosed with a specific skin complaint, please check with your medical professional.

* Results may vary from one person to another.