Discreet Service
Plain packaging and discreet billing.
Free UK delivery on orders over £40
Save on postage today
Customer Data Protection
Your data is safe and secure with us
EmuaidMAX First Aid Ointment
59 ml Ointment | Perfect for all Skin Concerns
Overview
We know that some skin concerns can be stubborn and extremely difficult to get rid of. EmuaidMAX has been formulated to tackle even the most stubborn and uncomfortable skin problems. With a maximum strength formula, EmuaidMAX can provide rapid relief while still being safe to use by the whole family! Compared to the regular strength Emuaid First Aid Ointment, EmuaidMAX contains double the Bacillus Ferment, 10 times more Tea Tree Oil and 50 times more Vitamin E. This means that EmuaidMAX comes to the rescue no matter the condition!
Perfect for soothing, repairing and strengthening the skin
Max strength formula for all skin concerns
15 all-natural powerful ingredients
Recommended for 100+ skin concerns
Emutaneous™ transdermal delivery system
Safe for all ages, including infants
buy 1

£54.99

buy 2

£98.98

£109.98 You Save 10%
buy 3

£131.97

£164.97 You Save 20%

Buy now and earn 5 Comfort Points ?
What is the difference between Emuaid and EmuaidMAX?
As the name implies, EmuaidMAX is a maximum strength formula that has been created to tackle even the most stubborn skin concerns. Whether you are experiencing extreme discomfort, large blemishes or irritable conditions, EmuaidMAX is here to help. With double the Bacillus Ferment, 10 times more Tea Tree Oil and 50 times more Vitamin E than the regular strength Emuaid, you can take on your day with confidence and reassurance knowing that EmuaidMAX has got your back.
What is EmuaidMAX Ointment?
EmuaidMAX Ointment is a powerful and natural topical cream that has been developed to help you soothe, repair and restore your skin. With a combination of 15 different powerful natural ingredients, EmuaidMAX has been formulated to be safe and effective. The 15 ingredients range from the time-honoured to the revolutionary. Emu Oil works as the core of the formula to deliver the active ingredients with unbelievable power. Each ingredient has been specifically selected to efficiently target a multitude of skin concerns, so no matter what your concern is, EmuaidMAX is here to help. Don't take our word for it, have a look at what others have to say! With rave reviews coming from all around the world, EmuaidMAX is universally acclaimed for its effectiveness and reliability.
How does it work?
Experiencing skin concerns that you just can't seem to get rid of? Our skin is designed to be hard to penetrate and keep all of the bad things out. What this means is that it's also very hard for a lot of topical solutions to penetrate deep enough into your skin to have an effect. That is where EmuaidMAX Ointment is different! With its unique emutaneous™ delivery system, EmuaidMAX quickly penetrates the skin on application and gets to work! EmuaidMAX works by understanding what your skin needs and works harmoniously with the body to restore balance. EmuaidMAX works in 3 ways:
Quickly penetrates the skin to tackle any harmful organisms that could be causing discomfort and irritation to your skin.
The 15 essential ingredients begin working begin to soothe and relieve any skin concerns.
Lipids, growth factors and oxygen boosters work in synergy to stimulate blood flow. This, therefore, promotes repair and restoration within the skin and works as a shield against future issues.
So what does EmuaidMAX Ointment do?
Purify
Unwanted visitors often cause our skin concerns under the surface of our skin! Colloidal Silver and botanical tea tree oil have long been used to cleanse, purify and banish any foreign intruders so the skin can naturally repair and restore balance.
Strengthen
Not only does EmuaidMAX aim to solve your skin concerns, but it also works towards making your skin stronger to prevent future flare-ups naturally! With amino acids to promote protein regeneration and Bacillus Ferment to remove weakening dead skin, EmuaidMAX aims to prevent and build up your body's natural defences.
Hydrate
Staying hydrated is essential for your body to function. This includes keeping your skin happy and refreshed! Emu oil, lipids, Ceramide 3 and Phytosphingosine are used to moisturise and hydrate your skin to keep it rejuvenated.
What makes EmuaidMAX Ointment different?
All-Natural
EmuaidMAX Ointment is steroid-free and has been formulated with naturally sourced, high-quality ingredients. EmuaidMAX contains a unique blend of medical-grade ingredients that provide a huge spectrum of benefits to your skin. EmuaidMAX ointment contains no chemicals, preservatives, lanolin, alcohol, parabens, steroids, petrochemicals, or fragrances.
Safe to use by all ages
Although the formula is high strength and effective, unlike some steroid competitors, the powerful natural formula is safe to use anywhere by anyone, no matter the age.
Emutaneous™ Delivery System
As mentioned above, the unique emutaneous™ delivery system ensures that the ointment penetrates the skin. This, therefore, quickly and effectively delivers soothing and regenerative properties and benefits.
Recommended by Customers Worldwide
EmuaidMAX Ointment has built its reputation over the years. All you have to do is look at what others have to say about EmuaidMAX Ointment to see the huge effects it has had on others. Don't take our word for it. See for yourself!
Who is this for
Considering EmuaidMAX is effective and recommended for over 100 different skin concerns, EmuaidMAX Ointment is for anyone who is looking to give their skin the care it needs. Not only is it strong and effective, but EmuaidMAX is also suitable for all age ranges, even infants!
Advice
Customers have reported noticing a difference immediately upon using - however, everyone is different, and you may require a longer time period. EmuaidMAX First Aid Ointment does not have any known or associated side effects, but please follow directions carefully when using. This is strictly for external use only and should not be in contact with your eyes. If the skin concern you are experiencing persists or returns after seven days, please consult your medical professional immediately.
Full List of Ingredients
Active Ingredient: 10x, 20x, 30x HPUS Argentum Metallicum (Colloidal Silver)
Other Ingredients: Allantoin, Bacillus Ferment, Ceramide 3, Emu Oil, Euphorbia Cerifera (Candelilla) Wax, Glyceryl Behenate, Hydrogenated Castor Oil, Lysine HCI, Melaleuca Alternifolia (Tea Tree) Leaf Oil, Olea Europaea Fruit Oil, Phytosphingosine, Silver Citrate, Squalane, Tocopheryl Acetate, Tribehenin, Vegetable Oil.
How to Use
Clean the affected area before application. Apply a thin layer of EmuaidMAX over the affected area, and repeat 3-4 times daily or as needed to relieve symptoms.
Storage
Keep the product away from direct sunlight and store it in a cool and dry place. Keep out of reach from children.
Frequently bought together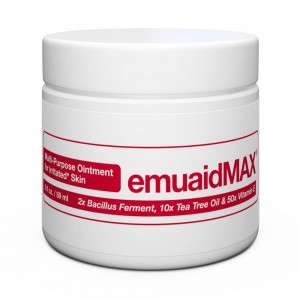 +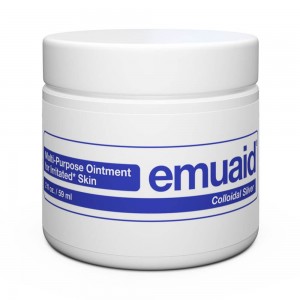 * Results may vary from one person to another.