Discreet Service
Plain packaging and discreet billing.
Free UK delivery on orders over £40
Save on postage today
Customer Data Protection
Your data is safe and secure with us
Biotin Complex
10000 mcg 365 Tablets | For Hair, Skin and Nails
Overview
Ideal for hair maintenance and hair pigmentation
Brilliant for skin and nails
ideal for fatigue and tiredness
Supports normal energy yielding meatbolism
365 tablets - 1 year supply
10,000mcg vegan friendly tablets
Look after yourself from the inside out with our Biotin Complex! Formulated with zinc, coconut and selenium and 10,000mcg of premium biotin, this is the perfect supplement to target your hair, skin and nails while helping you smash your weight management goals!
With 365 tablets per bottle one bottle will last a whole year! Buy with confidence with our money back guarantee!
Vegan
GMP
High Strength
GMO Free
buy 1

£17.99

buy 2

£32.38

£35.98 You Save 10%
buy 3

£43.17

£53.97 You Save 20%

Buy now and earn 2 Comfort Points ?
What Is Biotin Complex?
Biotin, also known as Vitamin B7, is derived from the Greek 'biotos', or 'life'. In your body, Biotin is used to convert nutrients into energy, and is responsible for a wide range of bodily functions. It is known to help create proteins that target the skin, hair, and help burn fat in your digestive system. However, as it's water-soluble, it needs to be replenished regularly. While some foods have high levels of Biotin, it can be difficult to cram them into a busy schedule and lifestyle.
Supplement your diet, and give your body a boost with Biotin from Maxmedix. Not only does it give you your recommended daily dose of Biotin, but it's combined with Zinc, Selenium and Coconut, which target the skin, hair, nails, while helping you manage your weight and maintain normal levels of energy and the immune system.
What Are The Main Benefits & Ingredients of Biotin Complex?
Maintains Healthy & Shiny Hair
It's important to keep biotin levels up, as they help maintain healthy and shiny hair. Vitamin B7 can aid in caring for thinning or brittle hair. It could even play a role in hair loss, especially in those suffering from biotin deficiency, as it's been shown to encourage hair growth.
Helps Nourish Skin
Biotin also helps maintain the mucous membranes of the skin. When your body is running low, red rashes and scaly skin can begin to appear. It also plays a crucial role in the process of metabolising fat, which is essential for maintaining healthy skin. Furthermore, even people with brittle or weak fingernails and toenails can benefit from biotin, as it can strengthen the nails and stop them from breaking.
Tissue Maintenance
Biotin also has a part to play in the growth and maintenance of muscle tissues. It's responsible for repairing these tissues in case of damage, and also ensures the proper functioning of nervous system tissues.
Weight Management
Biotin also helps manage surplus fat from the body, and is known to play a role in managing weight. People looking to manage their weight can include foods that are rich in this vitamin in their daily diet plan, to help their weight management journey.
Selenium
Selenium is a massively important mineral. It's responsible for maintaining normal cognitive function, immune function and even fertility in both men and women.
Zinc
Zinc is another vital mineral found in every tablet of Biotin Complex. It plays a vital role in our bodies, ensuring the normal maintenance of our bones and the immune system.
Who Is Biotin Complex For?
As Biotin is commonly sourced in animal products such as fish, milk, meat liver and kidney, Biotin Complex is the perfect supplement for vegetarians and vegans who don't get enough Biotin in their daily diets.
Anyone aged 18 and above can benefit from the regular supplementation of Biotin, especially men and women with fine or thinning hair.
How To Use Biotin Complex
Take 1 tablet daily with a full glass of water, preferably with a meal.
Advice: Do not exceed the recommended daily dose. Food supplements must not be used as a substitute for a varied and balanced diet and a healthy lifestyle. If you are pregnant, breastfeeding, taking any medications, or are under medical supervision, please consult a doctor or healthcare professional before use. Discontinue use and consult a doctor if any adverse reactions occur.
Not intended for use by persons under the age of 18.
Storage: Store in a cool, dry place. Keep out of reach of children.
Full List Of Ingredients
Ingredients: Vitamin B7 (as D-Biotin), Zinc (as Zinc Citrate), Selenium (as L-Selenomethionine), Coconut MCT (Medium Chain Triglycerides), Bulking Agents: Microcrystalline Cellulose and Dicalcium Phosphate, Anti-Caking Agents: Magnesium Stearate and Silicon Dioxide.
Frequently bought together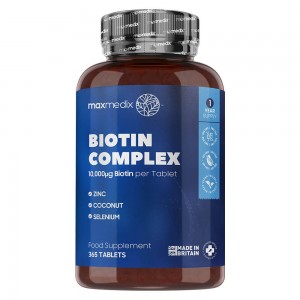 Biotin Complex
10000 mcg 365 Tablets | For Hair, Skin and Nails
£17.99
+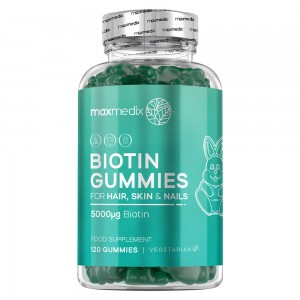 +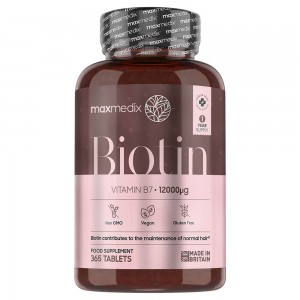 * Results may vary from one person to another.